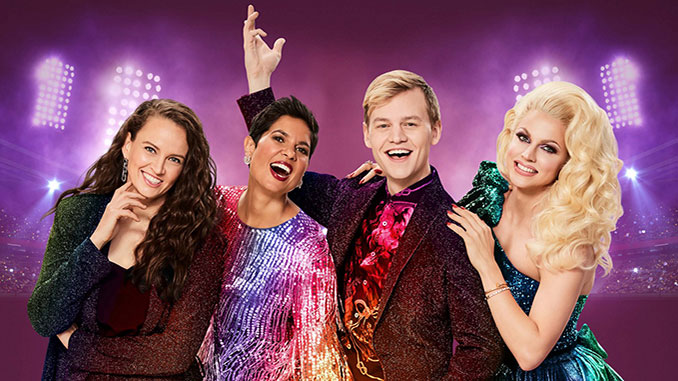 Mardi Gras' official broadcast partner, SBS is proud to bring to life the colour and magic of the 2021 Sydney Gay and Lesbian Mardi Gras with Courtney Act, Joel Creasey, Narelda Jacobs and Zoë Coombs Marr returning to host this year's history-making global event live and exclusive Saturday 6 March on SBS and NITV.
"SBS is proud to be the official broadcast partner for the Sydney Gay and Lesbian Mardi Gras for the eighth year running," said SBS Director of Television and Online Content, Marshall Heald.
"Mardi Gras is a celebration of diversity, inclusion and acceptance, which is at the core of what we do at SBS with our programming. This year's history-making event promises to be like no other and will certainly be a night to remember."
Proving nothing – not even a pandemic – is going to rain on this parade, Mardi Gras has found a temporary new home in 2021 – the iconic Sydney Cricket Ground to ensure the safety of participants, spectators and the community at large.
While the beloved celebration of pride and diversity is moving up the road from its usual location, the spirit of this important event won't be dampened, because there ain't no party like a Mardi Gras party.
This year, the event is rising to new heights with the fab four – drag icon Courtney Act, comedy superstar Joel Creasey, Network 10 Presenter Narelda Jacobs and stand-up genius Zoë Coombs Marr – returning to host this year's coverage.
Mardi Gras will light up with glittering performances and stellar interviews with a cavalcade of soon-to-be announced celebrity guests, not to mention the colourful pageantry of costumes, puppetry and props. Bringing the world together each year in a celebration of diversity and inclusion, the event is also an opportunity to reflect on the history of activism and protest that started the movement in 1978.
"I can't wait to get my heels on the pitch, wearing a lace-front in place of a baggy green, to celebrate this unique and vibrant Mardi Gras parade with my Indigenous, black, brown, trans, bisexual, asexual, intersex, lesbian, gay and queer siblings," said Courtney Act. "We're going to bring all of the fun, glamour, heart, diversity and storytelling from the SCG and shout it loud and proud across Australia and around the world."
"I can't wait to be back with my Mardi Gras besties Narelda, Courtney and Zoë to be hosting the Sydney Gay and Lesbian Mardi Gras for my fifth time!" said Joel Creasey. "It's a wild ride hosting Mardi Gras, so many elements and moving parts have to come together live on the night to make it all work… so often we are flying by the seat of our pants (assless chaps) but I couldn't be doing it with a better crew."
"And, after the year we've had, we truly need the love, light and bio-degradable glitter that is Mardi Gras. I've never been to a cricket ground before so I hope my Uber driver knows where to drop me. I cannot wait!"
The Sydney Gay and Lesbian Mardi Gras remains one of the world's largest and most loved LGBTIQ+ celebrations. This year the festival is themed RISE, a call to action that now is the time to rise again through love, compassion, respect and understanding, and to work to make the world a better place for all. The theme is a poignant message following the challenge and hardship of 2020.
"Rise and shine! The world's biggest party since last Mardi Gras is on March 6 and we're asking Australia to rise to the occasion," said Narelda Jacobs. "We're spreading our wings and love from the SCG into lounge rooms, pubs and clubs around the country."
"I'm thrilled to be reunited with the rainbow dream team of the ridiculously good-looking Joel Creasey, the unpredictable Zoë Coombs Marr and the queen with the highest hair Courtney Act. Together, the queer community has supported each other through the pandemic, now let's rise like a phoenix to celebrate Mardi Gras 2021."
"It's going to be a totally different Mardi Gras this year," said Zoë Coombs Marr. "I'm really excited to see the different ways that our community interprets the struggles and the magnitude of the past year, in ways that only our community can… with leather, cardboard, and eco-friendly glitter!"
"And last year's Mardi Gras was one of the last big events before certain viruses that shall not be named. The event has a special kind of energy that can only be rivalled by a sugar-free kid at a birthday party who's just had red cordial for the first time. Magic!"
---
The broadcast will be streamed live via SBS On Demand with the geo-block removed, making it available to watch around the world. You can find the SBS On Demand times across Australia: NSW/VIC/TAS/ACT 6.00pm AEDT; QLD 5.00pm AEST; SA 5:30pm ACDT; WA 3.00pm AWST and NT 4:30pm ACST – or catch the full parade 7:30pm across Australia on SBS and NITV. For more information, visit: www.sbs.com.au or www.mardigras.org.au for details.
Image: Zoë Coombs Marr, Narelda Jacobs, Joel Creasey and Courtney Act – courtesy of SBS