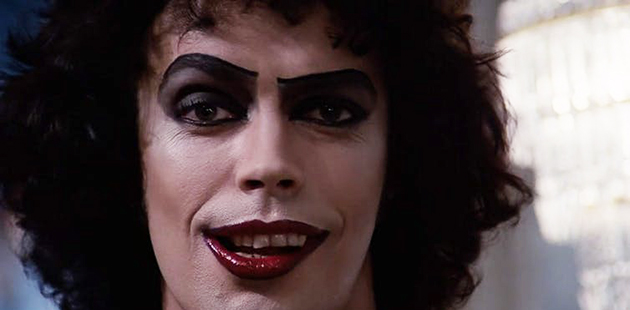 Dr Frank-N-furter, the snappy alpha-alien who stars in The Rocky Horror (Picture) Show, is one of the most memorable characters to grace the stage and screen in recent decades.
In his castle-spaceship from the planet Transsexual in the galaxy of Transylvania, Frankie creates a carnal athlete named Rocky and makes a phallic incursion into the innocent lives of Brad and Janet, before being finally killed in an insurrection by his servants.
Frankie is an unusual creature, in equal parts funny and terrifying. My research into the character suggests this is because he is a hybrid of two types of comic entertainers – violent clowns and panto dames.
The Rocky Horror Show debuted on stage in 1973 in at the Royal Court Theatre in London. It was followed in 1975 by a film adaptation. Both were directed by Jim Sharman, who grew up in Australia.
In his autobiographical writings, Sharman vividly recalls being taken to the circus as a small child, to vaudeville and other touring shows. These included his family's boxing troupe and Sorlie's travelling tent theatre, a popular attraction which between the 1920s and 1961 (with interruptions) took pantomime, musical comedy, and vaudeville around New South Wales and Queensland.
Panto dames
The Frank-N-furter character, Sharman writes, was derived from childhood memories of Bobby le Brun. Bobby le Brun (born Eric Marshall, 1910–1985) was a well-known, versatile entertainer with blithe natural charm, as his own personal collection in the National Library reveals. He was highly acclaimed for his dancing skills and especially renowned for his comic performances in women's dress.
In fact, Bobby was Sorlie's famous panto dame. The role of dame seizes on the early theatre custom of female characters played by boys and men. In pantomimes, traditionally she is an old woman or witch-like character, but can also take on the shape of a young seductive lady, androgynously doll-like and bewilderingly elegant.
The panto dame's male identity is not concealed, and s/he is never effeminate. Australia has produced many such performers including, for example, Bland Holt, Harry Phydora, Jim Gerald and George Wallace, whose performances inspired Bobby le Brun and, later, Sharman.
Over the last few decades, Australia's most (in)famous dame-luminary has been Barry Humphries' Dame Edna Everage, called "a clown in the form of an Australian housewife" by her creator. It is hardly surprising that Humphries occupies a first-class seat in Sharman's pantheon.
Defined by scrubby leg hair and outlandish female attire, and engaging in physical comedy strongly reminiscent of the eccentric, hard-hitting (but never vulgar) activities of Bobby le Brun's dames, Frank-N-furter in Rocky Horror is a blend of these comic traditions.
Frankie has been linked to the panto dame by both Tim Curry (acting in the role of Frank-N-furter in the original musical production and the movie) and Reg Livermore (who in 1974 performed Frankie in the original Australian musical production of Rocky Horror).
In the movie, Frankie exaggeratedly kicks his servant Riff-Raff, rides on his shoulders as if he were an animal, and chases him (and later Rocky) around his lab, pushing everyone out of his way and falling down a number of times. These comic interludes retain the dame role's funny innocence.
Violent clowns
However, sundry wicked traits and his unceasing libidinous intent also align Frank-N-furter with another tradition: the violent clown. This character starred in many macabre clown plays popular throughout the 19th century (and since), featuring eccentrically performed manslaughter and comically staged immorality.
One example are the pantomimes by the Hanlon-Lees, a group of acrobats celebrated between the 1850s and early 1900s. Their performances featured funny decapitated heads, and bodies that were used as comic weapons. They staged a coffin maker who, following his own radical business logic, kills his potential clients himself, and a dentist curing a patient by means of a grenade fixed to his tooth.
Contemporary spectators admired their make-up – their "cannibalistic" smiles in particular – and called their shows the apotheosis of comedy. As research into popular art forms shows, this type of performance plot and aesthetics reemerge in clown narratives of the 20th century – including Rocky Horror.
In one scene of Sharman's film, for instance, Frankie, armed with an ice pick, chases a party-crasher, Eddie, into a refrigerator, where he hacks him to pieces. This is problem-solving à la bad clown: schlock horror rather than panto dame pillow punches. Along with this ice-pick murder, his favourite R-rated pastime activities are forced brain surgery, sexual licentiousness, and cannibalism (he later invites his guests to eat Eddie's remains).
As well as being a hybrid – an amalgam of identifications and confrontations – of two types of comic entertainers, the dame and the clown, Frankie is an example of the way the pantomime and clown tradition travelled between Europe and Australia.

---
Violent clowns and panto dames: the origins of Rocky Horror's Frank-N-furter
Anna-Sophie Jürgens, Postdoctoral Fellow in Comparative Literature, Popular Entertainment Studies and Science in Fiction Studies, Australian National University
This article is republished from The Conversation under a Creative Commons license. Read the original article.
Image: Tim Curry as Dr Frank-N-furter (sourced)