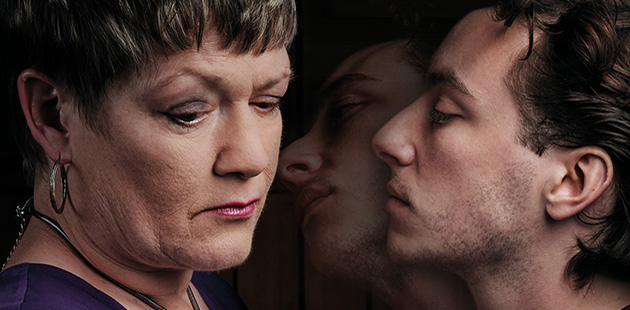 A mesmerising and compelling denunciation of society's fear of difference, The Curators Theatre (TCT) presents Philip Ridley's modern masterpiece Vincent River at Christ Church – Brisbane's newest, inner-city indie theatre venue for a limited season from 13 October 2020.
Vincent River is dead and seventeen-year-old Davey has been shadowing Anita since her son's death. A mother… a stranger… denials, lies, half-truths and shocking disclosures. The confrontation is brutal. Why is he so traumatised? Why has he been following her? What does he desire?
Under the direction of Michael Beh and featuring TCT mainstay ensemble members Amanda McErlean and Patrick Shearer, the dramatic tension of this 80-minute, taut, two-hander ramps up as Davey's account of events is subjected to the devastating and unrelenting logic of a grieving mother's scrutiny.
Seeking comfort, absolution, understanding, and bound together by the memory of Vincent, these two accuse, excuse, plead and bear witness.
From the team that brought you Uncle Vanya, The Quighting Time, The Third Beauty and Ghosts, join TCT for a riveting night at the theatre in their new home – a beautiful, historic, richly-timbered space that is an ideal setting for socially-distanced playgoers to enjoy, once again, the intimacy of live theatre.
This uncompromising, edgy play has been moving audiences since its first staging and continues to connect deeply in sell out revivals, most recently Trafalgar Studio's production in London's West End. This is a MUST SEE production that reignites our passion for quality theatre that speaks to our shared humanity.
Philip Ridley is an English storyteller working in a wide range of artistic media. His works in theatre include The Pitchfork Disney, the multi-award-winning The Fastest Clock in the Universe, Ghost from a Perfect Place, Mercury Fur, Leaves of Glass, Piranha Heights, Tender Napalm, Shivered, Dark Vanilla Jungle, Radiant Vermin, Tonight with Donny Stixx, Karagula and Angry.
"The dark subtleties eddying beneath its surface tug fiercely at the emotions and the imagination." – The Times
Director: Michael Beh Featuring: Amanda McErlean, Patrick Shearer Set & Costume Designer: Michael Beh Lighting Designer: Bethany Scott Sound Designer: Amanda McErlean & Michael Beh Stage Manager: Elizabeth Wherrett Lighting & Sound Operator: Bethany Scott Assistant to the Director: Douglas Hackett
---
Vincent River
Christ Church, 9 Chippendall Street, Milton (Brisbane)
Season: 15 – 31 October 2020 (previews: 13 & 14 October)
Information and Bookings: www.curators.com.au
Image: Amanda McErlean and Patrick Shearer feature in Vincent River – photo by Naz Mulla