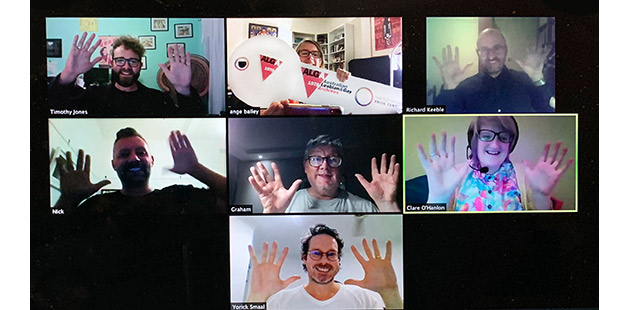 The Victorian Pride Centre has announced that the Australian Lesbian and Gay Archives (ALGA) have accepted their ceremonial key as the next LGBTIQ community organisation to sign a tenancy for the Pride Centre.
Due to physical distancing, Victorian Pride Centre Chair Jude Munro AO made the announcement from home and remarked on the incredible work that ALGA have done and continue to do in order to document the important and ever changing history of our community. ALGA virtually accepted their key to the centre during a recent online team meeting.
"ALGA have been around for 42 years now, collecting and compiling Australia's LGBTIQ history and exhibiting it in order to educate our community about where we've come from," said Jude Munro AO. "This is such crucial work and in the space of time that ALGA have been procuring our community's history, we've seen much hard work and progress which could've easily been forgotten."
ALGA holds the most significant collection of historical material about LGBTIQ communities in Australia and the move of the organisation to the Centre enables ALGA to continue to effectively manage, maintain and grow the collection, enable broader access and also presents opportunities to further highlight this rich collection.
"We are excited to be moving to the Victorian Pride Centre to further provide our communities with a place to engage with and celebrate our very queer histories," said Angela Bailey, ALGA Board Chair.
With the external structure of the Victorian Pride Centre complete, this state of the art building will soon be an effervescent community hub and safe space for the entire LGBTIQ community. In turn providing further opportunity for ALGA to document our shared and personal LGBTIQ memoirs. For more information, visit: www.pridecentre.org.au for details.
Image: courtesy of Australian Lesbian and Gay Archives / Victorian Pride Centre
Source: Victorian Pride Centre