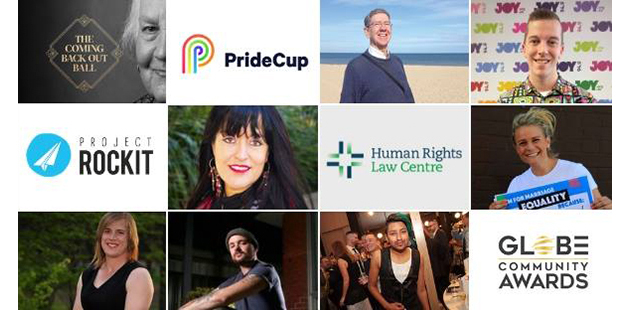 The 2018 GLOBE Community Awards, hosted by Patti Newton and Thomas Jaspers, celebrated 11 LGBTI community leaders at a gala dinner of over 450 people last Friday evening.
The awards to mark Victoria's largest LGBTI awards and sponsored by the Victorian Government were held at the Glass House at Olympic Park. Adjoining AAMI Park was illuminated in rainbow lights in celebration.
GLOBE President Daniel de Rochefort said the event, which was the first awards since marriage equality was achieved, provided an important opportunity to celebrate achievements of the Victorian LGBTI community.
"The resilience of the LGBTI community in the face of events this year – from Hannah Mouncey standing up to the AFLW, to the religious freedoms debate and the visibility of LGBTI people in schools – is demonstrated in the calibre of our award winners," said de Rochefort.
Named as the Victorian LGBTI Person of the Year, Jeremy Wiggins was humbled to be recognised for his work in trans health.
The first and only trans recipient of the Churchill Fellowship, Wiggins is founder of DUDE Magazine, the National LGBTIQ Women's Health Conference and TouchBase the national alcohol and drug education website. Professionally, Wiggins introduced the informed consent model of care for the initiation of hormone therapy for trans and gender diverse Australians.
Winners of the 2018 GLOBE Community Awards are:
Victorian LGBTI Person of the Year:
Jeremy Wiggins
Community Inspiration Award:
Angie Greene, Stand Up Events
Volunteer of the Year:
Jamie Gardiner
A Healthy Community: (sponsored by VicHealth)
Pride Cup
Connecting Our Community:
The Coming Back Out Ball
ANZ Excellence in Business Award:
Project Rockit
Think HQ Media Excellence Award:
Matthew Wade, Star Observer
Artist of the Year:
Dani Weber
John Marriott Sportsperson of the Year:
Hannah Mouncey
Straight Ally of the Year:
Dr Maria Pallotta-Chiarolli
Protecting Our Community: (sponsored by Lander & Rogers Lawyers)
LGBTI Rights Unit of the Human Rights Law Centre
The GLOBE Community Awards are in their fifth year, and bring together more than 450 of the state's top business leaders, volunteers, sports people, researchers and community groups to celebrate awards across a range of categories. For more information, visit: www.awards.globemelbourne.com.au for details.
Image: courtesy of GLOBE Melbourne