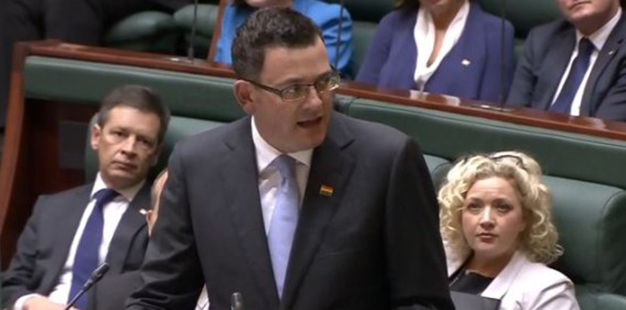 Leading the nation in combating stigma and discrimination, the Victorian Government has today delivered a formal State Apology in Parliament to Victorians convicted under homophobic laws that should have never existed.
"We apologise for the laws we passed, the standards we set and the lives we ruined, said Premier Daniel Andrews. "These unjust laws amounted to nothing less than state-sanctioned homophobia. This Parliament is to be formally held to account for designing a cult of hatred. And those who faced its sanction are to be formally recognised for their relentless pursuit of freedom."
Before homosexuality was decriminalised in 1980, men could be sentenced for up to 15 years in prison for having consensual sex with other men. These laws included buggery, gross indecency and indecent assault on a male and loitering or soliciting for homosexual purposes.
Those convicted were publicly shamed in newspapers. As a result, they lost jobs, were forced to withdraw from study, and were ostracised by family and friends. The burden of a criminal conviction affected their full participation in the workforce and community, and inhibited their freedom to travel.
While there is no accurate data about the number of arrests and prosecutions, police reports suggest there were several hundred reported offences per year in the decades leading to the repeal of the laws in 1981.
"Today we say sorry to those Victorians who were wrongfully arrested, locked up and humiliated – whose very love was made punishable by law," said Martin Foley, Minister for Equality. "We will remember the painful history which has made this apology necessary in the first place – and ensure we continue to foster a community that accepts, tolerates and provides a place for all."
The State Apology follows the introduction of significant reforms in September 2015 of an expungement scheme, administered by the Department of Justice and Regulation, enabling those who were convicted under the past laws to apply to have those convictions expunged from their criminal records.
To read a transcript of the Premier's Apology, click here.
Image: Premier Daniel Andrews delivers the Apology to LGBTI Victorians