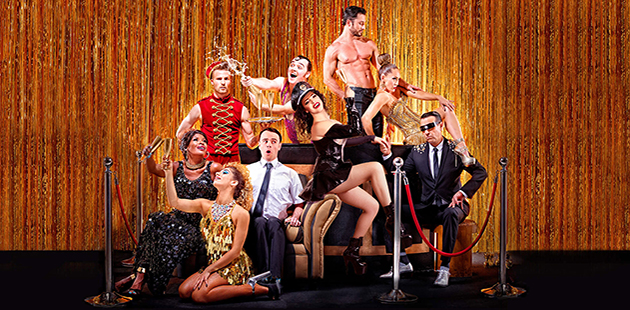 With a generous mix of impressive acrobatics and aerial feats, amazing vocals combined with a pulsating discotheque soundtrack of new and reimagined classics, VELVET has made a welcome return to Melbourne with a crowd-pleasing spectacular that confounds expectations and delivers on all accounts.
With more than a nod to New York's infamous Studio 54 nightclub, director Craig Ilott transports the audience into a scintillating wonderland that features legendary diva Marcia Hines and singer Tom Oliver alongside an outstanding ensemble including aerialist Emma Goh, muscle man Stephen Williams, acrobat Mirko Köckenberger, Hula Hooper extraordinaire Craig Reid, vocalists Kaylah Attard and Rechelle Mansour.
Overseeing this hedonistic spectacular, Maestro Joe Accaria, with his live percussion and a non-stop soundtrack of classic disco anthems such as Boogie Wonderland, If You Could Read My Mind, I Feel Love, No More Tears and It's Raining Men are mixed with songs that Hines' is known for including Never Knew Love Like This Before and You – demonstrating she is still one classy lady who delivers, sounding as good, if not better than before.
A new addition to the stellar line-up of artists, since it last played in Melbourne, Oliver brings a new dimension as the fresh-faced ingénue with an impressive vocal range, who blends beautifully when in duet with Hines. Amongst all the glitz and glam, his wonderfully reflective version of the Bee Gees hit, Stayin' Alive, was one of the many vocal highlights of the show.
Production values are impressive, as the acts come thick and fast in this 90 minute spectacular. From leather-clad Stephen Williams' swoon-worthy feats of aerial strength, Craig Reid's cheeky crowd-pleasing hula-hooping, Emma Goh's graceful aerial routines through to Mirko Köckenberger acrobatic agility, only momentarily does the pace slow enough to allow the audience to catch its collective breath, who in return, reward the cast with a well-deserved standing ovation at the end.
Director: Craig Ilott Cast: Joe Accaria, Kaylah Attard, Emma Goh, Marcia Hines, Mirko Kockenberger, Rechelle Mansour, Tom Oliver, Craig Reid, Stephen Williams Choreographer: Lucas Newland Lighting Designer: Matthew Marshall Set and Costume Design: James Browne Wardrobe / Assistant Stage Manager: Melanie Nicholls Production & Technical Manager: Meri Took
VELVET
The Palms at Crown Melbourne, Whiteman Street, Southbank
Performance: Friday 9 June 2017 – 7.30pm
Season continues to 2 July 2017
Bookings: www.ticketmaster.com.au
Following its Melbourne season, Velvet will be presented in Sydney (26 July – 6 August); Darwin (7 – 12 October); and Parramatta ( 21 – 27 October). For more information, visit: www.velvettheshow.com for details.
Image: The Cast of VELVET (supplied)
Review: Rohan Shearn