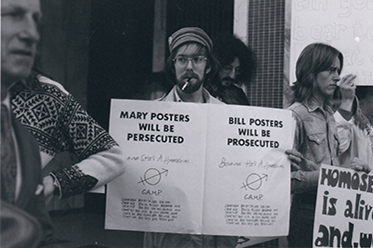 For many of his generation and beyond, Lex Watson was the face of gay activism in Sydney. He was a foundation member of the Campaign Against Moral Persecution (CAMP), the organiser of the first gay rights demonstration in Australia, a long time passionate advocate of homosexual law reform and of anti-discrimination legislation, a pioneer AIDS activist, and in later years, a keen advocate for the preservation of gay community history. His was a courageous life of towering achievement.
Alexander 'Lex' Watson was born in Perth on 29 January 1943, the son of Alec Watson, a medical practitioner in Geraldton, and Margaret Newnham, formerly a nurse. There was an elder sister, Wendy (Duncan) but a younger brother died in infancy. First educated in Geraldton, the family later settled in Perth. Despite his parents wish to place him at Geelong Grammar or the King's School in Parramatta, Lex determined that he would go to Perth Modern.
He studied German for five years – and developed a lifelong love of the language – along with French, then Chemistry, as well as English, History and Geography. He was interested in music – Otto Klemperer's Beethoven discs were a favourite thorough out all his life – he played an Alto Saxaphone at school, and he acted in school Gilbert & Sullivan productions directed by 'a Miss Prim'*, who saw him as 'rather self-confident and arrogant,' an observation later to be made by others.
At puberty, his parents gave him a booklet on Sex that contained a small non-judgemental paragraph on homosexuality. 'So that's what it is called', he thought. He then looked up homosexuality in the school library but all the texts he consulted talked of disease and perversion. Lex's response was, 'Why, they've got it wrong!' No one who knew Lex would be surprised by this response. In a way, it also becomes a defining moment of his life.
Lex won a Scholarship to the University of Western Australia where he went in 1960. He did an Arts degree as there was no Arts / Law degree which he would have preferred. He studied two History subjects, English and, crucially, Philosophy where he read John Stuart Mill, whose classic liberalism became the touchstone of his life and later activism. He was later to become a lifelong supporter of the Council of Civil Liberties.
In his second year the History school offered a Politics stream, which he did for two years. For his Honours year he was then faced with a dilemma. The Politics lecturer was transferring to an interstate University. Lex asked what he should do and was strongly advised to go to the Government Department at Sydney University. It was there that he was to work for the remainder of his academic life teaching Australian politics to hundreds of students, many of whom became academics and political activists themselves.
In Sydney he began to explore the camp scene. His aunt and uncle had sat him down one night and told him of places to avoid in Sydney – 'such as bars and theatrical groups, the camp and nellie crowd' – so naturally he went off to explore them! His father appeared in Sydney on one occasion and after an afternoon out – 'a bonding session' – decided they should go for a beer. They ended up in the Quarterdeck Bar at the Chevron-Hilton, a gay haunt in King's Cross that Lex knew well. His father had no idea.
The homosexual law reforms in Britain in 1967 sparked his interest and he became involved with reform here in Australia because 'it was needed and therefore you did it'. He was in Canberra in 1970 on the weekend of the formation of the ACT Homosexual Law Reform Society and joined up immediately. He then attended a public meeting in Sydney, organised by the Humanist Society, which formed a HLR sub-committee on which Lex became a member.
These moves, however, were 'wiped off the table' by the announcement by John Ware and Christabel Poll in September 1970 of the formation of the Campaign Against Moral Persecution (CAMP), the first openly homosexual group in Australia. Lex became a foundation member, and in early 1972, along with Sue Wills, became a Co-President of CAMP. They both succeeded in placing the group on a more solid organisational footing after a 'rather anarchic' first year.
John Ware credited Lex with making the organization political, and it was Lex who organised the first-ever gay demonstration in Australia outside Liberal Party Headquarters in Ash Street, Sydney in October 1971. Lex, as an academic, had contacts in the Liberal Party and he got to hear of the challenge that arch-conservative Jim Cameron was to bring against the Federal pre-selection of Tom Hughes, after Hughes as Federal Attorney-General had raised the issue of homosexual law reform. It was a noisy, fun-filled demonstration. They had helium balloons – then a novelty – and some bemused delegates as they later left the meeting even asked to take them home to the kids, despite the slogans.
One of the major achievements of CAMP under Lex and Sue was their endeavours to highlight the dangers of aversion therapy and psycho-surgery as then practised against women and homosexuals. That homosexual people then began to cease consulting practitioners for a 'cure' for their sexual orientation was a triumph for their work in CAMP.
By 1974, CAMP was winding down as a political organization. The only significant sub-group remaining was Phone-a-Friend, later the Gay & Lesbian Counselling Service. Lex and Sue resigned from CAMP in October 1974.
Lex continued his activism and advocacy through newspaper articles in the gay press. In 1976 he, memorably and courageously, appeared on the ABC Monday Conference program in Mt. Isa. Some of the audience were hostile, one member even pouring a bottle of sewage over Lex's head. Lex maintained his composure throughout and won over the audience.
With the assistance of fellow academic and activist Craig Johnston in 1980, Lex approached Barry Unsworth of the NSW Trades & Labor Council after the Sydney University Staff Union had passed an anti-discrimination motion in relation to gays and lesbians. Unsworth was receptive and had a similar motion passed in the Council. The move was the beginning of Gay Rights Lobby (GRL) and a new concerted push for homosexual law reform in NSW, which saw several attempts at reform over four years, as well as support for a Bill to incorporate homosexuality under the terms of the Anti-Discrimination Act.
Lex in a dispute over tactics and his administrative style, fell out with GRL but that did not stop him and his fellow activists continuing to work together. After the police raid on Club 80 in 1983, it was Lex who suggested that community activists sign Statutory Declarations admitting to having committed buggery and to present them to the Vice Squad seeking arrest. Lex was one of the first to present but the police had been forewarned by the government and refused to make arrests.
He was a member of a delegation to Premier Wran in May 1984 on the morning of the introduction of his Private Members Bill to repeal the 'buggery' provisions of the NSW Crimes Act. Lex attempted to persuade the Premier to introduce an equal age of consent clause and when he refused, he then argued for the inclusion of protections for persons between the ages of 16 and 18 years that Wran enthusiastically agreed to. A new clause was typed onto the printed Bill when it reached the floor of the Legislative Assembly that day. The meeting showed Lex the strategic activist at his finest.
In 1982, the Chameleons social group had crowned him 'Empress of Sydney', the first time someone from outside the' drag' industry had been so recognised. He was chuffed, and proud of this his only appearance in 'drag' sporting a black velvet strapless gown. He wore the gown to the 'Gay Embassy', a caravan that had been set up in front of the Premier's house in late 1983 as another move to push the law reform agenda. The 'Embassy' had been Lex's idea.
Lex became alerted to the problem of HIV/AIDS in 1982. He later became involved in the disputes with the Blood Bank as a voice of reason pointing out that the only solution to the implementation of sound public health policy relating to HIV was for the medical profession to talk to, and engage in a dialogue with, the gay community, a point that some medicos of the old 'Doctor knows best' school were reluctant to hear. He, and others, set up the AIDS Action Committee which, following later Federal government funding, morphed into the AIDS Council of NSW (ACON) of which Lex became the first President.
As Bill Bowtell, a political advisor to the Federal government, has recently said of Lex at this time: 'It was our immense good fortune that you were there, straight out of the decriminalisation campaign, to take up the struggle on what was, unbelievably, a matter of genuine life and death. Your temper, and temperament, and relentless, focused energy, was really a critical factor in bringing together the people and disparate groups around a sensible and attainable (and attained and exceeded) set of political goals and objectives on AIDS'.
Lex later stepped down as President of ACON though he stayed on the committee. Truth to tell, Lex was not the greatest of administrators. He operated best as an individual activist, always sharp and on-message.
For many years Lex acted as a block captain of marshals at Mardi Gras Parades, and was very proud to have done so. In 2011, Sydney Mardi Gras rightly awarded Lex and Sue Wills their GLBTI Community Hero Award marking the 40th anniversary of the formal foundation of CAMP, and they were thrilled to ride up front in the 2012 parade.
Post retirement from Sydney University, Lex became involved in the Pride History Group, Sydney's gay and lesbian history group. He was President at the time that he died, assisting in the organization of a history conference, set for this coming November, on homosexual law reforms, his major life's work. It is sad that he will not be there. The Conference will be dedicated to his memory.
Lex is survived by his sister, brother-in-law and two nephews and their families, and is remembered with respect and affection by his fellow academics, and hugely admired by his fellow activists for his monumental achievements on behalf of the gay and lesbian community. As one activist said to him before he died, 'Your courage, persistence, intellect, and no nonsense stroppiness against injustice and poor thinking has pushed us forward to a better future'.
Republished with kind permission of Robert French.
*All unidentified quotes are from nine hours of interview with Lex Watson conducted by Sue Wills and myself in his last months. These will be incorporated into the Pride History Group's '100 Voices' on-line resource.
Image: courtesy of Sydney's Pride History Group – www.pridehistorygroup.org.au