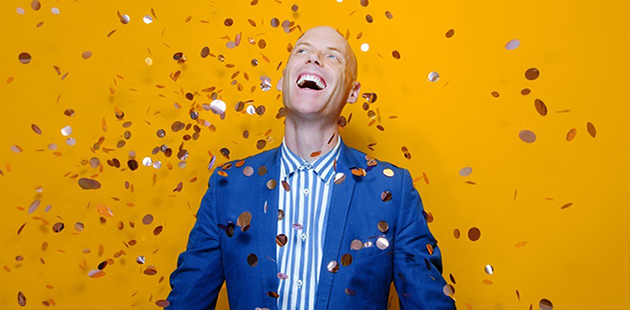 Tour de force Perth export, John O'Hara (School of Rock, Priscilla – Queen of the Desert, Wicked) returns to Downstairs at His Majesty's Theatre this September in #VAL – a brand new cabaret that pays homage to the incredible women; the mothers of queer children, who continue to walk with and for the community in an ongoing quest for equality.
"At its heart, #VAL is a celebration… a fun, colourful and fabulous celebration of love," says John. "It's cabaret in its truest form; big, bold and a little bit loose… and when Val is involved it's always going to be a riot!'
Inspired by his own mum Val, John explores the role mothers play to children who are a little bit different, often before they know it themselves. Directed by Shaun Rennie, with musical direction and arrangements by Andrew Kroenert, #VAL is set against the pop-tastic hits of his own childhood, John will encourage his audience to relax, drink and kiki with him around the 'camp' fire – shining a spotlight on the wonderful women we call mum.
"The show is a brand new one, I've written it specifically for the Downstairs at The Maj (DSATM) 2018 season, so I'm super excited to share it with a hometown crowd, and of course Val," says John. "It's very Perth-centric because Perth is where much of it is set! I wanted to write something that was a nod to my mum, but also to all mothers."
"My incredible collaborators and I have celebrated my relationship with Val, we've delved deep into what being a mother to a queer child means on a broader scale and we've highlighted some moments in queer history that mothers were at the forefront of."
"I too have learnt so much in soundtrack of iconic pop songs that have influenced and led the way for change and diversity through the ages… Lady Gaga, Cher and George Michael, but also Sam Smith, Adele and maybe even a little Farnsy. I keep saying to people, you'll laugh, you'll cry and you'll probably leave with glitter in your undies. HEAVEN," he adds.
A graduate of both WAAPA and John Curtin College of Arts, John is well known to Perth audiences and abroad for his work in the theatre, particularly in the musical juggernauts: Cats, Rock of Ages, The Rocky Horror Show and the previously mentioned Wicked and Priscilla – Queen of the Desert.
Later this year John is set to originate the role of Ned Schneebly in the upcoming Australian premiere of School of Rock ahead of an international tour. John's previous original works Dedications and A Very Merry Christmas Cabaret – both played sold out seasons at DSATM in 2015/16 respectively and have since toured nationally. John is a popular voice on radio for Melbourne's JOY94.9.
"In a suit of indescribable colour, tall, bald and a touch cracked, O'Hara is a generous ringmaster and grand performer" – The West Australian
#VAL – a glittery ode to queer men and their mums
Downstairs at The Maj, 825 Hay Street, Perth
Season: 13 – 15 September 2018
Bookings: www.ptt.wa.gov.au
For more information, visit: www.johnjamesohara.com for details.
Image: John O'Hara (supplied)