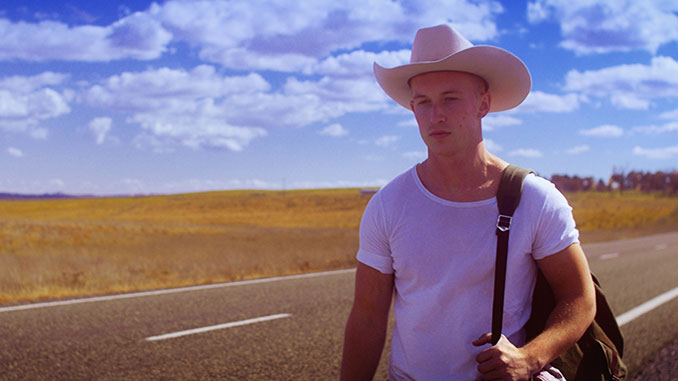 Shooting has begun in Sydney on the independent feature Lonesome, the second feature film from writer, director Craig Boreham following his acclaimed feature debut Teenage Kicks which is now streaming on Netflix Australia.
Lonesome is the story of Casey, a closeted country lad running from a small-town scandal, who finds himself down and out in the big smoke world of hook-up apps and anonymous sex.
When he meets Tib, a young gay man who entertains a string of meaningless encounters with random men to distract from his own scars of isolation, both men find something they have been missing but neither of them knows quite how to negotiate it.
Lonesome stars new-comers Josh Lavery in the role of Casey and Daniel Gabriel as Tib with Anni Finsterer (Sweet Country) and Ian Roberts (Superman Returns) in supporting roles.
"It's exciting to be telling this story with such a brilliant cast," says Director Craig Boreham. "It's a very queer tale and a very specific storyworld that we are building and our actors are throwing themselves into it with the kind of daring energy that the story deserves."
Joining Craig in the creative team is long time friend and collaborator Dean Francis (Drown) from JJ Splice, who is co-producing as well as Director of Photography.
"Dean and I have been talking about working together on a feature project for years," says Boreham. "We have both explored similar themes in our work and have been great support for each other's projects over the years and this just felt like the perfect project to collaborate on."
"I was very drawn to Craig's screenplay because it doesn't hold back in telling a queer story explicitly and with emotional authenticity," says Francis, who's second feature film Drown was the best-selling feature at the Mardi Gras Film Festival.
"Both Craig and I are accustomed to being slapped with an R18+ rating for our work and we are both driven as filmmakers to push back against the conservatism of Australian cinema," he added.
The pair have joined forces with Ben Ferris and Ulysses Oliver from Breathless Films with Lonesome becoming the second feature announced by the newly established independent production company, following Tennessine – a romantic drama currently in post-production.
Both productions well reflect the endeavour of the company's aim at fostering the opportunity to merge creative risk-taking with commercial viability for a diverse community of Australian filmmakers.
Lonesome is an indie feature film exploring sexuality, loneliness and isolation in a world that has never been more connected. For more information, visit: www.breathlessfilms.com.au for details.
Image: Josh Lavery stars as Casey in Lonesome (supplied)