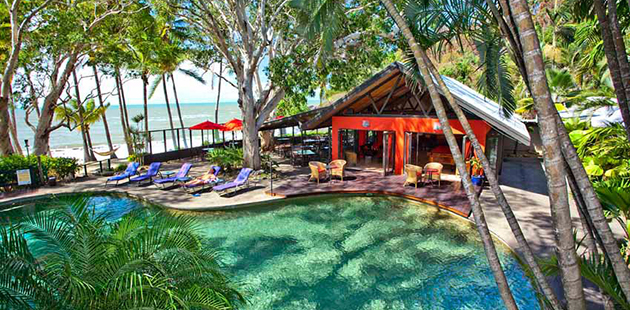 It's a big deal in gay land to survive in business for more than 10 years. An even bigger deal to be a venue and survive more than 10 years! So imagine surviving 20 years, or even getting to 25 years! It's almost unheard of and we congratulate any of our LGBTI brothers and sisters for reaching such a celebrated milestone  – especially in an industry such as hospitality & tourism.
So now it's Turtle Cove Beach Resort's turn – marking their 25th Anniversary as Australia's only gay & lesbian beach resort and they're ready to party!
In April 1993, much loved Queen B (Bert Gerbrands) and his team of partners and investors took on a venture that would secure this little piece of Far North Queensland paradise as Australia's much loved LGBTI haven. Over the years it has seen many changes: the highs and lows of the Global Economy; a changing community; and the introduction of online dating apps.
And now, with its current ownership, friendly team and beautiful surrounds it's enjoying even more popularity throughout Australia and the world as new faces drop in and fall in love with all that Turtle Cove has to offer.
So, come celebrate their 25th Anniversary and get set to enjoy another 25 years of tropical paradise at Australia's only LGBTI resort. They'll be spreading the cheer (and birthday cake) and they would LOVE for you to be a part of it! Highlights of the birthday weekend include:
Friday 13 April:
Check In & Chill – grab your room keys, drop off your suitcase, slip into your sexy swimwear and head to the pool for Happy Hour as the sun sets, catch up with old and new friends, mingle and enjoy a relaxed chilled Friday night.
Saturday 14 April:
Birthday Celebrations – carvery Buffet Dinner from 6pm, Birthday Cake & Live Music with local singer/songwriter MISS TEE. Bert will be on hand to share some stories of the early days, provide a few giggles and introduce you to some special friends of Turtle Cove.
Sunday 15 April:
Afternoon Live Music by STEPH in her debut live performance, exclusive to Turtle Cove. Followed by their famous à la carte menu selection.
Accommodation is still available from Garden View Rooms through to Beachfront Suites, so jump online and book your visit for a night, the weekend or the entire week. For more information, visit: www.turtlecove.com for details.
Image: Turtle Cove Beach Resort (supplied)