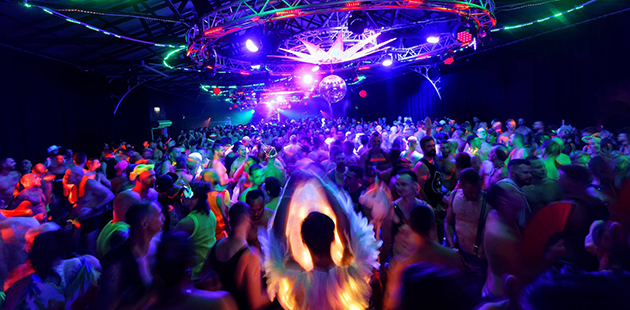 The Tropical Fruits New Year's Festival is a four-day LGBTIQ celebration held in the City of Lismore in sub-tropical Northern New South Wales, the shimmering heart of the Rainbow Region on the land of the Bundjalung people.
Anyone who has ever attended will know how much fun they are – and this year will be no exception as Tropical Fruits invites you, in their 30th year, to SHINE in a shimmering, glittery journey into a world filled with light and reflections.
"SHINE invites you to explore your inner glitter queen as you sashay around the party blinding all who surround you," says Tropical Fruits Event Coordinator, Kam McNeil. "Go all out with sequins and jewels and bedazzle your fellow partygoers."
"For this, our 30th year, our party space will be a reflection of our past… with a retrospective look at parties gone by. Those of you who have attended many festivals before will delight in recognising banners from parties you remember fondly."
On Saturday 29 December, Tropical Fruits kick off the festival and show our pride with a Street Parade through the Lismore CBD ending at Lismore City Hall with the Opening Soiree. This year Tropical Fruits is proud to welcome our sisters from Dykes on Bikes Sydney – who are also celebrating their 30th anniversary and will be roaring up the Pacific Highway to join us for the first time at the Tropical Fruits Street Parade.
The New Year's Eve Party and the New Year's Day Recovery Party are held at the retro-chic Lismore Showgrounds. NYE will include four dazzling dance floors and will feature headliners DJ's Grind & Toy Armada (direct from the USA), and thanks to the generous support of Ruby Dance, The Dome is back featuring the best in quality Trance.
SHINE will feature the best DJs Australia has to offer including Mike Kelly, Jay Bee, Feisty, Sveta, DJ Chip, El Scorcho, Sandi Hotrod, Amanda Louise, Somerville & Wilson, Dom De Sousa, Les Smith, Neroli, Ruby, Lady K, Amozon, DJ Magnus, Stephen Simpson and Platypuss & Sarahtonen.
The main NYE Party also will feature glam performances in the Cabaret Lounge including Sexy Galexy, Destiny Haz Arrived, Christy McNichol, Miranda Fair and the Burlesque Pink Diamonds, just to name a few. The Art Exhibition will once again host an exciting eclectic range of artistic expression, while at Midnight, the spectacular fireworks will light up the sky and blast you into the New Year.
New Year's Day brings the ever popular Pool Party – a wondrous feast of beats (courtesy of DJ's Amanda Louise and Somerville & Wilson) plus plenty of fun in the sun at the Lismore Memorial Baths. Then head back to the Showgrounds for your final fruity fix at the Recovery Party.
Accommodation can be at a premium over the New Year's Eve period, with many of the hotels booking out well in advance. Take in the whole experience with the on-site camping facilities at the Lismore Showgrounds. With themed areas to suit all your camping needs, it is a great opportunity to meet others and share your New Year's experiences. Camping must be pre-booked as spaces are limited.
Every year, the NYE Festival is created by a fruity army of over 300 volunteers. Whether you like creating colour schemes or working up a sweat with power tools, the Fruits have the job for you! With great deals on party tickets (and more) in exchange for volunteer shifts, volunteering is one of the best ways to enjoy a Tropical Fruits NYE.
"Our FUN, SAFE & INCLUSIVE Club has come a long way in 30 years," says Tropical Fruits Chair, Brett Paradise. "We truly dance upon the shoulders of giants, so come celebrate with us and be part of the ongoing history of Tropical Fruits and our LGBTIQ Community."
---
Tropical Fruits Neon Garden NYE Festival 2018 / 2019 key dates and events:
Camping: 27 December 2018 – 3 January 2019
Street Parade: Saturday 29 December 2018 (4.00pm)
Opening Soiree: Saturday 29 December 2018 (5.00pm – 8.00pm)
SHINE New Year's Eve Party: Monday 31 December 2018 (from 8.00pm)
Pool Party: Tuesday 1 January 2019 (10.00am – 4.00pm)
Recovery Party: Tuesday 1 January 2019 (BBQ: 4.00pm / DJs from 6.00pm)
---
Tickets are selling fast! For more information, visit: www.tropicalfruits.org.au for details, keep up-to-date at the Tropical Fruits Facebook Page, or download the Festival Guide. To find out more about Lismore and surrounding areas, visit: www.visitlismore.com.au for details.
Image: courtesy of Tropical Fruits