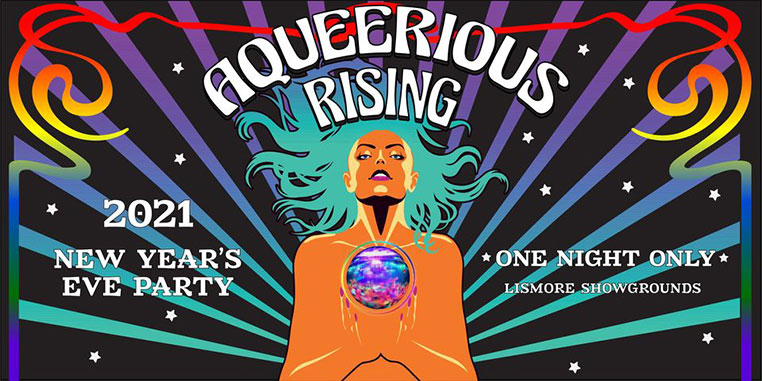 Surrender to your senses, step away from your worldly worries and let Tropical Fruits' Aqueerious Rising bring you to a more grounded, connected and earthly place this New Year's Eve.
Jingi Walla (welcome!) … this New Year's Eve, Tropical Fruits asks us to remember our grassroots and how we came to be gathering on sacred Widjabul Wia-bal country.
We honour the trailblazing LGBTIQ+ folk who came as part of the Nimbin Aquarius Festival in the early 70's with the passion they would then channel into creating Mardi Gras and Tropical Fruits.
We are currently in a new Age of Aquarius, so let's all embrace our inner flower child in the garden of love. This year we are going right back to basics!
Unfortunately, Tropical Fruits cannot hold their usual smorgasbord of New Years festival offerings, in its place, a New Years Eve party, where you can dance until dawn like the old days.
Aqueerious Rising will lift all our spirits until we become one. Together, connected, celebrating our diverse communities. One night – 1000 tickets – licensed bar – Chillout Space – 2 dance spaces:
Arena – where we combine our traditional uplifting Arena sound moving into the hearty throb of a Trade sound
The Birdcage – showcasing some of our fabulous local DJ's.
Come and reconnect with an incredible line up of DJs to tickle your ears and make your toes twitch. Purify yourself through the ritual of dance, amongst a group of family and friends.
Arena:           
Ruby – (8.00pm – 10.30pm)
Nate – (10.30pm – 1.00am)
Amanda Louise – (1.00am – 3.30am)
Feisty – (3.30am – 6.00am)
The Birdcage:
Yalda – (8.00pm – 10.00pm)
Magnus – (10.00pm – 12.00am)
Tone'n & T-Shot – (12.00am – 3.00am)
There will be a feature performance from the one and only Foxy Brown-Eye. Then at midnight, we can unite as a Fruity family – be awe-struck by the spectacular fireworks signifying a move into the New Year with hope and happiness.
Want to join the legendary VOLUNTEER CREW, register ONLINE via the Tropical Fruits website from Wednesday 1 December 2021.
---
Aqueerious Rising takes place at the Lismore Showgrounds on Friday 31 December 2021 (New Year's Eve). Tickets on sale Wednesday 1 December 2021 via: www.eventbrite.com.au For more information, visit: www.tropicalfruits.org.au for details.
Image: Aqueerious Rising – courtesy of Tropical Fruits Inc.