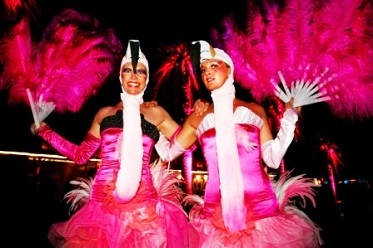 The Tropical Fruits New Year's Festival is a four-day GLBTI celebration held in the city of Lismore in sub-tropical Northern NSW, an area rather appropriately known as the Rainbow Region.
The New Year's Eve Party and the New Year's Day Recovery Party are held at the retro-chic Lismore Showgrounds, lovingly transformed by hundreds of volunteers into a sumptuous smorgasbord of unique culture.
Partygoers on New Year's Eve can sashay between two massive dance spaces featuring top Australian and International DJs. Arena will swing you on the trapeze of phantasmagoria as DJs Gavan Bright, Alex Taylor and Mark Alsop guide you to the heavens. While Trade will take you to the darker side of fantasy with DJs Kam Shafaati, LADY K and Feisty spinning for the freak in us all.
For a more vibrant, youthful dance experience, head to the youth dance space with DJs Arsee, Elscorcho and Sveta. Grab your fairy floss, snuggle up to your favourite strongman or lady, and ooh! and aah! arm-in-arm beneath the midnight fireworks.
Get a culture shot at the Art Show and Cabaret. Our region has the highest concentration of artists, musicians and other creative types living in rural NSW, many of them part of the GLBTI community, and we're showcasing them for you!
Rejuvenate on New Year's Day at the sensational, slippery, sexy Pool Party with DJs Papa Tom and 1iSAMURAi (aka Craig Wilson). Held in the post-deco ambience of Lismore Baths, booked exclusively for Tropical Fruits. Swim, shower, sun yourself, recharge your Vitamin D and get moist dancing by the pool with some delectable GLBTI folk, this time seriously under-clad.
Then back at the Showgrounds, as the sun starts to set on New Year's Day, enjoy a BBQ and a chat with the volunteers, kick back and get set to groove the night away at Recovery – where circus freaks arise from the fallen sequins to dance their way home to DJs Les Smith, Sandi Hotrod and Neroli.
Take in the whole experience with Tropical Fruits on-site camping facility, studded with themed areas to suit all your camp needs. There are designated quiet zones for the quieter camper and an extremely camp zone for those wanting to rock on, but Tropical Fruits operates on a first-in best-dressed basis so be sure to arrive early to secure your site!
Facilities include on-site toilets, showers & a tea, coffee and toast kitchen with a fab friendly atmosphere. There are powered sites available for both tents and campervans. There are also limited van sites available, so get in quick!
The campground is not oversold so there will be room for everyone who has a booking. Only party-goers are permitted to camp and no dogs are permitted on site.
For more information, visit: www.tropicalfruits.org.au for details.
Image: courtesy of Tropical Fruits