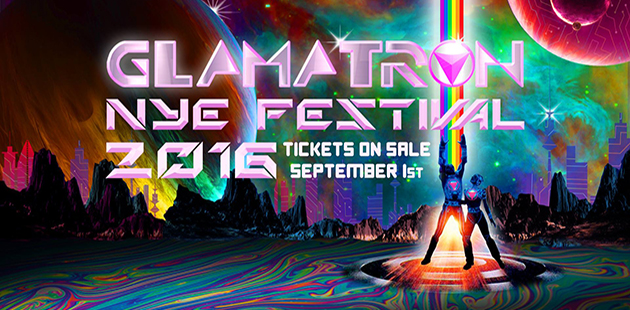 Established in 1988, the Tropical Fruits are the premier GLBTI community social group in the sub-tropical New South Wales Northern Rivers town of Lismore – an area appropriately known as the Rainbow Region.
The Tropical Fruits New Year's Festival is a four-day GLBTI celebration, and anyone who has ever attended will know how much fun they are – and this year, will be no exception, as this New Year's Eve marks a break with social order, a radical, cyberpunk-journey beyond binary and into a new dimension.
Glamatron is your sexy, spandex-wearing, laser-eyed cyber host, beckoning you on a ride into a wormhole of sight and sound. Funk, jump and crank in Arena's fluorescent Interplanetarium geode, or jack-in to the stomp and hard circuitry of the Motherborgboard in Trade. Set down in the space opera high glam of Cabaret, or float weightlessly through space in the digitised projections of a world beyond time.
DJs announced so far, include: Alex Taylor, Amanda Louise, Chip, Colin Gaff, Elscorcho, Fradge, Kiti, Kylie Rose, L.Y.D.I.A, LADY K, Magu, Meta Etcetera, Papa Tom, Platypuss, Sandi Hotrod, Somerville & Wilson, and Sveta.
Every year, the NYE Festival is created by a fruity army of over 300 volunteers. Whether you like creating colour schemes or working up a sweat with power tools, the Fruits have the job for you! With great deals of party tickets (and more) in exchange for volunteer shifts, volunteering is one of the best ways to enjoy a Fruits NYE. Volunteer Registrations open Thursday 1 September 2016.
Accommodation can be at a premium over the New Year's Eve period, with many of the hotels booking out well in advance. Take in the whole experience with the on-site camping facilities at the Lismore Showgrounds. With themed areas to suit all your camping needs, it is a great opportunity to meet others and share your New Year's experiences.
Once again, there will be camping, opportunities to volunteer, and all your favourite events and activities including the Parade, the Pool Party, the Cabaret Lounge, and the Women's, Men's and Sex & Gender Diverse Spaces. Let yourself be broken down into the data stream. Digitise your body and mind. The future is promised to no one… let Glamatron take you there!
The Glamatron NYE Festival key dates and events:
Camping and Volunteering: 27 December 2016 – 3 January 2017
Street Parade: 29 December 2016
New Year's Eve Glamatron Party: 31 December 2016
Pool Party: 1 January 2017
Recovery Party: 1 January 2017
Tickets go on sale Thursday 1 September 2016. For more information, visit: www.tropicalfruits.org.au for details, or keep up-to-date at the Tropical Fruits Facebook Page.
Image: Glamatron – courtesy of Tropical Fruits Inc.