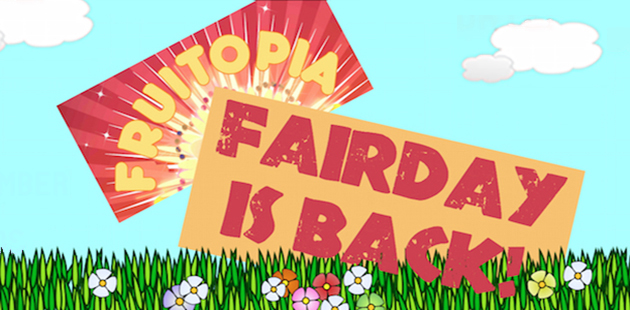 Tropical Fruits annual family fun day, the Fruitopia Fairday returns to the grassy lusciousness of the Lismore Showgrounds on Saturday 10 September 2016.
Fruitopia sees the Northern Rivers GLBTI community gather their families, friends, pooches and picnic rugs for an outdoor extravaganza. With dog shows, kids games, great food, stalls galore, live music and a cake bake-off, Fruitopia welcomes spring with gay abandon.
The Cabaret stage line up is looking fierce for Fruitopia Fairday 2016! MC Miss Jenny Jones will be charting a charming course through some incredible acts, including LUSH (Peter Lerner and Mish Songsmith), Saphira Von Wilde, Dreamtime Divas (Lasey Dunnaman, Nova Gina), Kannibal Kitty, Simon Latex, Jess Lopez, Janita Snatch and Lismore's own, the inimitable Maude Pearl Boate and so much more!
The Tropical Fruits are also squealing with excitement about a Special Guest who'll be joining them on stage. You"ll have to come along to find out who this is – you'll be excited too!
The wonderful team from the Queer Generations Study will also be in attendance – so if you identify as LGBTI or Queer, grew up on the NSW North Coast and were born in the 1970s or 1990's, come and have a chat to them about participating in this great study!
Then as the sun sets, DJs Somerville & Wilson and Elscorcho will help you dance the day away till 8.30pm. A licensed bar operates from 1.00pm. All proceeds from Frutopia supports the Tropical Fruits Land Fund.
Tropical Fruits Frutopia Fairday
Lismore Showgrounds, Alexandra Parade, Lismore
Event: Saturday 10 September 2015 (11.00am – 8.30pm)
Free entry – donations appreciated!
For more information, visit: www.tropicalfruits.org.au for details.
Image: courtesy of Tropical Fruits Inc.