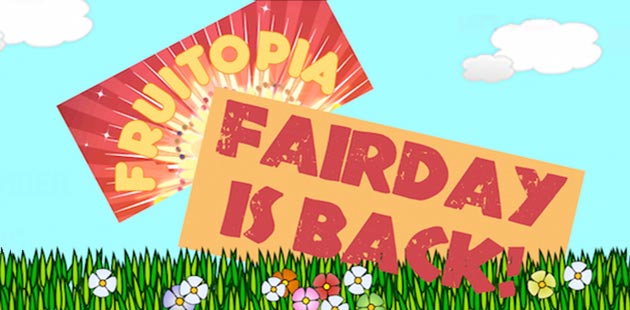 Tropical Fruits' annual family fun day, the Fruitopia Fairday returns with a sparkle on Sunday 8 September 2019 to the grassy lusciousness of the Lismore Showgrounds.
The Fruitopia Fairday sees the Northern Rivers GLBTI community gather their families, friends, pooches and picnic rugs for an outdoor extravaganza. With a dog show, kids games, great food, stalls galore, live music and a cake bake-off, the Fruitopia Fairday welcomes spring with gay abandon.
There will be plenty of entertainment throughout the day with performances by Peter Lehner, Joanne Caesar, JPF & Spangles Lytex, Jesse Belle, Deb Jackson, Lilly, Mr Harvey, Desert Delights and Saphira Von Wilde.
Hosted by MC Jodi Wils & Harry Pearson, the dog show returns with categories including: Look-a-like (dog that most looks like its owner); Best Dressed; Agility; and Best in Show.
There will be door prizes galore and a prize awarded for Best Fairday Hat. Then as the sun sets, DJ Marty (Brisbane) and DJs Sarahtone'n & TBrotha will have you up and dancing until 8:00pm. All proceeds from Fairday supports the Erif Benham Memorial Land Fund.
---
Tropical Fruits Fruitopia Fairday 2019
Lismore Showgrounds, Alexandra Parade, Lismore
Event: Sunday 8 September 2019 (11.00am – 8.00pm)
Free entry – donations appreciated!
For more information, visit: www.tropicalfruits.org.au for details.
Image: courtesy of Tropical Fruits Inc.