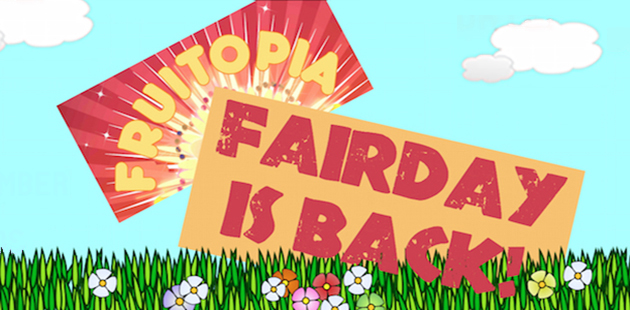 Tropical Fruits annual family fun day, the Fruitopia Fairday returns to the grassy lusciousness of the Lismore Showgrounds, as part of their 30th anniversary celebrations, on Sunday 26 August 2018.
Fruitopia sees the Northern Rivers GLBTI community gather their families, friends, pooches and picnic rugs for an outdoor extravaganza. With dog shows, kids games, great food, stalls galore, live music and a cake bake-off, Fruitopia welcomes spring with gay abandon.
Hosted by Dottie and Brigitte, there will be plenty of activities for the kids including some old-school favourites including: Sack Race, Tug-O-War, 3-Legged Race, Handbag Tossing, and Dress-up Drag Race. Followed by a Hip Hop Dance Workshop, presented by Jade AKA "Rowdy Blue" from "Dance Skool" on the Gold Coast. This will be an interactive workshop of current Hip Hop moves that will get everyone shaking their booty.
This year Tropical Fruits are introducing the Spring Country Fair Hat Competition, judged by Nora 'girl-can-she-wear-a-hat' Vidler-Blanksby along with Special Guest Judges. Simply parade around Fairday sporting your finest, fruitiest, fabulous hat or headdress and if you impress one of our judges you might win a prize. The more bright, brilliant, beautiful or bodacious the better.
Take Your Seat for the Fairday Stage Show! Hosted by our very own fruity Town Crier, Katrina Alexander, this year Tropical Fruits brings you another exciting, talented, local mix of vocals, dance and drag.
Anita Gloss, Christy McNicol, Deb Jackson, Desert Delights, Destiny Haz Arrived, Dragan Wright, Heidi Von Sausage, Jesse-Belle, JPF Spangles, Lasey Dunaman, Lytex, Peter Lehner, Saphira Von Wilde, Spiral Orbit and Wolfsong Choir will entertain you on the Arena Pavilion Stage from 2:00pm.
During the show our Fruitopia Door Prize and Bush Fruits Raffle will be drawn and prize awarded for Best Fair Day Hat. Then as the sun sets, local DJs will have you up and dancing until 8:00pm. All proceeds from the Frutopia Fairday supports the Erif Benham Memorial Land Fund.
Tropical Fruits Frutopia Fairday
Lismore Showgrounds, Alexandra Parade, Lismore
Event: Sunday 26 August 2018 (11.00am – 8.00pm)
Free entry – donations appreciated!
For more information, visit: www.tropicalfruits.org.au for details.
Image: courtesy of Tropical Fruits Inc.