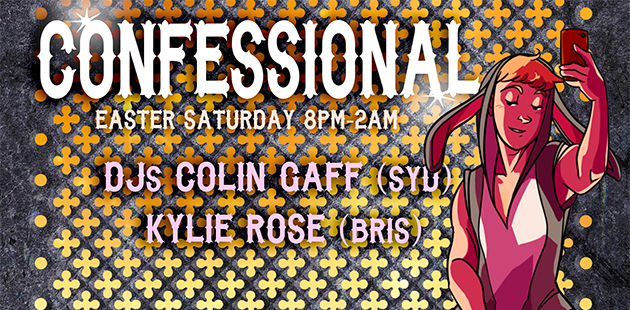 After a 2 year break, the Tropical Fruits Easter Party returns on Saturday 15 April 2017 to seek forgiveness in the dance floor confessional at Italo Club in North Lismore. DJs Colin Gaff (Syd) and Kylie Rose (Bris) will preach the House gospel, and absolve the penitent (and not so repentant) of all sins.
Colin Gaff has been playing house music since Acid House started in 1988. Most of the money he earnt in the late 80's and 90's was spent on the latest vinyl he could get his hands on in the record shops in London. His obsession for dance music has always been unstoppable and was the main passion he carried to Sydney when he relocated in 1999.
From underground leather parties in Melbourne and Sydney to the hallowed stage at the Sydney Gay and Lesbian Mardi Gras party to commercial club residencies in Brisbane and pioneering club nights for the queer-underground, DJ Kylie Rose has been pushing tech and house beats to dance floors for over 15 years.
With some special shows throughout the night, we'll don our naughtiest habits and pay homage to the holy trinity of dancing, community and music. With a beautiful large wooden dance floor, sunken bar, crystal clear sound Pinkerton Audio and spectacular lighting by Jackson's Technical Services, Confessional is the only place for the GLBTI community to celebrate the Easter Vigil!
UPDATE:
After the terrible devastation suffered by our town and community during the March flooding, we have decided to dance on! Dance therapy-come-fundraiser, this event will raise funds for the LGBTIQ community affected by Cyclone Debbie floods in the Northern Rivers.
$10 from every ticket sold will be donated to LGBTIQ survivors of the flooding, which Tropical Fruits will match dollar for dollar. LGBTIQ community members affected by the flooding will be able to apply directly to Tropical Fruits for small grants to help their flood recovery. We are also offering $10 party entry for flood survivors, but no-one will be turned away at the door due to lack of funds.
Tropical Fruits: Confessional
Italo Club Auditorium, Barrow Lane, North Lismore
Date: Saturday 15th April 2017 (8.00pm – 2.00am)
Tickets available at the door – 18+ GLBTI event
For more information, visit: www.tropicalfruits.org.au or www.facebook.com/tropicalfruits for updates. Want to Volunteer? Contact Tropical Fruits for more details.
Image: Confessional – courtesy of Tropical Fruits Inc.