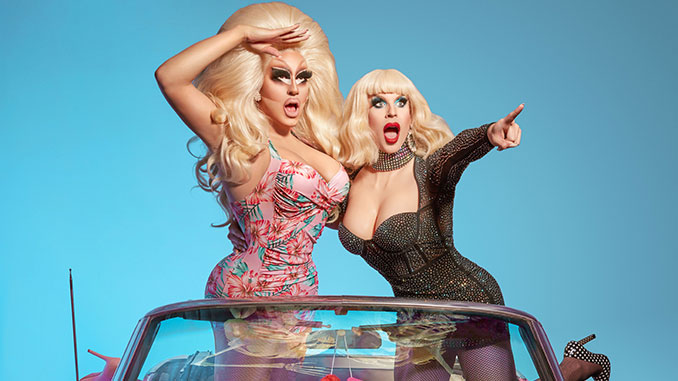 Trixie Mattel and Katya Zamolodchikova have announced added dates to their first Australia and New Zealand tour together, Trixie And Katya Live presented by In The Dark Events.
The tour is adding multiple new stops and kicks off on 19 June 2022 in Perth. Additional dates have also been added to this world tour. A complete list of tour dates and venues is listed below.
"Well, you all broke the internet when we announced this tour back in July when we sold billions of tickets, so we thought we'd do it all over again," said Trixie Mattel. "You can expect a dazzling on-stage spectacle from two of the most talented women in the world. We'll accept our Tony Awards now."
Don't miss out on this once-in-a-lifetime event, where drag's dynamic drag duo deliver unparalleled feats of theatrical eroticism and hilarious ingenuity right before your very eyes. What critics are calling "shockingly poignant and mercifully brief" Trixie and Katya Live! is sure to be UNHhhhlike anything you've ever witnessed.
"If you were unable to secure tickets to Trixie And Katya Live, you can officially stop crying and untie yourself from the train tracks because new dates have been added to cities all over Australia and New Zealand," said Katya Zamolodchikova.
Trixie Mattel has redefined what it means to be a "drag queen" by releasing three acclaimed, charting albums (Two Birds, One Stone and most recently, 2020's Barbara), launching a successful cosmetics company, Trixie Cosmetics, co-authoring the NY Times Best Seller Trixie and Katya's Guide To Modern Womanhood, raising over $100K for numerous charities and organizations in 2020 through her "Twitch Tuesdays" video game livestreams.
She becoming a celebrated touring and YouTube comedienne (best known for the wildly popular UNHhhh and the Netflix-produced I Like to Watch), blogging via the recently launched GOOPED newsletter, podcasting via The Bald and The Beautiful, and her forthcoming Trixie Motel renovation show.
Most recently, Trixie partnered with Integrity Toys to release the Trixie doll, and she was announced as one of the judges for the forthcoming Paramount+ Queen of the Universe singing competition alongside Michelle Visage, Leona Lewis and Vanessa Williams.
Katya Zamolodchikova the self-proclaimed "Sweatiest Woman in Show Business" is a drag performer, recording artist, podcast host, author and comedian. She cohosts the World of Wonder web series UNHhhh, the Netflix digital series I Like to Watch, and The Bald and the Beautiful podcast with frequent collaborator Trixie Mattel.
She is the co-author of the NY Times best-selling book Trixie and Katya's Guide To Modern Womanhood and in 2019 completed a sold-out 80+ stop global theater tour, Help Me I'm Dying. Her 2020 EP Vampire Fitness debuted at #1 on the electronic music charts. She currently resides in Los Angeles with her beautiful husband Glen and their three wonderful daughters.
A limited number of VIP upgrade package add-ons will be available for sale in each city. Tickets are available at www.itdevents.com For more information, visit: www.trixieandkatya.com for details.
Image: Trixie Mattel and Katya Zamolodchikova (supplied)
---
2022 Australia Tour Dates for Trixie And Katya Live:
19 June – Perth, Astor Theatre (NEW)
20 June – Perth, Astor Theatre
21 June – Perth, Astor Theatre
23 June – Sydney, State Theatre
24 June – Sydney, State Theatre
26 June – Sydney, State Theatre (NEW)
27 June – Wollongong, Anita's (NEW)
29 June – Hobart, Odeon (NEW)
1 July – Canberra, Llewellyn Hall
2 July – Melbourne, Plenary Hall
3 July – Melbourne, Plenary Hall (NEW)
6 July – Adelaide, Thebarton Theatre
8 July – Brisbane, QPAC
9 July – Brisbane, QPAC
10 July – Gold Coast, The Star (NEW)
12 July – Townsville, Civic Theatre (NEW)
13 July – Cairns, CPAC (NEW)