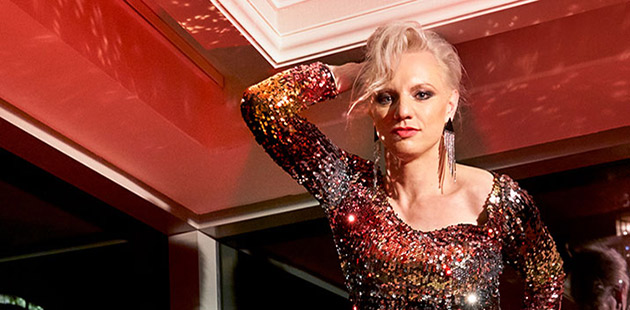 From the wickedly funny pen of Australian-born, New York-based playwright, comedienne and performer Glace Chase, Queensland Theatre and Sydney Theatre Company presents the world premiere of Triple X in the Bille Brown Theatre from 14 March, before playing The Playhouse – Sydney Opera House from 30 April 2020.
Scotty is living the dream. A successful Wall Street banker, he has just bought a Tribeca loft for a cool three million and is about to marry his beautiful and loaded girlfriend Kymberley. But Scotty has a secret that will outrage both his conservative mother Deb and progressive sister Claire: his ongoing affair with charismatic trans drag performer Dexie.
This is an hysterically funny love story, but not for the faint-hearted. NYC-based, two-time Griffin Award winner Glace Chase is both the writer and star of Triple X, a deep dive into hypocrisy, self-deception, and the unknowable contours of attraction.
Directed by Sydney Theatre Company's Associate Director Paige Rattray (The Beauty Queen of Leenane), it's brilliantly comic, wildly provocative and ultimately moving. Also featuring Akos Armont (Romeo & Juliet), Christen O'Leary, Contessa Treffone (The Harp in the South) and Meyne Wyatt (Bloodland), Triple X is a tender and wickedly funny look at social taboos and love out of bounds.
Director: Paige Rattray Featuring: Akos Armont, Glace Chase, Christen O'Leary, Contessa Treffone, Meyne Wyatt Designer: Renée Mulder Lighting Designer: Ben Hughes Composer/Sound Designer: Kelly Ryall Intimacy & Fight Director: Nigel Poulton
---
Triple X
Bille Brown Theatre – Queensland Theatre, 78 Montague Road, South Brisbane
Season: 19 March – 4 April 2020 (previews: 14 – 18 March)
Information and Bookings: www.queenslandtheatre.com.au
The Playhouse – Sydney Opera House, Bennelong Point
Season: 2 – 23 May 2020 (previews: 30 April – 1 May)
Information and Bookings: www.sydneytheatre.com.au
Image: Glace Chase stars in Triple X – photo by Rene Vaile