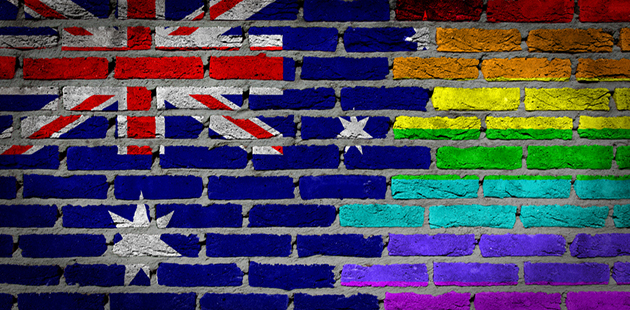 Minister for Equality Martin Foley has announced the members of an LGBTI Taskforce that will support the Andrews Labor Government's efforts to put equality for LGBTI Victorians back on the agenda.
"Creating this whole of government taskforce was an election commitment that we are now delivering on," says Minister Foley. "I'm looking forward to working with Brenda and the Taskforce and ensuring we are guided by the LGBTI communities as we remove discrimination from Victorian laws, services and society."
The LGBTI Taskforce will have a Justice working group and a Health and Human Services working group and will advise on current and emerging LGBTI issues, as well as the implementation of the Government's election commitments.  The Taskforce will also work closely with Rowena Allen, Victoria's first Commissioner for Gender and Sexuality, to develop a work plan, ensuring that the Government's equality initiatives are driven by genuine community consultation.
Brenda Appleton, a leading activist for the trans and gender-diverse communities, will co-chair the Taskforce with Minister Foley. It  will also include:
Anna Brown – Director of Advocacy and Strategic Litigation, Human Rights Law Centre, Convener Victorian Gay and Lesbian Rights Lobby
Jamie Gardiner – long-time human rights activist, former member of the Equal Opportunity and Human Rights Commission, Vice-President of Liberty Victoria and board member of the Human Rights Law Centre
Ruth McNair – General Practitioner and Honorary Associate Professor, Department of General Practice, University of Melbourne
Senior representatives from the Departments of Premier and Cabinet, Justice and Regulation, and Health and Human Services, who will help drive a coordinated whole-of-government approach
The Taskforce's Health and Human Services working group will be co-chaired by Ruth McNair and Mary-Anne Thomas MP, Parliamentary Secretary for Health and Member for Macedon. The Justice working group will be co-chaired by Anna Brown and Harriet Shing MP, Member for Eastern Victoria Region.
Whole of Government LGBTI Taskforce
Co-chairs: Brenda Appleton and Martin Foley MP
Members: Anna Brown, Jamie Gardiner, Ruth McNair, Senior representatives of DPC, DJR and DHHS
Justice Working Group
Co-chairs: Anna Brown and Harriet Shing MP
Members: Liana Buchanan, Paul Kidd, Felicity Marlowe, Sally Goldner, Margot Fink, Tony Briffa, Paula Gerber
Health and Human Services Working Group
Co-chairs: Ruth McNair and Mary-Anne Thomas MP
Members: Brent Allan, Jeremy Wiggins, Beng Eu, Liam Leonard, Maria Pallotta-Chiarolli, Rebecca Dominguez, Jacqueline Tomlins, Damien Stevens, Tim Christodoulou, Simon Ruth