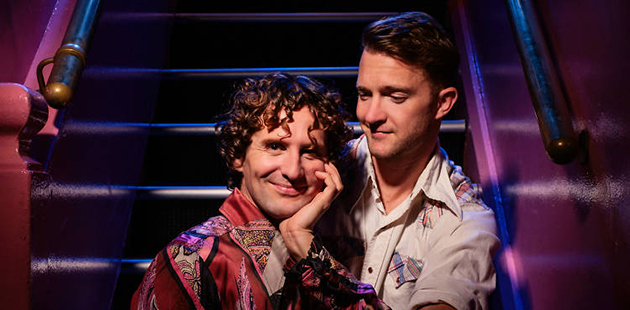 Funny, poignant and illuminating, Harvey Fierstein's Tony Award winning cult-classic, Torch Song Trilogy, makes an electrifying return to Darlinghurst Theatre Company for a limited season this August 2018.
Harvey Fierstein's intensely personal collection of three plays chronicles a Jewish New York drag-queen's quest for love, respect and a life of which he can be proud. From a failed affair with a reluctant lover, to a burgeoning relationship with a young fashion model, Arnold Beckoff's greatest torment in life remains his turbulent relationship with his mother.
Director Stephen Colyer (Kiss of the Spider Woman, Falsettos) has assembled an all-star cast including Simon Corfield (Packed to the Rafters, Angels in America) reprising his acclaimed performance as Arnold.
They are joined by Tim Draxl (A Place to Call Home, Miss Fisher's Murder), Stephen Madsen (Muriel's Wedding, The View Upstairs), Hilary Cole (Muriel's Wedding, Kinky Boots), Kate Raison (Two, Dark Voyager) and Imraan Daniels (Between Worlds, Joseph and the Amazing Technicolour Dreamcoat). Musical Director Phil Scott (Wharf Revue) will also be the accompanist during the season.
"Twenty-six years ago, when Torch Song Trilogy premiered, it was unlikely that loving gay couples would raise children," said Director Stephen Colyer. "Torch Song Trilogy celebrates the bravery of pioneers such as Arnold and writer Harvey Fierstein."
A Tony winner for best play when it opened on Broadway, Torch Song Trilogy originally ran Off Broadway as International Stud (1978), Fugue in a Nursery (1979) and Widows and Children First! (1979). The triptych was later adapted into the 1988 film starring Fierstein, Anne Bancroft and Matthew Broderick.
Director: Stephen Colyer Featuring: Hilary Cole, Simon Corfield, Imraan Daniels, Tim Draxl, Stephen Madsen, Kate Raison Musical Director: Phil Scott Set Designer: Imogen Ross Lighting Designer: Ben Brockman Costume Designer: Katja Handt Sound Designer: Nate Edmondson Stage Manager: Sam Johnson Voice Coach: Linda Nicholls-Gidley
Torch Song Trilogy
Eternity Playhouse, 39 Burton Street, Darlinghurst
Season: 4 – 26 August 2018 (previews: 1 – 3 August)
Information and Bookings: www.darlinghursttheatre.com
Image: Simon Corfield and Tim Draxl star in Torch Song Trilogy – courtesy of Darlinghurst Theatre Company