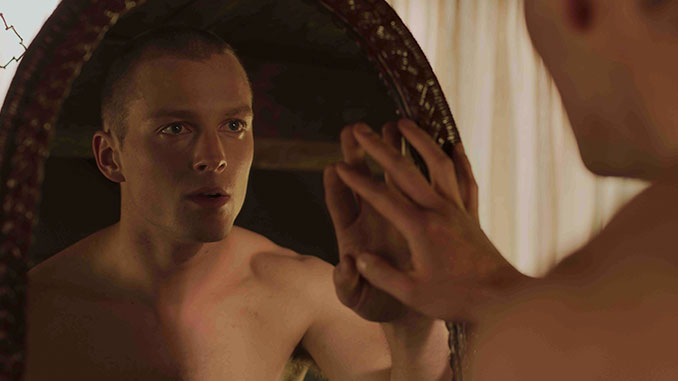 Returning for its 22nd edition this March, the 2021 Brisbane Queer Film Festival features a program of bold, defiant and refreshingly authentic queer storytelling by and for the queer community.
Taking place at New Farm Cinemas, the festival program includes 14 features, 3 shorts sessions, 6 documentaries, with 17 Queensland premieres, and 3 Australian premieres, and special presentations of the auteur of Taiwanese Second Wave cinema, Tsai Ming-Liang's Days (Rizi), in partnership with Queensland Film Festival; 25th anniversary screening of Bloodsisters in partnership with Sissy Screens and Institute of Modern Art.
BQFF Co-Director Shanon King said the program aims to embrace the gamut of queer cinema, spanning LGBTIQ+, gender diverse and intersectional films, with special selections for the niche and allies of Brisbane's queer community.
"We want to show audiences the future of queer storytelling. The calibre, diversity and inclusiveness in the line-up of films is always something we strive to excel at. Centering and elevating our queer voices, elders and community," said King.
Top Picks of the 2021 Brisbane Queer Film Festival include:
Always Amber
Amber is a 17-year-old teen. Together with best friend Sebastian, the two queer youngsters share a world far away from the judging eyes of society. When they are together, anything feels possible. We get to hang out with Amber and Sebastian during this identity building period, when they share everything from dreams and parties to new friendships. But when Amber falls in love with Charlie, something starts to challenge their utopian world. Trust issues begin to emerge, and in the midst of it all Amber has to face going through their transition alone. In Always Amber, we get a unique insight into a new generation. Australian Premiere!
Cicada
After a string of unsuccessful and awkward encounters with women, Ben goes "back on the dick." Confronting trauma and the sometimes tough business of being kind to oneself, Cicada follows Ben, a young bisexual man, as he comes out to the world in the big city and develops an intense relationship with Sam, a closeted man struggling with deep wounds of his own. As the summer progresses and their intimacy grows, Ben's past crawls to the surface. Queensland Premiere!
Forgotten Roads
Claudina is a repressed woman from the countryside. After the death of her husband, she meets Elsa, a married woman, who invites to her to discover real love. Under the judgment of a small conservative town in the south of Chile, Claudina starts a tough journey to be free, that makes her brave enough to leave everything behind and to understand that freedom is individual and inalienable. Queensland Premiere!
No Ordinary Man
For decades, the life of American Jazz musician Billy Tipton was framed as the story of an ambitious woman passing as a man in pursuit of a music career. In No Ordinary Man, Tipton's story is re-imagined and performed by trans artists as they collectively paint a portrait of an unlikely hero. Together, the filmmakers join Tipton's son Billy Jr. to reckon with a complicated and contested legacy: how do you tell the story of someone who was hiding in plain sight yet desperate to be seen?
Saint-Narcisse
Canada, 1972. 22 year-old Dominic has a fetish… for himself. Nothing turns him on more than his own reflection and he spends much of his time taking Polaroid selfies. When his loving grandmother dies, he dis- covers a deep family secret: his lesbian mother didn't die in childbirth, like he has been told, and he has a twin brother who was raised by a depraved priest in a remote monastery. The power of destiny brings the two handsome, identical brothers back together. After being reunited with their mother, they are soon entangled in a strange web of sex, revenge and redemption. From the director of Otto; or, Up with Dead People, Gerontophilia and The Misandrists comes Bruce LaBruce's latest, biggest budget feature. Queensland Premiere!
Sublet
Michael, a travel columnist for The New York Times, goes to Tel Aviv to write an article after suffering a tragedy. He is still grieving and the loss has caused problems between him and his husband. He just wants to do his research and go home. But when he sublets an apartment from Tomer, a young film student, he finds himself drawn into the life of the city. Superficially, the two men couldn't be more different. Michael is an established journalist who has been with his partner for decades. He came of age during the years when AIDS was ravaging the gay community and he appreciates how much things have changed. Tomer struggles to earn a living and is still trying to figure out what kind of films he wants to make. He can't imagine settling down and is into casual sex, avoiding anyone who wants to get serious. What really begins to turn things around for him is the unlikely and intense bond he forms with Tomer, which transforms both their lives in unexpected ways. Queensland Premiere!
The Greenhouse
What would you do, if you could go back in time? The magic-realist The Greenhouse answers that very question. Beth is a young woman bereft when one of her mothers passes away. Unlike her three siblings, she languishes at the family home with her surviving mother, Ruth. On the eve of Ruth's sixtieth birthday, Beth follows a vision into the garden and discovers a greenhouse that sends her into the past, where her mother is alive and Beth is taking her first steps in trying to deal with or ignore her own burgeoning sexuality. As her siblings and a past love return home and tempers flare, Beth's escapes to the greenhouse are discovered and send the whole family searching for what they've lost and finding far more than they bargained for. This affecting drama marks the feature debut of NSW south coast childhood friends, director Thomas Wilson-White and producer Lizzie Cater, featuring stunning performances by Jane Watt, Camilla Ah Kin, Kirsty Marillier, Shiv Palekar, Joel Horwood, Harriet Gordon-Anderson and Rhondda Findleton. Queensland Premiere!
The World To Come
In this frontier romance framed by the four seasons and set against the backdrop of rugged terrain, Abigail, a farmer's wife, and her new neighbor Tallie find themselves powerfully, irrevocably drawn to each other. As grieving Abigail tends to the needs of her taciturn husband Dyer and Tallie bristles at the jealous control of her husband Finney, both women are illuminated and liberated by their intense bond, filling a void in their lives they never knew existed. Director Mona Fastvold examines the interior lives of two women resisting constraints, giving voice to their experiences, exploring how isolation is overcome by the power of imagination and human connection. Queensland Premiere!
---
The 2021 Brisbane Queer Film Festival continues at the New Farm Cinemas until 21 March. For more information and full program, visit: www.bqff.com.au for details.
Image: Saint-Narcisse (supplied)