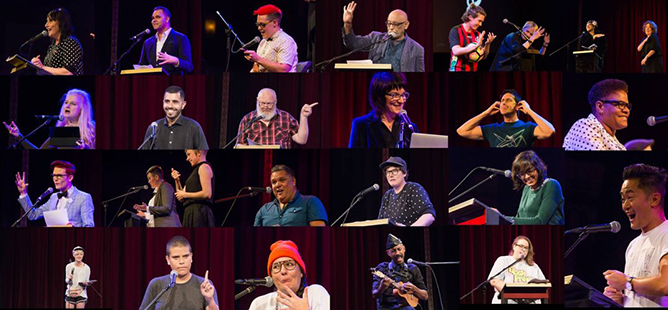 Melbourne's Midsumma Festival has returned in all its wild finery, bringing a kaleidoscope of preeminent queer arts and cultural festivities across Melbourne through to 10 February 2019. Since its debut in 1988, the three-week event has celebrated the LGBTQIA+ communities, offering audiences a diverse display of spectacular performances, visual arts and social events. With so much on offer, the Australian Pride Network takes a look at sixteen events worth checking out:
#VAL – a camp-fire kiki with mother
Chapel Off Chapel: 21 & 22 January
Tour de force performer and self proclaimed national treasure "Australia's John O'Hara" returns in his brand new cabaret; #VAL. A fabulously honest and hilariously heartbreaking homage to the mothers of our queer community, #VAL is a true celebration of joy, love and acceptance that will definitely leave a speck of glitter in your undies. #VAL explores the very specific, layered and precious relationship that queer kids have with their mothers… women who often know their children are different before they do themselves. These women, warriors and living legends continue to walk alongside their babies on the winding quest and sometimes bumpy road to equality for all. They have stories to tell.

And Then The Snow Fell On Egypt
No Vacancy Gallery: 23 January – 3 February
A story that is limited only by one's own imagination. An escape from this world into the next, where we can revisit our treasured memories and keep a hold of what we have lost. A universe of longing and loss, of happiness and sorrow. The intent of the piece is to give over to the emotions and create a world that ebbs and flows between what we know and what we long for the most. Told over two parts with a cast of eight alternating roles each performance, And Then the Snow Fell On Egypt is a unique theatre experience. With themes that will echo across ages, genders, sexualities, and cultures, this is a theatre performance not to be missed.
Become The One
Gasworks Arts Park: 31 January – 9 February
When Noah captures the attention of Tom, a celebrated AFL player nearing the end of his career, sparks immediately fly. But as the season progresses and their relationship grows, questions around identity, sexuality and our devotion to hyper masculinity begin to surface, forcing us to consider what happens to love when good intentions and patience aren't enough anymore. Winner of the 2018 Midsumma Playtime Staged Readings Event for new queer writing, this smart, sexy and challenging world premiere explores the true meaning of bravery, and what it might take – as both a lover and a high profile sportsman – to become the one.
COCK
fortyfivedownstairs: 30 January – 10 February
John has a boyfriend but he's just met the girl of his dreams and he's going to have to choose. Hearts are on the line and everyone's ready for a fight in Mike Bartlett's razor-sharp comic drama. Winner of a 2010 Olivier Award, Bartlett's play on the ruthless pursuit of happiness has been an international sensation and is the break-through work from the writer of Doctor Foster, King Charles III and Love, Love, Love among many others. First seen in 2018, Beng Oh's critically acclaimed production is back with the original cast for a new season at fortyfivedownstairs.
Dancing Qweens
Dancehouse: 30 January – 3 February
Dancing Qweens is a new work by choreographer and drag artist James Welsby (Valerie Hex) exploring 50 years of queer dance history channeled into a highly interactive and surreal experience of queer bodies in motion. Same-sex ballroom, waacking, voguing, and heels are styles that have informed this kaleidoscopic take on history that ultimately inquires into the future of queer dance.
Father Figure
Chapel Off Chapel: 23 – 25 January
An evening dedicated to the music of the legend that was George Michael. Sit back and relax as rising cabaret artist Andy Johnston (Priscilla Queen of the Desert, Twink Ascending) shares how the late pop icon taught him to understand love, heartbreak and pride. With a live three piece band bringing to life hits such as Careless Whisper, Freedom! '90 and Father Figure, this show is a must for all music lovers!
Jen Der Unpacks
Hares & Hyenas: 31 January – 2 February
In a desperate need to shake off the mundane and sashay the hell outta Melbourne, Jen Der reaches out to the higher realm with salt lamps, sage and crystals and manifests her ultimate plan for escape. Then *boom* the universe provides, with the most life changing and exciting opportunity of her life. As Jen Der packs up her life, she needs to unpack her emotional baggage first, such as the patriarchy, people's opinions, and that niggling little voice in her head that keeps telling her she can't.
Let's Eat Cake
Melbourne City Library Gallery: to 9 February
Australians have for more than fourteen years been taking to the streets to protest for the Equal Rights for Gay Marriage in Australia. Maylei Hunt's photographic series documents the Sydney and Melbourne LGBTQIA+ communities, as well as our straight allies, marching together for the need and acknowledgement of gay marriages as equal to straight marriages. This exhibition will celebrate our first year of equal marriage rights for all Australians.
Livvy & Pete: The Songs Of Olivia Newton-John and Peter Allen
fortyfivedownstairs: 23 – 27 January
Helpmann award winner Michael Griffiths and acclaimed cabaret darling Amelia Ryan celebrate the songbooks of Aussie icons Olivia Newton-John and Peter Allen. From their humble small-town beginnings to world domination in sequins and jumpsuits, revisit all of their sing-a-long classics from Rio to Tenterfield, all the way to Xanadu and beyond. As camp as maracas and tender as Pete's gift to Livvy 'I Honestly Love You', there promises to be rollerskates, T-Birds, Pink Ladies, 80s jazzercise and an Oscar winning song to boot!
Madame Nightshade's Poison Garden
Gasworks Arts Park: 23 – 26 January
In the dystopian world of the Poison Garden, Beatrice (a devilish shape-shifter), lurks in the shadow of her alter-ego Madame Nightshade (a princess-like assassin) as she serves up the messy truths of our ailing planet. An anarchic playground where vegetables are transformed into semi-automatic weapons, Snow White becomes a spring-onion wielding samurai and Mars Bars represent the 'shit' of the world: this is queer, feminist, environmental clowning that will leave you with food for thought!

Merciless Gods
Fairfax Studio – Arts Centre Melbourne: 6 – 10 February
Dan Giovannoni's Green Room Award winning adaptation of Christos Tsiolkas' Merciless Gods is a brutal and tender examination of queer immigrant experiences in Australia. Vicious and tender, here is Australia today. From migrant camps to gay saunas, pill-popping hipster dinner parties to porn sets, prison cells to the streets of the Cross; Merciless Gods captures haunting slices of our psyche and unveils the hidden faces of ancient deities on mortal ground. Intercutting between families, friends and accidental encounters, this is humanity laid-bare – virtuous and vengeful, domestic and divine. Critically acclaimed in Melbourne and Sydney, Merciless Gods is urgent, dirty, glorious queer theatre.
Orpheus
Abbotsford Convent: 31 January – 3 February
Forest Collective is proud to present the world premiere season of new ballet-opera of ancient Greek myth Orpheus by artistic director Evan Lawson. A thrilling retelling of the infamous myth, this version not only explores the sad tale of his love with Eurydice but his untold gay relationship with fellow argonaut, Calaïs. Devised from texts from ancient operas based on Orpheus, this work will be danced and choreographed by dynamic emerging artist Ashley Dougan and Eurydice sung by Forest Collective core mezzo soprano Kate Bright. Orpheus' dark and mysterious journey is brought to life by designer Jane Noonan to bring about a rich and inspiring series of performances.
Queer Economies
Abbotsford Convent: 21 January – 9 February
Queer Economies forms part of a multi-site exhibition and public program series, which takes its cue from the handmade artworks and objects that queer artist and activist David McDiarmid gifted to friends and loved ones during his lifetime. Following in McDiarmid's generous logic, Queer Economies explores the non-monetary, in-kind economies that emerge within LGBTQIA+ communities, in order to foster resilience, love and connection.
Queerstories
Brunswick Mechanics Institute: 23 January
Enter the raucous, radical and wildly funny world of Queerstories, and enjoy an unexpected tale or two from a diverse line up of stars and strangers, reflections on lives well lived and battles fought, pride, prejudice, love and humour. The LGBTQIA community has been sharing stories for centuries, creating our own histories, disrupting and reinventing conventional ideas about narrative, family and community. There's so much more to being queer than coming out and equal marriage. Fast becoming an institution around Australia, Queerstories has now seen more than 100 LGBTQI+ storytellers take to the stage, with a popular podcast boasting surprising, moving and at times downright hilarious bite-sized episodes, and a book of the stories published by Hachette Australia in 2018. Winner of Best Spoken Word at Sydney Fringe Festival 2016.
Rebel
The Melba Spiegeltent: 31 January – 3 February
Rebel is a live circus rock tribute to the original rebel, David Bowie. Stage dive into the mosh pit and enjoy a night of ear shattering live music, glittering glam rock and phenomenal acrobatics, breathtaking aerials and spectacular heart stopping sideshow. Live music combined with circus and comedy brings to life an incredible body of work that spanned over 50 years, and an aesthetic that broke ground and inspired generations. Headlined by the incredible multi-award winning Stewart Reeve, and featuring a rockstar band of artists from across artistic genres and co-created by Highwire Entertainment, the production house behind Rouge, Papillon and Pop Party Throwdown among others, Rebel is a non-stop circus rock and roll party.
The Felix Monologues
Gasworks Arts Park: 31 January – 2 February
Strap yourself in for the premiere season of The Felix Monologues, bringing together celebrated queer theatre maker Gavin Roach's three one-man shows the way they are supposed to be seen – Confessions of a Grindr Addict, Any Womb Will Do, and the world premiere of Oh God, What If It's Me? 
The 2019 Midsumma Festival continues to 10 February. For more information, visit: www.midsumma.org.au for details.
Image: Queerstories (supplied)