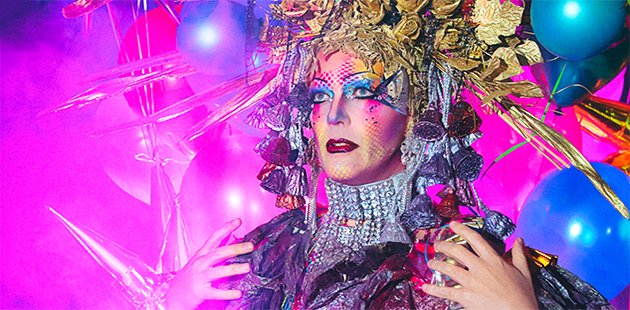 With a spectacular lineup of dance, theatre, circus, contemporary and classical music, visual arts and free events, Jonathan Holloway's second Melbourne Festival brings together an irresistible assortment of the familiar and unknown, local and far-flung, large-scale and intimate productions – Australian Pride Network takes a look at twelve events worth checking out:
Tanderrum
Federation Square: Wednesday 4 October
Five years ago the Kulin Nation brought Tanderrum back to central Melbourne to open the Festival. This cross-cultural moment has quickly become an essential and living element of Melbourne Festival, and a Welcome to Country for local and international artists and audiences. This year's Tanderrum will end with a Kulin Nation tribute to the murrup (spirit) of William Barak. Barak was Ngurungeta – a leader, warrior and spokesperson for Wurundjeri Country. For the final dance the Kulin Nation invite you to join them for a song reclaimed from rare historical recordings of Barak. With sand, fire, leaves and bark a space is made, and it's a space to be shared.
Backbone
Playhouse – Arts Centre Melbourne: 4 – 8 October
In less than a decade, Adelaide's acrobatic sensations Gravity and Other Myths have rocketed to stellar acclaim with a series of disarmingly accomplished ensemble works. Staged with a deceptively DIY aesthetic and dispensing of trickery and distraction, this is circus that goes straight for the jugular and leaves no viewer unmoved. Backbone is the culmination of all that's gone before: a celebration of human connectedness and the meaning of strength, its athletic appeal is run through with a conceptual brilliance that elevates it to a new level. Sexy but sincere, raw yet utterly disciplined, Backbone is proof you can't do the impossible without a little sweat.
House of Mirrors
Forecourt – Arts Centre Melbourne: 5 – 22 October
From Narcissus to Alice, what lies behind our own reflections has been a source of fascination and intrigue across the ages. The allure of the mirror is blown out to a mind-altering scale in this labyrinth of looking glass, where no doorway, corridor or wall can be trusted and where the three dimensions themselves conspire to disorient and deceive. House of Mirrors is the creation of Melbourne artists Christian Wagstaff and Keith Courtney. Putting 40 tonnes of steel and more than 15 tonnes of mirrored glass to good use, they have realised an idea as simple as its execution is cunning.
Under Siege
State Theatre – Arts Centre Melbourne: 5 – 8 October
Yang Liping soared to national stardom in 1986 and has since become a singular force in Chinese dance, creating striking solos and choreographing lavish ensemble works. Under Siege sees her teaming up with set and costume designer Tim Yip (Crouching Tiger, Hidden Dragon) to stir up a visual maelstrom of breathtaking imagery. Yang rewrites the epochal tale known in Chinese opera and lore as Farewell My Concubine with a high-octane mix of performers from ballet, hip-hop, kung-fu and Peking opera. Under Siege is an extraordinary feat of theatre, a visual and kinetic treat that sears the senses.
All of My Friends Were There
Theatre Works: 5 – 11 October
Last year The Guerrilla Museum's Funeral revealed to some audiences the rituals that will accompany their own death. This year they're celebrating all that comes before. Let's party like it's your birthday. Whether they inspire glee or dread, there's no stopping birthdays from rolling around once a year. How do these milestones add up to form an entire life, and who is the person who hopscotches their length? Each night, the collected real-life birthday memories of audience members will become the foundation for a party like no other. This playful and deeply personal portrait showcases the points of connection we all share.
Caravan
Forecourt – The Coopers Malthouse: 5 – 22 October
The dilapidated old caravan might be full of musty carpet and faded dreams, but for years a mother and daughter have called it home. With nowhere else to go, Judy and daughter Donna live on top of each other, knowing the other won't leave: they're stuck, and will be till the end. Bitter and hilarious, tender and toxic, Caravan is a darkly comic look at life on the margins and the universal need for love.
Ever
Temperance Hall: 6 – 21 October
One of Australia's most audacious dance luminaries, Phillip Adams returns with an immersive experience unlike any other. EVER presents two iconic 20th century chamber music works – John Adams' Shaker Loops and Richard Strauss' Metamorphosen – in an exhilarating choreographic and visually cinematic feast. Six extraordinary dancers create an everlasting cycle of loops and oscillating ecstatic rhythms, investigating themes of permutation, transformation and the infinite. Fashion icon Akira Isogawa and lighting designer Matthew Adey collaborate with Adams on this sublimely modernist interpretation which glides across the music.
A Galaxy of Suns
Ian Potter Museum of Art: Tuesday 10 October
A unique collaboration across contemporary music, art, astronomy, and design, it utilises smart device technology to create a work of art capable of operating on a galactic scale. A specifically created smart phone app uses GPS to deliver micro-tonal sonic cues to the 36 singers, allowing them to 'sing' the stars live, in real-time for their location. Tracking the Earth's motions through space, A Galaxy of Suns documents the audience's precise position in relation to the stars, sonifying stellar data to create a sound and visual composition unique to their location in space and time.
Taylor Mac: A 24-Decade History of Popular Music
Forum Melbourne: 11 – 20 October
From murder ballads to speakeasy jazz, Women's Liberation anthems to Walt Whitman, this is a show 240 years in the making and 24 hours in the telling. Taylor Mac's mission is nothing short of extraordinary: to chart a complete social history of a nation through the music that scored its rebellions and revolutions, triumphs and tragedies. Across four six-hour epics of staggering scale, Mac enlists the aid of over one hundred local and international performers – from acrobats and burlesque artists to choirs and marching bands – to join this fearless quest.
The Season
Merlyn Theatre – The Coopers Malthouse: 12 – 15 October
Somewhere between the mainland and its southern-most mate lies Big Dog Island. For six weeks of the year that's where you'll find the Duncans, a mob as funny as they are unforgettable. They come from all over to make the most of mutton-bird season, and have done for as long as anyone can remember. Long memories mean it's not just the birds that arrive for this year's harvest, though, as old secrets are dug up from their burrows, fledgling rivalries begin to take flight and outsiders stick their beaks where they're not welcome. It might all fall apart if it wasn't for the fierce love that holds this bunch together.
A Requiem for Cambodia: Bangsokol
Hamer Hall – Arts Centre Melbourne: 13 & 14 October
From a time of colossal horror springs a work of immense compassion. It has been almost four decades since the fall of Phnom Penh to the Khmer Rouge. Acclaimed filmmaker Rithy Panh and renowned composer Him Sophy are both survivors of the years of massacre, and have gathered an international host of collaborators to produce a work that fuses the traditional Bangsokol – a Buddhist rite bringing peace to the dead – with the Western requiem. The result is an unprecedented work that transforms tragedy into hope and carves out a new space in which to heal. Bangsokol is the first major symphonic work to address this legacy of pain and will premiere at Melbourne Festival before performances at the Brooklyn Academy of Music and Philharmonie de Paris.
Tree of Codes
State Theatre – Arts Centre Melbourne: 17 – 21 October
An explosion of contemporary ballet, visual art and electronic music from world-leading artists at the peak of their powers, Tree of Codes will unseat everything you thought you knew about performance. Choreographer Wayne McGregor joins forces with visual artist Olafur Eliasson and music sensation Jamie xx to produce a new type of modern dance – layering classical and contemporary styles onto the bodies of dancers from the Paris Opera Ballet alongside Company Wayne McGregor, two of the greatest ballet and contemporary dance companies on the planet.
The 2017 Melbourne Festival takes place from 4 to 22 October. For more information and complete program, visit: www.festival.melbourne for details.
Image: Taylor Mac presents A 24-Decade History of Popular Music – photo by Little Fang