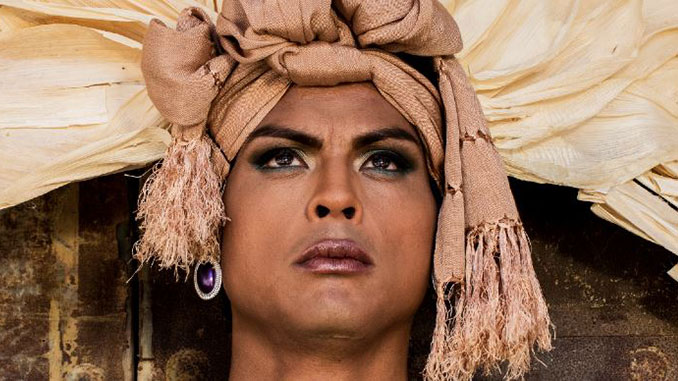 Queer Screen's 29th Mardi Gras Film Festival invites audiences on a mission to the Queer Frontier, to meet emerging and established filmmakers and explore new stories, styles and genres together – online, in the cinema, or both!
Delivering 119 films in total, including 32 narrative features, 15 documentaries, 4 episodics, a retrospective and 9 programs of shorts – from 37 different countries, the Australian Pride Network takes a look at twelve films worth checking out:
Rebel Dykes
Event Cinemas (George Street, Sydney): 19 February
Britain in the 1980s: Conservatives are in power and Section 28 outlaws the promotion of homosexuality. Amid this tumultuous backdrop, radical lesbian squatters occupy the abandoned houses of London to forge a sexually liberated commune of kink-positive, leather-clad, anarchist feminists. For the first time, the stories of this renegade group are sparked to life in Rebel Dykes, a fierce and funny documentary capturing unbelievable testimonies via a mix of animation, unseen archival footage, interviews and a rocking soundtrack – providing an intimate insight into the riotous subculture that shaped queer history. Also available online: On Demand.
Boulevard! A Hollywood Story
Event Cinemas (George Street, Sydney): 20 February
From the dark alleys of LA and the desert nirvana of Palm Springs to the posh New York theater world, Boulevard! A Hollywood Story tells the tale of Gloria Swanson's attempt at taking back the spotlight after years in obscurity. From prolific documentary filmmaker, Jeffrey Schwarz (Tab Hunter Confidential), this doco finds Gloria recruiting Dickson and Richard, two young songwriters and lovers to shack up in a Hollywood mansion and try to write a musical version of Sunset Boulevard. Life imitates art when Gloria falls for Richard, and the men find themselves living a real-life version of the classic film. This engrossing documentary delves deep into this unknown part of Hollywood history, and has so many plot twists you'll find yourself on the edge of your seat as each new chapter unfolds. Also available online: On Demand.

Romp
Event Cinemas (George Street, Sydney): 22 February
Set in Sydney's very own Newtown, Romp is a punchy episodic follow-up to the record-breaking Love Bytes. We now follow three queer housemates, Michael, Jade and Stacey on the search for love. Now in their thirties, the dating scene has changed and is harder than ever, but they throw themselves at it with gusto. From seductions of ex-lovers, fake dates with colleagues, an encounter with Gretel Killeen, toy boys, a date with guest star Olympian Matthew Mitcham and secret lives in the adult entertainment industry, Romp is a wild, fun, chaotic and entertaining ride. This is a fantastic, homegrown Aussie queer episodic absolutely brimming with heart. (World Premiere)
The Divide (La Fracture)
Event Cinemas (George Street, Sydney): 23 February
Over the course of one volatile night, two women on the verge of breaking up find themselves in the ER of an overtaxed French hospital amidst citywide Parisian demonstrations. When rattled police unleash violence on demonstrators, the ensuing crushing demand on an already beleaguered hospital and staff forces disparate injured citizens to mix with darkly comedic results. As their lover's quarrel flares alongside the fractured city itself, a microcosm of French society and its tensions emerge in The Divide; a film where character certainties and prejudices will be tested by their united need for care.
Finlandia
Event Cinemas (George Street, Sydney): 24 February (Centrepiece)
In a small town outside Oaxaca a group of muxes – the indigenous Zapotec "third gender" – band together to survive and thrive in rural Mexico. Together they create beautiful traditional dresses, drawing the eye of a Spanish fashion house seeking native textiles they can appropriate. Faced with their own individual battles with grief, trauma and ignorance, an impending tragedy will send shockwaves through their tight-knit community and beyond. Exploring fashion's dual role as a means of exploring and embracing one's identity, and exploiting and commodifying people's labour and culture, Finlandia is a poignant and vibrant magical realist drama about found family, spirituality and, ultimately, hope.
Boy Culture
Event Cinemas (George Street, Sydney): 25 February
An episodic follow-up to the 2006 film of the same name, We now find that X (Derek Magyar) has split up with boyfriend Andrew (Darryl Stephens), and has returned to turning tricks. However, he's adjusting to (shock!) not being a twink any more. To make matters more awkward, he and Andrew are still sharing a house. Oh, and he's being schooled in the art of hustling in the social media era by young Chayce (Jason Caceres), who can't eyeroll enough at X's lack of savvy. Fun, very raunchy, frank and even thought-provoking, Boy Culture is a real turn on and, like many of X's clients, you won't leave disappointed! Also available online: On Demand.
Wildhood
Event Cinemas (George Street, Sydney): 26 February
Set against the wilds of the Canadian Nova Scotia landscape, Wildhood is the beautiful and captivating odyssey of a closeted First Nations youth in search of identity and belonging. Under the watchful eye of his abusive white father, impulsive two-spirit Mi'kmaw teen Link spends most of his time taking care of younger half-brother, Travis. But when Link discovers his supposedly-dead mother may be alive, the pair set out to find her. Along the way they connect with pow wow dancer and drifter Pasmay. As Link reclaims his heritage and connection to the land, he and Pasmay find themselves irresistibly drawn to one another. A beautiful and captivating drama about empowerment and self-discovery.
Hating Peter Tatchell
Event Cinemas (George Street, Sydney): 27 February
Whether you know of Peter Tatchell or not, this documentary will transfix, move and inspire you with his ongoing legacy. Produced by Elton John, featuring Stephen Fry and Ian McKellen, interviewing Peter himself, be taken on a journey from the inception of the gay civil rights movement in the late 1960s through the global AIDS pandemic in the 80s and the rise of gay pride around the world until today. Peter Tatchell has been there throughout it all, a divisive proponent of 'angry' protest, present at countless demonstrations and pride events, co-creator of OutRage! in the UK, known for his ability to performatively demonstrate in a way that grabs the attention of the media and the world. A captivating and well put together portrait of a man and a movement.
Great Freedom
Hayden Orpheum: 27 February
In post-war Germany, Hans is transported from a concentration camp to prison under Paragraph 175, a German law criminalising homosexuality. In the decades following, as German society changes, but Paragraph 175 remains in place, he is repeatedly imprisoned, and slowly develops an unlikely companionship with the one constant in his life, his cellmate and convicted murderer, Viktor. Great Freedom is a moving, unsentimental portrait of a man going through life as truthfully as he can, yearning for love and freedom in the shadows of incarceration and a changing world. Winner of the Un Certain Regard Jury Prize at the 2021 Cannes Film Festival, this is an immersive, powerful film not to be missed!
My Queer Career 
Event Cinemas (George Street, Sydney): 28 February
My Queer Career is Australia's richest queer short film prize and eight magnificent entrants – including animations, coming-of-age tales, comedy, documentaries and more – are in the running for over $16,000 worth of cash and support.
Jump, Darling
Event Cinemas (George Street, Sydney): 2 March
A bittersweet drama boasting powerful lead performances from Thomas Duplessie and the late Academy Award-winning screen legend Cloris Leachman, in her final starring role. In Jump, Darling, Leachman is brilliant as Margaret, a woman in her mid-90s, living on her own, whose physical and mental health is slowly declining. She is joined by her grandson, Russell (Duplessie), an aimless drag queen ingénue, fresh from a relationship breakup, and pursuing his stalled dream of being a professional actor. Director Phil Connell's film is a moving intergenerational tale of two people at different stages in their lives, both searching for connection and meaning. You're sure to fall in love with this heartfelt, funny, and engrossing family drama. Also available online: On Demand.
B-Boy Blues
Event Cinemas (George Street, Sydney): 3 March (Closing Night)
Moonlight meets Queer As Folk in this adaptation of the 1994 novel from James Earl Hardy, B-Boy Blues. This is an unapologetic celebration of African-American gay men. Mitchell, a successful journalist, finds himself falling for the smoking hot Raheim, a courier and b-boy. Despite his friends' misgivings and several red flags, Mitchell is enraptured by the incredibly sexy and smooth Raheim, but the repercussions of their mutual obsession will affect his work, friendships and family. With so much eye candy you won't be able to look away as well as a story brimming with drama, romance, heart and charisma, B-Boy Blues will captivate you from start to glorious finish and leave you wanting more, more, more.
---
Queer Screen's 29th Mardi Gras Film Festival continues online and in the cinema until 3 March 2022. For more information and full program, visit: www.queerscreen.org.au for details.
Image: Finlandia (film still)