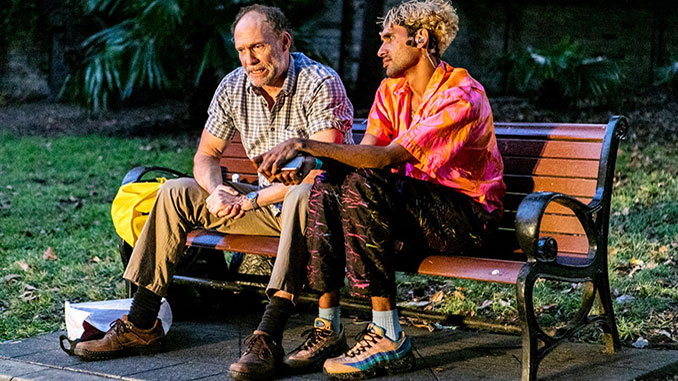 With a bold ambition to reimagine how we experience and interact with the city itself, Sydney Festival's 2022 line-up is set to explode onto (and into) the city's parks, pools, streets, stages and screens this summer.
Across its most revered venues and storied public spaces, amongst its iconic beaches and hidden boat sheds, Sydney will come alive with an array of free and family focussed events, illuminating public art installations, intimate provocations and large-scale performances that will mark, interrogate and celebrate the rituals of summer in the city.
Spanning 133 events – including 33 world premieres and 52 new commissions – over 25 days, Sydney will burst to life with activity from 6 – 30 January. The Australian Pride Network takes a look at eight events worth checking out:
44 Sex Acts In Once Week
Seymour Centre: 12 – 16 January
From the razor sharp quill of David Finnigan (Kill Climate Deniers) comes a pressure cooker sexcom come radio play about what drives humanity to go harder, faster, faster, FASTER! towards the end of the world as we know it. Celina is a journalist stuck writing clickbait for a lifestyle blog. It falls to her to road test a new book, The 44 Sex Acts that Will Change your Life. All she has to do is experience 44 different kinds of sex, across the full spectrum of kink by Friday. Problem is: she needs a partner. And the only person available is her nemesis, brooding animal activist/office mail boy Alab Delusa. Sworn enemies, they now have one week to explore the endlessly undulating terrain of sex, from BDSM to role-play, from polyamory to exhibitionism. And with no time to recover. Can all this extra friction between them strike real sparks?
A Chorus Line
Riverside Theatres, Parramatta: 13 – 22 January
Dive into a world of sweat, sacrifice and sensational choreography when music theatre's singular sensation comes to Sydney Festival. Conceived and originally directed by Michael Bennett, A Chorus Line ripped down the curtain to reveal the struggles of Broadway performers to be seen, heard, recognised and respected. Featuring the music of Marvin Hamlisch (including Dance Ten; Looks Three, What I Did for Love and One) and based on interviews with real dancers, A Chorus Line shows what it means to put everything on the line. During a grueling musical theatre audition, desperation will open the door to exploitation, and racism and sexism are rife.
Green Park
Green Park, Darlinghurst: 19 – 30 January
You've walked past it. Maybe through it. A leafy idyll by day, at night it's something else. Green Park – just metres from Darlinghurst's fabled Wall – has long been a place to meet under cover of darkness. Written by Elias Jamieson Brown, Green Park shows us two men on a Grindr date. There's an age gap (but what's a decade or three?), a case of catfishing, and a dangerous secret in the works. In an hour's time, these men will leave Green Park profoundly changed. Maybe you will, too. Outside the rotunda, audience members will be outfitted with a set of headphones to eavesdrop on this delicate, tension-filled encounter. To everyone else, the two men talking on a bench might not look like much, but in the gloom of the setting sun, you'll experience a dangerous psycho-sexual collision in a very public place. Joseph Althouse and Steve Le Marquand reprise their roles in this critically acclaimed production directed by Declan Greene, Artistic Director of Griffin Theatre Company.
Lizzie
Hayes Theatre: 13 January – 5 February
On a sweltering summer morning in 1892, in a small American town, a prominent businessman and his wife were brutally axed to death in their home. Their daughter Lizzie Borden was the prime suspect. Lizzie's trial was a coast-to-coast media sensation, and her story has become legend. Lizzie is a revenge tale for our times set to a blistering score, with a sound owing less to Sondheim and Andrew Lloyd Webber than to Bikini Kill, the Runaways, and Hole. Directed by Maeve Marsden, with an incredible creative team, Lizzie has been dragged across the ocean to Australia and injected with political depth, dark humour and a fierce queer grunge aesthetic. Relentless, uncompromising and brazenly camp, with a powerhouse cast of four and a rocking 5-piece band.
Set Piece
Carriageworks: 6 – 9 January
Nat Randall and Anna Breckon, co-creators of the remarkable marathon performance The Second Woman, join forces once more to explode the conventions of the couple drama and explore the ordinary and extraordinary facets of queer relationships. With a script crafted from steamy 1950s pulp fiction, snatches of real-life dinner party conversations and improv, Set Piece is a powerfully intimate theatre-film experiment in which lesbian fantasy meets the queer ordinary. Nuanced camera work crushes the distance between observer and observed, theatre and film, and fantasy and reality. Absorbing, intimate and quick-witted, Set Piece is a unique study of erotic and emotional dynamics between women, a synesthetic experience for theatre and film buffs alike.
The Nightline
National Art School: 12 – 23 January
Lonely hearts and nightlife fiends. Insomniacs and shift workers. Guardians over restless babies and wide-eyed truckies barrelling down the highway. These are just some of the voices of The Nightline. A concierge welcomes you into a venue full of intimate, low-lit tables. On each is an old-school telephone and switchboard. This is your unique and direct connection to an extraordinary collection of over 600 soul-baring, skin-tingling voice messages left between midnight and 6am. Delicately interwoven with a sound score, these messages are just for you; no two guests will have the same experience. Collected anonymously on a special hotline and arranged by pioneering audio theatremaker Roslyn Oades and sound artist Bob Scott, The Nightline is a sonic collage of Australia's nocturnal soul. You may find yourself seduced by a whisper or a song. You could be party to a confession or confront bottled aggression. All you have to do is pick up the handset and listen…
The Pulse
Roslyn Packer Theatre: 6 – 9 January
The world-renowned Australian physical theatre company Gravity & Other Myths, which brought the acclaimed Backbone to Sydney Festival in 2018, now unites with Sydney Philharmonia Choirs' VOX for The Pulse. A moving choral score meets and enhances the beauty of the physical display, as this landmark work explores how we – as people, communities or clusters of particles – respond to the changes that are continually happening around us. The sheer scale of it will get you first. 22 bodies and 26 voices in a sweeping, pulsating ebb and flow of humanity. Then you'll start to absorb the details – the expertly crafted passages of seemingly impossible levels of cooperation.
Wudjang: Not the Past
Roslyn Packer Theatre: 17 January – 12 February
An epic-scale contemporary corroboree by Bangarra Dance Theatre and Sydney Theatre Company, Wudjang: Not the Past reveals the power of ancestral stories to reach us through generations. 17 dancers, four musicians and five actors all take the stage in an ambitious performance full of humour and tragedy. Wudjang reclaims stories from non-Indigenous historians, teaching how to acknowledge, listen and learn from the past. Directed by Stephen Page and cowritten with Alana Valentine, the work uses the Mibinyah language from Page's Yugambeh country home in Queensland. In every poem chanted, strutted, muttered and sung, dance is alive. This vivid piece of First Nations performance promises to be a benchmark Australian production.
---
The 2022 Sydney Festival runs 6 – 30 January. For more information and full program, visit: www.sydneyfestival.org.au for details.
Image: Green Park – photo by Brett Boardman