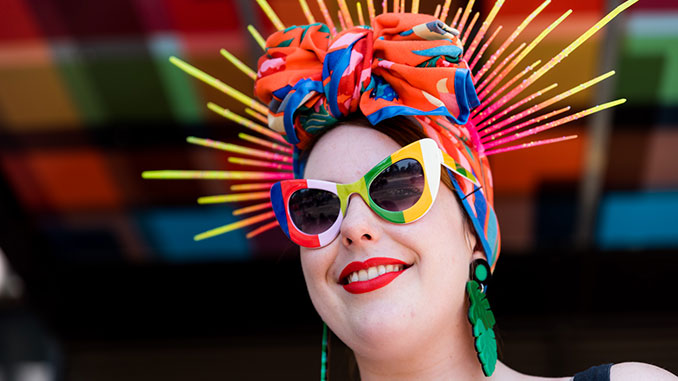 Shining the spotlight on preeminent queer arts and cultural festivities with leading international, national, and local artists, the 2022 Midsumma Festival kicks off this weekend, celebrating LGBTQIA+ diverse journeys, culture makers and communities.
With an incredible line-up of spectacular performances, exhibitions, visual arts, live music, theatre, spoken word, cabaret, film, parties, sport, social events, and public forums, the Australian Pride Network takes a look at twelve events worth checking out!
50 Years: Queers & Pioneers
Cracked Actors Theatre (CAT): 5 & 6 February (online)
2023 will mark 50 years since PM John Gorton put forward a motion in Canberra that "in the opinion of this House homosexual acts… should not be subject to the criminal law" – 50 Years: Queers & Pioneers will showcase artists who will present their work for the chance to be selected for a fully produced season at CAT for Midsumma Festival 2023 to celebrate this milestone!
And She Would Stand Like This
Stables – Meat Market: 3 – 12 February
Presented by Antipodes Theatre Company, Greek tragedy meets Harlem ball culture in this fierce and fabulous new play, adapted from Euripides' The Trojan Women and inspired by the seminal documentary Paris is Burning. Set in a hospital waiting room during a mysterious plague, the play is a modern observation of HIV/AIDS and reimagines the Greek characters as Queer bodies of colour fighting for survival.
An Intimate Evening with Granny Bingo
Comedy Republic: 27 & 30 January
These darling old dames of the comedy scene have been titillating audiences for decades at their hilarious bingo night, and now they're going to bare all in this intimate evening, reflecting on their many years on this planet. After a sold out season at the Melbourne International Comedy Festival, Edith Vale (Thomas Jaspers) and Maureen McGillicuddy (Kyle Minall) are back for two nights only with their hilarious show An Intimate Evening With Granny Bingo.
Bottom
Bluestone Church Arts Space: 1 – 5 February
Locked in his bathroom during a tragic third date, Willy asks: are you a Top or a Bottom? Join Willy for a queer coming-of-age remix, as he questions if 'bottom' in the bedroom means 'bottom' in life – and whether Beyoncé can help put his love on top. This is for anyone who hates making the first move. Anyone who thinks they are unlovable. Anyone that's ever tried to be someone they're not. Bottom will also be presented at The Butterfly Club: 7 – 12 February.
BROAD
Gasworks Arts Park: 27 – 29 January
Agnes Moorehead. Rhonda Burchmore. Vivienne Westwood with a tit out. There is something heady about those brassy broads we grew up admiring. So many (b)older women, so many (A)FAB icons to look up to. So what happens when these camp inspo glamour heroines feel a bit close to your own sagging jawline? Well, you get to write your own ridiculous story and paint your own ridiculous face in a cabaret about how anyone can find their Endora – bejeweled kaftan and all – and take on the world. Multi-award-winning rock cabaret artist Geraldine Quinn returns to Midsumma Festival with her first original show in four long years – BROAD. Growing up idolising fabulous, bold, brassy (mostly ginger) older women – now she's becoming one. So Quinn makes her overdue return to the cabaret stage to release everyone's inner DGAF Dame.
Dioramas
Ross Watson Gallery: 22 January – 6 February
Watson's new series, Dioramas, demonstrates an exciting development in the artist's work, and explores personal themes relevant to his experience of the global pandemic and lock downs. A starting point was offered by the experience and the artist began imagining creating painted theatre sets or glass showcases which may be be viewed by an audience – many of which we are observing online in numerous countries as international travel remains restricted. Artworks from Watson's 1992 Self Series also feature, which coincides with his artwork included in the upcoming NGV QUEER exhibition.
Melbourne Pride
Gertrude Street Precinct: Sunday 13 February 
To commemorate the 40th anniversary of the decriminalisation of homosexuality in Victoria. Midsumma acknowledge the courage and resilience of our LGBTQIA+ community. Melbourne Pride will celebrate with live performances, music, circus, interactive activities, community stalls and demonstrations. In a contemporary exploration of festivities, we will embark on a journey of equality through inspirational arts, community involvement, food, and culture. This iconic event will feature live performances from Deborah Cheetham, KYVA, Alice Ivy, Vetta Borne, YUMMY, All The Queens Men, Kira Puru, Jawbreakers, Reuben Kaye and Electric Fields.
Midsumma Pride March
Fitzroy Street, St Kilda: Sunday 6 February
Parade, pride and party come together once a year in Melbourne's iconic march celebrating solidarity in gender and sexuality diversity. A chance to tie up your bootlaces or throw on your heels, and join the spectacular act of unity that is Midsumma Pride March. Whether you join the fanfare by foot or by wheel, with workmates or with family, with friends or with lovers, as ally or as queer, Midsumma Pride March is for you. Midsumma Pride March is one of the Festival's signature events, where over 8,000 marchers usually take to the streets down Fitzroy Street in St Kilda each year.
Run
Bluestone Church Arts Space: 1 – 5 February
Yonni is a seventeen-year-old gay Jewish kid. His devoutly religious family is preparing for the weekly shabbat, but he can think only about his schoolmate, Adam, with whom he is infatuated. As the evening's events unfold – some of them real, some of them imagined – a deeply personal story about first love and infatuation expands to interrogate the difficult intersection of religion and queerness. Encompassing a world beyond space and time, Stephen Laughton's Run explores what it means to love, to lose, to rebel and how to grieve. Run will also be presented at Gasworks Arts Park: 8 – 12 February.
SLUTNIK™
Theatre Works: 1 – 4 February
Part lip-sync, part fighting montage, part open mic night… SLUTNIK™ is a queer glitter-bomb of an event detailing the final fortnight on Earth of the International Fleet of Lesbian Space Cannibals. We're just about to lift-off, and motherboard has initiated very important and very gay training for the lesbians on board before their intergalactic travels. They've not given away their lift-off location… but rumour has it that wherever they are, they're living on the flesh of selected political officials. Directed by Tansy Gorman, SLUTNIK™ by Flick is a love letter to queer relationships and friendships.
The Art Hunter presents Twilight Salon
Alex Theatre, St Kilda: 29 January & 5 February
In recent times, David Hunt has launched a weekly YouTube channel – The Art Hunter, where he conducts a one-on-one interview with an artist, up close and personal, covering all disciplines: visual arts, actors, dance, opera, musical theatre, authors, cabaret and theatre/film writers… for Midsumma, David presents Twilight Salon – a panel show discussing the arts with live performances & interviews. Guests include: Maree Coote, Moria Finucane, Gerard O'Conner, John O'Hara, Ali McGregor, Stephen Russell, Richard Watts and Warren Wills.
The Shy Manifesto
Bluestone Church Arts Space: 1 – 5 February
Seventeen-year-old Callum is proud to be shy and he thinks you should be too – because what this noisy, crazy world needs right now is a bit more self-restraint. Tonight he is to address an audience of radical shy comrades and incite the meek to finally rise up and inherit the earth. But memories of the previous night's drunken escapades at a classmate's end-of-term party keep intruding, and threaten to upend the fragile identity he has so carefully created for himself. Jake Matricardi stars in this bittersweet coming-of-age comedy/drama about a shy boy who is fed up of constantly being told to come out of his shell.
---
The 2022 Midsumma Festival continues to Sunday 13 February. For more information and full program, visit: www.midsumma.org.au for details.
Image: Midsumma Pride March (supplied)