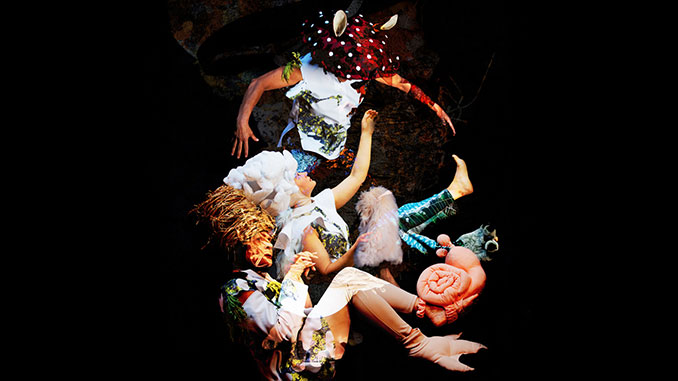 Melbourne Fringe, Victoria's biggest independent arts festival is turning 40 – the program celebrates four extraordinary decades of history, while looking boldly into the future to bring the best, boundary pushing art to the present. With more than 450 events on offer, the Australian Pride Network takes a look at 22 events worth checking out:
A Hundred Words For Snow
Trades Hall – Archive Room: continues to 23 October
Rory's dad was an explorer. Well, not literally. Literally, he was a geography teacher. But inside, she knows, he was Bear Grylls. And when he dies suddenly in an accident, Rory knows she needs to make one last expedition. With a plastic compass and Dad's ashes at her side, Rory sets off in the footsteps of all the dead beardy explorers before her, to get Dad to the North Pole. Before Mum finds out they've gone. Directed by Gavin Roach, A Hundred Words for Snow by Tatty Hennessy is about being an explorer in a melting world. It's a coming-of-age story. With polar bears.
a moment to love
Black Box – The Motley Bauhaus: continues to 9 October
Hook ups. One-night stands. FWB. Short- and long-term relationships… The list goes on. A thrill seeker swiping for the next hot thing. She sets it on her own terms like a boss. It's power, it's pleasure until one day, the tables turn. Suddenly she finds herself falling victim to no other worst foe than… Love. Directed by Alanah Guiry, written and performed by Vivian Nguyen, a moment to love is a forty-five-minute blistering one woman show that explores the age-old tale through lessons taught by her Asian parents, emotionally unavailable men and the Virgin Mary. Darting between absurd digital fantasy and unarresting reality, 'a moment to love' pierces right into a love-stricken heart and 27 years' worth of anxiety.
A Play About Ivy, that is really About June
Theatre Works: continues to 8 October 2022
A coming-of-age tale that interrogates the perimeters of friendship as we know it. Olive Weeks debuts in this ode to the complexity of all-consuming friendship. In a new apartment devoid of June, Ivy faces being alone for the first time in her life. Join Ivy as she reconciles with her own company, heartbreak and solitude. Get lost in this dynamic play dancing with memory, humour and poetry. Experience this brazenly heartfelt and delicately intimate world premiere at Theatre Works this Melbourne Fringe.
A Rainbow of Tomorrows
Koorie Heritage Trust: 9 October – 12 November
The apocalypse has come, already living in a dystopian world, you are invited into A Rainbow of Tomorrows to gather and celebrate in sanctum. Though, what does a Blak queer utopia look like right now? Tomorrow? Or many yesterday's ago? As our apocalypse was the beginning of a colonial 'utopia'. First Nations peoples have been busy and are tired of resisting and surviving against a colonial dream, one that makes no space for queer Blak folks. A Rainbow of Tomorrows envisages a Blak queer utopia, one that keeps building the blocks of the Blak queer renaissance, reclaiming and decolonising utopian and dystopian fantasies.
A Shy Manifesto
Theatrette – Victorian Pride Centre: 20 – 23 October
Seventeen-year-old Callum is proud to be shy and he thinks you should be too – because what this noisy, topsy-turvy world needs right now is a bit more self-restraint. Tonight he is to address an audience of radical shy comrades and incite the meek to finally rise up and inherit the earth. But memories of the previous night's drunken escapades at a classmate's end-of-term party keep intruding and threaten to upend the fragile identity he has so carefully created for himself. Directed by Gavin Roach and featuring Jake Matricardi, Michael Ross' The Shy Manifesto is a bittersweet coming-of-age comedy/drama about a shy boy who is fed up constantly being told to come out of his shell.
Bernie Dieter's Club Kabarett
Magic Mirrors Spiegeltent – Runaway Festival Park: continues to 23 October 
The darkest, funniest and most debauched kabarett show East of Berlin! Join the deliciously salacious, utterly hilarious, über-award-winning queen of Weimar punk, Bernie Dieter and her troupe of bombastic Bohemians for an unmissable night in the Spiegeltent. The gin-soaked haus band soundtracks a hazy night of dangerously funny kabarett, breathtaking circus, gender-bending aerial and fire-breathing sideshow at its most inappropriate, provocative and hilarious. An electrifying cross between Lady Gaga, Marlene Dietrich and Frank-N-Futer in sequins, Dieter has cemented herself as one of the stand-out kabarett artists of her generation.
Disco Pigs
Stables – Meat Market: 17 – 22 October
Born at the same time on the same day in the same hospital, Pig and Runt have been inseparable ever since. They speak in their own language, play by their own rules, and create a world for themselves in which boundaries blur between truth and illusion. But with the approach of their seventeenth year, and accompanying sexual awakenings and dawning awareness of love, and different kinds of love, Runt begins to wonder what might lie outside the world they have constructed for themselves and to yearn for her own individuality apart from Pig. This night is going to be different from others – the inseparable are about to separate and which one will survive depends on which one can break free. Directed by Gavin Roach, Enda Walsh's Disco Pigs features Antoinette Davis and Jonathon Shilling.
GODZ
The Vault – Runaway Festival Park: continues to 23 October
The most highly reviewed show of the Adelaide Fringe 2022. A hedonistic dive head-first into the lives of the ancient Gods of Olympus! Follow Cupid (the God of love), Hercules (the God of strength) and Dionysus (the God of wine) as they paint the scene of Ancient Greece and bring you to the biggest party to hit Mount Olympus since 500 BCE. Your favourite group of comedy acrobats – the boys from Head First – take their unique mix of storytelling, circus and physical prowess to godlike proportions. Expect a bodyssey of gravity-defying stunts, true tests of heroic strength and muscularity, and surprise comic twists. Head First Acrobats are known for being cheeky and sexy, and leaving nothing behind when giving a performance. You're gonna myth them when the show is done and it's time to go home, so enjoy the ride!
Heather
Stables – Meat Market: 17 – 22 October
If you shouldn't judge a book by its cover, does it make any more sense to judge a book by its author? A reclusive children's writer becomes wildly successful. Her books are treasured across the country. Her public are desperate to know just who is behind the stories. But as a troubling narrative begins to unfold and her constantly irrational excuses, readers begin to ask, what is she so afraid of? Directed by Gavin Roach and featuring Michelle Perera and Kristina Benton, Heather by Thomas Eccleshare is a short, sharp play about language, prejudice and the power of stories. Brilliantly imaginative and theatrically original.
HEXADECA
Fed Square: 14 – 23 October
Grab a pal, set yourselves to 'spin', and become the conductor of this 16-part music-making playground. Each custom-built spinning seat is sensor activated, becoming an instrument that plays just one part of a musical score composed using sounds recorded deep in the bowels of Melbourne's new Metro Tunnel. The more seats that spin together, the more of the composition you hear, until all sixteen parts – played by all sixteen seats – synchronise in a glorious celebration of what we can make when we work together. The brainchild of Kaurna-based artists Pulsing Heart, HEXADECA is radically inclusive participatory art that makes space for all people (no matter what kind of body you bring with you) to engage playfully with music and art through interactive play.
How To Be A Person When The World Is Ending
Theatre Works: 18 – 22 October
How To Be A Person When The World Is Ending is a post dramatic exploration of what it means to be a member of Generation Z at present. It captures the essence of hurt, apathy, boredom and hilarity that comes with being expected to exist in an expansive way whilst being told we have a few good years left. Exploring relationships, work culture, Dungeons and Dragons, nihilism, pessimism and porn, it is a funny, shocking, meditation on youth. Written by Myfanwy Hocking, How To Be A Person When The World Is Ending is a dynamic, challenging, new Australian work that explores the hyper lyrical side of writing. Directed by Meg Dunn and performed by a phenomenal cast of artists, audiences will be left in awe of this bold new production.
If We Got Some More Cocaine I Could Show You How I Love You
Stables – Meat Market: continues to 15 October
In a town of ten thousand people, what parade do we get? Halloween. A small town in the west of Ireland. There's a party to get to, and Mikey and Casey have everything they need… Booze. Cash. Drugs. Each other. The only problem is they're stuck. Stuck on a roof. Stuck together. And as they wait for the Guards to stop circling the house, they find out there are some truths you just can't climb down from. Directed by Christian Cavallo, If We Got Some More Cocaine I Could Show You How I Love You by John O'Donovan features Grant Young and Lachlan Blair.
Naomi
Trades Hall – Solidarity Hall: 15 – 23 October
A true story about love, family and mental illness. In 2015 Patrick's mum took her own life. How did this happen? Who was to blame? Portraying eight characters from Naomi's life, Patrick uses their real words – drawn from over thirty hours of interviews – to try and answer these questions. Winner of 2 major awards at Adelaide Fringe 2022, Directed by Bronwen Coleman, this intimate and intense solo performance, created and performed by Patrick Livesey, and featuring original music composed by Biddy Connor (The Letter String Quartet), Naomi is raw and courageous storytelling and a must-see show this Melbourne Fringe.
Pendulum
Shed 21 – Docklands: continues to 23 October
Step inside the expansive world of Pendulum created by percussive artist sensation Matthias Schack-Arnott and globally renowned choreographer Lucy Guerin. Tucked away inside the vaulted industrial cathedral of Docklands' unique and beguiling Shed 21, a suite of dancers moves in sync with a field of suspended bells that hum, glow and toll in this movement-driven performance installation inspired by the ebb and flow of time. At once a timekeeper, a metronome and an instrument of divinity, a pendulum's hypnotic swoop keeps steady beat – and as this formidable intergenerational ensemble of women dance with time, every rise and fall reveals the strength and vulnerability of the human form. This is a mesmerising dance with gravity that you won't want to miss.
Pops
Stables – Meat Market: continues to 15 October
After all, this prodigal daughter needs a place to crash, break, and burn baby burn! But the apple doesn't fall… A warts-and-all work by queer British playwright, Charlie Josephine, examines the DNA of a fractured father/daughter relationship fuelled by chronic depression, addiction, and social shame. Needle-sharp, physically articulated, opera-fkn-radically punctuated with moments of movement that feel something like a Sarah Kane met up with Carol Churchill for a doof with the DJ from hell, with "tracks" so buckled, we can't look away – till the crash. Directed by Dirk Hoult, Pops features Bronte Charlotte and Todd Levi.
Saltbush
Dancehouse – Sylvia Staehli Theatre: continues to 8 October
Saltbush centres on the journey of two friends from different Aboriginal backgrounds as they cross Australia on foot. Their journey sees them travel across diverse Australian landscapes (countries) – river country, urban landscapes, the desert and the sea, all the while discovering the land and better understanding and acknowledging how it shapes and inspires personal journeys. Through its use of sensor and infrared cameras, children are invited to explore, play and dance with the performers as the landscape unfolds around them, providing a unique immersive experience where the audience becomes part of this visually beautiful journey. Popular theatre performer Karla Hillam, described as "sizzling hot" and "every inch a Hollywood goddess" (Weekend Notes), gives a "masterful performance" (Theatrehaus) in her provocative one-woman show where she portrays the star once known as the most beautiful woman in the world.
Sex, Lies & Betrayal – Memoirs of a Hollywood Star
The Butterfly Club: 17 – 23 October
Set to a lavish vintage score with music by Amy Winehouse, Cole Porter, KD Lang, Frank Sinatra, Christina Aguilera, Billie Eilish, Bobby Darin and more, the glossy world of Hollywood and the scandals behind the scenes come to life in riveting detail in this raunchy true tell-all story of a glamorous 1940s Hollywood leading lady who is only known by her pseudonym, Miss Nightingale. So who is this mysterious Miss Nightingale? She's an adulteress, a seductress and a femme fatale who tells all, and in true form, knows where all the skeletons are buried and isn't afraid to spill the beans. Popular theatre performer Karla Hillam, described as "sizzling hot" and "every inch a Hollywood goddess" (Weekend Notes), gives a "masterful performance" (Theatrehaus) in her provocative one-woman show where she portrays the star once known as the most beautiful woman in the world.
SLUTNIK™
Trades Hall – Solidarity Hall: continues to 14 October
A queer glitter bomb of an event where men are from mars and women are eating them. We're just about to lift off, and motherboard has initiated very important and very gay training for the lesbians on board before their intergalactic travels. They've not given away their lift-off location… but rumour has it that wherever they are, they're living on the flesh of selected political officials. Written by Flick and Directed by Tansy Gorman, SLUTNIK™ explores themes of gender, sexuality, autonomy, sex, and is, above all, a gay glitter fantasia. Think pink, space, sex, riotous fun, and (of course) cannibalism. Get ready for lift-off. Playing for a limited season at the Fringe Hub, SLUTNIK™ is a space adventure you want to be a part of.
The Rest Is Up To You: Melbourne Fringe 1982 – 2062
State Library Victoria – Keith Murdoch Gallery: continues to 30 October
Step inside the world of Melbourne Fringe and experience 40 years of our history (plus 40 imagined years still to come) as told by the artists, directors and supporters that helped make it happen. The Rest Is Up To You is an interactive exhibition at State Library Victoria that turns the space on its head, and invites you to discover where Melbourne Fringe has been and what Melbourne Fringe has done through the myriad artforms that we play host to. Immerse yourself in this beautifully designed sound and video installation filled with a cacophony of voices telling tales from Fringe's past and present as you reflect on the artworks created, the social changes traversed, and the political movements woven into the fabric of our Festival. Watch Melbourne Fringe in action as a performance space brings the exhibition to life with a program of events including shows, performance lectures, talks and panel discussions that explore not just who we have been, but who we might aspire to be in the future.
This Is Living
Stables – Meat Market: 17 – 22 October
Alice and Michael met six years ago. Three years later their daughter Lily was born. Now, in a Yorkshire meadow, just past midnight, they're having an argument. Because Alice is cold, she's tired, and Michael won't stop telling her that she died twelve hours ago. Dealing with themes of loss, grief and heartache, this intimate portrayal of a relationship forces us to examine our own lives, Liam Borrett's script seamlessly weaves past and present together, switching without warning from comedy to tragedy and back again. A poignant exploration of what it means to say goodbye, This is Living was first performed in a critically acclaimed and award-winning production at the Edinburgh Festival Fringe in 2014. It had its London premiere at Trafalgar Studios, London, in 2016.
Town Choir
Prahran Square: Saturday 22 October
Town Choir is a musical event from the minds of Canada's Theatre Replacement which reframes everyday observations as epic, choral declarations. As texts are produced live by acclaimed local writers Alistair Baldwin, Declan Furber Gillick and Michele Lee, they are immediately sung out to the public by an enormous, outdoor choir assembled in Prahran Square in glorious, four-part harmony. With music by Irish composer Robbie Blake, conducted by leading queer artist and composer Evan Lawson (Forest Collective), and featuring singers from across Melbourne; Town Choir examines the intimate and minute experiences of individual Australians and takes them to monumental proportions, celebrating the singular voice through the power of the collective. It's beautiful, it's powerful and it's poignant. An unmissable, uplifting experience – Free Event!
Zoë
Trades Hall – Quilt Room: continues to 14 October
From the team that brought you the award winning, Casting Off (Debra Batton, Sharon Gruenert and Spenser Inwood) comes Zoë – A vital force of acrobatic chaos and absolute movement. Zoë will make you hold your breath until you think you'll burst. It is an intimate, theatrical experience, a circus response to the climate crises and the fact that we seem collectively unwilling to respect all other species we are supposed to co-exist with. Everything will be on the table as pressure systems accumulate. Acrobat, fungi, cloud, nest, dog in symbiotic relationships. There will be unintended entanglements, strange consequences and it will be risky. It's a logical response to the trans-species commodification of life that is advanced capitalism. It's time we had a meeting, Zoë looks to the future with intergenerational solidarity. World you are invited!
---
The 2022 Melbourne Fringe Festival continues to 23 October. For more information and full program, visit: www.melbournefringe.com.au for details.
Images: A Good Catch presents Zoë – photo by Claudia Sangiorgi Dalimore | A Play About Ivy, that is really About June (supplied) | Bernie Dieter – photo by Rachel Mia |PENDULUM photo by Gregory Lorenzutti | Karla Hillam in Sex, Lies & Betrayal – Memoirs of a Hollywood Star (supplied) | This Is Living (supplied