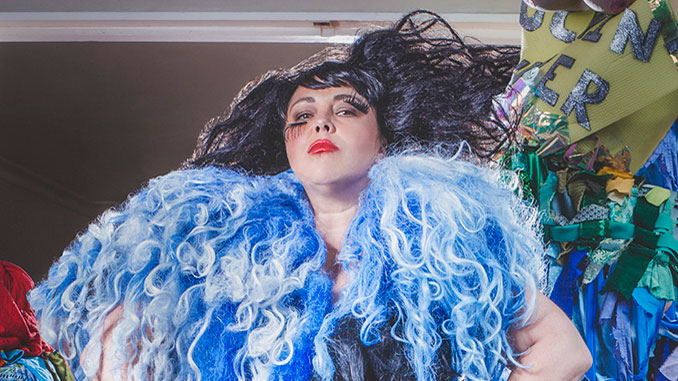 Celebrating LGBTQIA+ diverse journeys and communities, the 2021 Midsumma Festival kicks off today (Monday 19 April) spotlighting an array of spectacular performances, exhibitions, talks and social events. With more than 100 events on offer, the Australian Pride Network takes a look at 15 events worth checking out:
A Strange Space
Collingwood Yards: 22 – 25 April 2021
A Strange Space is an open-air exhibition and program of site-responsive projection art, performance, music, dance and online works by LGBTQIA+ artists and allies, presented within the Collingwood Yards courtyard and buildings. Co-curated by Jacob Tolo and Edwina Bartlem for the Centre for Projection Art and the 2021 Midsumma Festival, the projection artworks and performances featured in this program explore the theme of "a strange space" and the various forms, ideas and experiences that this concept evokes. Many works reflect on the strange situations that we currently find ourselves in. Free entry – bookings essential!
Billy Loves Cha Cha Forever!
Cracked Actors Theatre, Albert Park: 22 May – 5 May 2021
Kings Cross, Australia – New Year's Eve, 1968. On the floor of a pokey flat lies the dead body of a street hustler shot at close range, straight through the heart. A man stands over him whistling Auld Lang Syne. A year earlier, in a seedy nightclub called The Boom Boom Room, dressed in a fake fur and sequined frock, Cha Cha weaves her magic on the small appreciative crowd. That night she meets Billy, a brash young boy from Melbourne and falls in love. Then the fairy-tale ends. Local pimp, Louis, has a less romantic idea for the star-crossed lovers…

Bottom
The Butterfly Club: 19 – 24 April 2021
Locked in his bathroom during a tragic third date, Willy asks: are you a Top or a Bottom? Join Willy for a queer coming-of-age remix, as he questions if 'bottom' in the bedroom means 'bottom' in life – and whether Beyoncé can help put his love on top. This is for anyone who hates making the first move. Anyone who thinks they are unlovable. Anyone that's ever tried to be someone they're not.
F*ck Fabulous
Fairfax Studio – Arts Centre Melbourne: 20 April – 2 May 2021
Bringing together fierce queers, femmes and rebels in a show that celebrates female-masculinity, rejoices in gender-queer visibility and celebrates femme identities in diverse bodies. Hosted by Yana Alana, this epic ensemble work is where drag, visual art, trash-fashion, dance, circus and live music collide. With performances by circus icon Jess Love, queer side-show clown Dale Woodbridge-Brown, performance artist Nicci Wilks, dance duo Glitter & Snatch, aerial contortionist Seth Sladen, Drag King Koko Ma$$, performance wunderkammer Gabi Barton and our drummer boi Bec Matthews. F*ck Fabulous is an epic ensemble work, representing alternative ideas of sexy, reveling in the ridiculous and a collective reimagining of what it means to be Fabulous.
Guerilla Sabbath
La Mama Courthouse:27 April – 2 May 2021
A coven of transcendent, tea-drinking, time-travelling witches wage war to restore forgotten queer histories. But having recently lost two of their own, and in search of replacements, the coven starts to fracture, fingers are pointed, and tension runs high. An epic lyrical and theatrical exploration of these forgotten histories, Guerilla Sabbath by William Hinz is a fantastical reimagining of what they might have looked and sounded like. It is both a reclamation of the narrative that's been lost, and an aggressive exposé on the fallacy of the one we've been given.
Matador
Her Majesty's Theatre, Melbourne: 29 April – 2 May 2021
A fiery fusion of dance, burlesque & jaw-dropping circus acts. A tale of forbidden love, carnal desires, passion and pain, a tale of a love torn bull & the seductive matador! The show takes us on an emotionally charged journey through love and its many faces; from the first moments of love at first sight, the flirting & sometimes the doubt. A journey of self-discovery, identity & sexuality, of lust, sex & passion. The show also explores the trials & tribulations of love, from the pain of unrequited love to the effects of infidelity on a relationship. A celebration of love, friendship & the bonds that tie us together, Matador toured around Australia in 2019, selling out its premiere national season in prestigious venues from Spiegeltents to the Sydney Opera House, receiving accolades from both critics and audience members.
Miss First Nation 2021
Malthouse Theatre Outdoor Stage: 4 – 7 May 2021
Blak Queens compete for the crown in the final fishnetted leg of Australia's only national competition for Aboriginal and Torres Strait Islander drag entertainers Our fiercest entertainers will set the stage on fire (that's FI-YA) over two heats, showing the audience what being fabulous is all about. It all comes down to 8 finalists. They've got the talent, the sparkle and the sass, but who will take the prize (and the glory) in the most glamorous grand final in Australia? It's a glitzy celebration of pride and togetherness, and a hilariously colourful show for everyone watching. Don't be fooled though, it's tough competition with big, emotional highs and devastating falls – and that's just the hairstyles.
Queer Playwriting Award Showcase
Gasworks Arts Park: 27 April 2021
The annual Queer Playwriting Award (previously Playtime Staged Readings), is a collaboration between Gasworks Arts Park and Midsumma Festival, and part of the Midsumma Presents Program. Experience fresh excerpts of four new works pre-selected from our top eight finalists: Recollection by Georgia Ketels; Every Lovely Terrible Thing by Adam Fawcett; Coming Out by Lucy Holz; and Mummy's Boy by Patrick Livesey. See queer issues and voices represented on stage, engage with new playwriting talent and have your say in the 2021 Award selection.
Sam I Am
La Mama Courthouse: 20 – 22 April 2021
Written and performed by Sam Martin, Sam I Am explores the experiences, memories, and unknowns that a boy from the inner Western suburbs of Sydney must learn to embrace as he accepts and defines his identity (did we mention he's 22?). Set on the eve of his big move to Melbourne, this deeply personal story recounts other pivotal events of Sam's life, including his journey with hearing aids and speech pathology, learning Auslan, and choosing to come out following the 2017 marriage equality plebiscite.
Shopping and F**king
The MC Showroom: 20 – 25 April 2021
Drugs, sex and microwave meals. Mark is a recovering junkie; Lulu is asked to sell ecstasy after a topless audition; Gary is a rentboy looking for someone to fulfill his violent fantasies; Robbie sets up a phone sex line with Lulu to try and pay the bills. With black humour and bleak philosophy, Mark Ravenhill's bold tragi-comedy shows the lives of disconnected youth reduced to transactions by a dysfunctional consumerist society.
Smalltown Boy
Online Presentation: 24 – 25 April 2021
Harry Wright examines his autism and his sexuality, and how these intersect with their class identity, growing up in a deprived area of Yorkshire, England. Harry considers how sex, relationships and music have helped them become a better man, in theory anyway. Plus numerous dick jokes.
Scoundrels: a boylesque musical
The Loft – Chapel Off Chapel: 29 April – 1 May 2021
A boylesque revue that delves into a world of love, jealousy, betrayal, lust and infidelity – all those deadly sins that we hold near and dear to our hearts. In a cabaret courtroom, the beautiful Ziegfeld Boys stand trial for the various sins they have committed against one another. The show is a brilliant blend of old world burlesque, musical theatre and clever comedy dipped in sensuality and dusted with sequins. Featuring some of the sauciest songs of the 20th century including: Mein Herr, Whatever Lola Wants, Cell Block Tango, Too Darn Hot and many more!
The Gospel According to Jesus Queen of Heaven
Theatre Works: 29 April – 8 May 2021
Join Queen Jesus for a revolutionary queer ritual in which bread is shared, wine is drunk, and familiar stories are reimagined by a transgender Jesus. This unique show combines theatre with storytelling and ritual to produce a rare and beautiful reflection on the life of Jesus, a transgender one, and a provocative meditation on a more truthful and generous interpretation of her words. It imagines Christianity's message of love extending to embrace all those traditionally excluded because of their sexuality or gender.
The Will To Be
La Mama Courthouse: 19 – 23 April 2021
A University Office, 1962: homosexuality is illegal. Junior lecturer, William O'Halloran, has been dismissed from his probationary position. His secret is out. As he packs up his beloved belongings, William recalls the defining events that led him to this moment. Time is ticking away. His wife Lola is due to arrive any minute. And the curtain will soon rise on the student union production of Romeo and Juliet. But Shakespeare's tale of star-crossed lovers isn't the only forbidden love story on campus. And the leading man knows this all too well… The Will To Be is an exploration of Australia's queer history, societal shame, and a defiant cry to speak truth to power.
This is Grayson
The Substation: 20 – 24 April 2021
Grayson has been in this carpark for ten thousand two hundred and sixty-one years. She's been waiting for you. So she can show you the gaps. Between her world and yours. This is Grayson, the story of a little girl who lives between worlds. She wants to show you who she meets and what she sees. She wants you to know what it's like to live in the in-between. You will meet a woman at The SUBSTATION. She will take you to a bus and you will go on an intimate, surreal and immersive journey through Newport's forgotten lands. Bring your sense of adventure and your curiosity, and let Grayson show you the things hiding in plain sight. Not just for kids and not just for adults, This is Grayson is for both to experience together.
---
The 2021 Midsumma Festival runs 19 April to 5 May. For more information and full program, visit: www.midsumma.org.au for details.
Image: Yana Alana stars in F*ck Fabulous – photo by Alexis Desaulniers-Lea