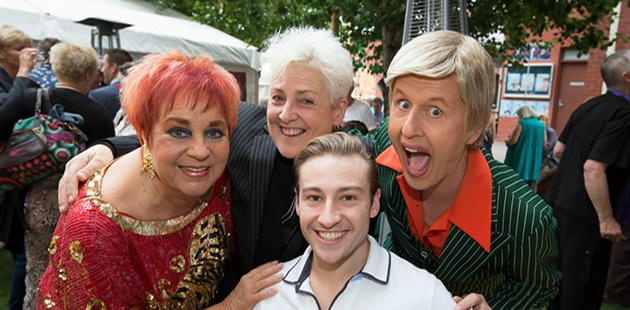 Rain couldn't dampen the record crowd of 2500 who turned out for the 2014 Adelaide Pride March last Saturday evening, parading from Victoria Square to the Feast Festival Opening Night Street Party. Revellers then partied on with the likes of Bob Downe, Matthew Mitcham, Horse, Anne Wills and more into the wee hours – kicking off 15 days of fun and merriment.
Fully curated for the first time in its 18 year history, the 2014 Feast Festival program includes a vast array of performing and visual arts events, literature events, food and wine tours, film screenings, Queer forums and more. We take a look at ten events worth checking out:
Maude Davey: My Life in the Nude
18 – 21 November
After more than 30 years of taking her clothes off in public, nude burlesque queen Maude Davey has finally had enough. It's time for less make-up and more clothes, so join her for this tantalising and bewitching farewell cabaret spectacular – her swan song to three decades of nude performance. A celebration of her body of work (literally), My Life in the Nude is a ribald retrospective, a cabaret confession, in which Davey bares all for the very last time.
Willsy: The Gay Divorcee (well, sort of … )
Wednesday 19 November
South Australian gay icon, TV legend, Logie Award hoarder and earring aficionado Anne Wills will dish the dirt on the joy, the pain and the glamour of her colourful life in the spotlight in this special "in conversation" event with ABC 891 presenter and Sunday Mail columnist Peter Goers. Two larger-than-life Adelaide personalities, one stage, and a few surprise guests. Expect the unexpected.
Matthew Mitcham – Twists and Turns
21, 22, 28 & 29 November
Olympic and Commonwealth Games gold medallist Matthew Mitcham steps off the diving board and onto the stage in this award-winning cabaret show exploring the highs and lows of life in the international spotlight through theatre and song. Based on Mitcham's best-selling autobiography of the same name and told with the honesty and courage he is admired for, Twists and Turns is the darkly funny, foot-tapping, inspiring story of a true champion both in and out of the pool.
Intimate Herstories with Joan Nestle and Dino Hodge
Saturday 22 November
Distinguished writer, activist, and co-founder of the New York City Lesbian Herstory Archives Joan Nestle joins Adelaide-born historian Dino Hodge and respected scholar Professor Susannah Radstone in a discussion about the politics of representing queer lives and history in fiction, memoir and non-fiction work. Chaired by Professor Susannah Radstone.
Michael Griffiths: Adolescent
Saturday 22 November / Sunday 23 November
Michael Griffiths is about to turn 40 but it isn't going to stop his prolonged adolescence. His really prolonged adolescence! Join him as he recalls travelling the world in jukebox musicals, falling in love and why he can't play ten pin bowling in the hope of finding out why he never grew up. Featuring the songs he knows all too well from Priscilla Queen of The Desert, Jersey Boys and lots of his first love – 80s pop!
Comedy Debate: Sex vs Love
Tuesday 25 November
Is it over when the sex stops? Does getting down and dirty constitute intimacy, or can cuddles truly be enough? Join our master moderator Hans the German as he guides some of Australia's funniest queer performers in a naughty mass debate. Featuring interstate comedians Nath Valvo, Geraldine Hickey and local legends Lori Bell, John Cameron, Margie Fischer and Malt Biscuit.
Bob Downe: Bob, Sweat and Tears!
Friday 28 November / Saturday 29 November
Australia's favourite Clown Prince of Polyester Bob Downe returns to Adelaide for two performances only of his new hit show, Bob, Sweat and Tears! The rumours have swirled for years and now the secret is out – Bob is finally manning up with a brand new bunch of classic hits including Spinning Wheel, Lola, and Leader of the Pack.
Eclectic Dandy
Exhibition continues to 28 November
Dandy: a term widely used in the late 20th Century England, it refers to men who consider themselves to be arbiters of culture, refinement and wit. Often considered effeminate and/or overtly flaming, most likely sexually aroused by other men, but not always. Eclectic Dandy is a visual arts exhibition by South Australian artist, Leith Semmens.

Fight Club: Masculinities, Violence and Fantasy
Saturday 29 November
Considered by many to be the bastion of male heterosexuality, Fight Club was ironically written, developed and produced by gay men. Watch the film on the big screen and then join producer Ross Grayson Bell, academic Dr William Peterson, Dr. Julia Erhart, and AFL player Henry Slattery (Essendon and now Port Magpies) in a special forum to discuss and dissect ideas of masculinity, sexuality, fantasy and violence as entertainment. Facilitated by Dr Vicki Crowley.
Picnic in the Park
Sunday 30 November
Pack your hampers and join Feast for a giant rainbow-coloured picnic on the banks of the River Torrens at Pinky Flat. This annual family event is always one of Feast's most popular with live entertainment, the annual tug of war, the dog show, community stalls and plenty of delicious food. Indulge in some adults-only fun in the lube wrestling pit, or jump on the mechanical bull – a brand new feature this year for adventurous cowboys and gals who like to ride.
The 2014 Feast Festival continues to Sunday 30 November. For more information, visit: www.feast.org.au for details.
Image: Anne Wills, Horse, Matthew Mitcham and Bob Downe – photo courtesy of Feast Festival