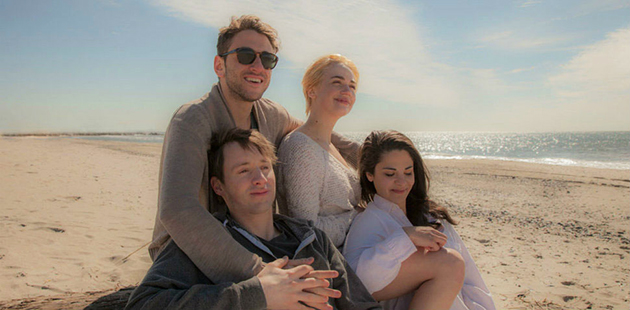 Celebrating its 26th year, the Melbourne Queer Film Festival (MQFF) is set to delight, excite, shock and surprise with the most cutting edge queer cinema has to offer from Australia and around the globe. The Australian Pride Network takes a look at 10 films worth checking out:
Boulevard
Sunday 3 April: ACMI Cinema 2
In one of his last performances, Robin Williams stars as Nolan, a closeted married man who likes to seek the comfort of rent boys. When he starts to develop deeper feelings for one of the young men, things begin to unravel and his two worlds collide. Featuring stellar performances from Williams and co-star Kathy Baker, Boulevard is a compassionate and moving experience.
Departure
Friday 1 April: ACMI Cinema 1
Saturday 9 April: Cinema Nova
Set in the south of France a family vacation takes a surprising turn for young Elliot with the arrival of Clement, a rough and handsome village youth. Elliot soon finds himself competing for Clement's affections with his lonely and frustrated mother. This atmospheric film is a sensitive coming of age drama. Featuring excellent performances from the central leads, the film is a nuanced and potent study of a family unraveling.
Chemsex
Friday 1 April: ACMI Cinema 1
Saturday 9 April: ACMI Cinema 2
An eye-opening and unflinching documentary that looks at the devastating effect of the use of amphetamines amongst London's gay subculture. This candid portrayal explores the impulses and desires that lead these men into a hedonistic spiral of sex and drugs while offering sobering reports from sexual health workers who are witness to an alarming increase in HIV infections.
Fourth Man Out
Sunday 10 April: ACMI Cinemas 1 & 2 – Closing Night Fim
Twenty-something mechanic Adam enjoys hanging out with his buddies, drinking beer and talking hockey. Adam also likes guys, something he struggles to tell his mates about. However Adam's straight mates are soon pitching in to help him navigate the dating scene!Fourth Man Out playfully explores the modern bromance with a lightness of touch and laugh-out-loud humour.
Girls Lost
Monday 4 April: ACMI Cinema 2
Friday 8 April: ACMI Cinema 1
Based on an acclaimed Swedish Young Adult novel, Girls Lost is an engrossing gender-swapping fantasy that follows the plight of three outcast teenage girls who happen upon a mysterious plant that can change their gender overnight. Whilst under its effect, the girls discover a whole new perspective on their high school life, while grappling with the personal awakenings and sexual confusion the transformation brings about.
Mala Mala
Wednesday 6 April: Kino Cinemas
A popular hit with audiences worldwide who have embraced its look at the lives of 9 trans-identifying people in Puerto Rico. Covering a wide spectrum of age and experience in its subjects, Mala Mala explores the highs and lows of identifying as trans in a country where a macho, Latino culture holds sway.
Naz & Maalik
Saturday 2 April: ACMI Cinema 2
Set over one fateful summer's day in Brooklyn, Muslim teen, Naz is caught in a lie when he tries to hide the true nature of his relationship with best friend Maalik. Recalling the urban hipness of Spike Lee, Naz & Maalik is a fresh and freewheeling look at a side of New York we rarely get to see.
Remembering the Man
Thursday 7 April: ACMI Cinemas 1 & 2 – Centrepiece
Based on Timothy Conigrave's acclaimed and much loved memoir Holding the Man,Remembering the Man is a moving documentary that chronicles the relationship between Conigrave and his long term partner John Caleo. Featuring intimate and little seen archival footage of the two men, the film is a tender tribute to their relationship while offering a chronicle of the emergence and devastating effect of the AIDS virus in Australia.
Tab Hunter Confidential
Saturday 2 April: ACMI Cinema 2
In 1950s Hollywood, Tab Hunter was the embodiment of youthful American masculinity and a bankable star for Warner Brothers. His song Young Love knocked Elvis Presley off the top of the charts and his films were incredibly popular. Tab Hunter, however, lived two lives. He was both the studio-constructed heart throb and intensely private about his sexuality.
That's Not Us
Thursday 31 March: ACMI Cinemas 1 & 2 – Opening Night Film
Six friends, all couples – gay, straight and lesbian – head to the beach for a weekend of fun, sun and sex. But as they spend time together and the whiskey comes out, secrets are revealed and things get messy. Featuring a wonderful ensemble cast, this funny and heartfelt take on contemporary relationships is a modern-day The Big Chill for the queer set.
The 2016 Melbourne Queer Film Festival runs 31 March – 11 April. For more information and complete program, visit: www.mqff.com.au for details.
Image: That's Not Us (supplied)