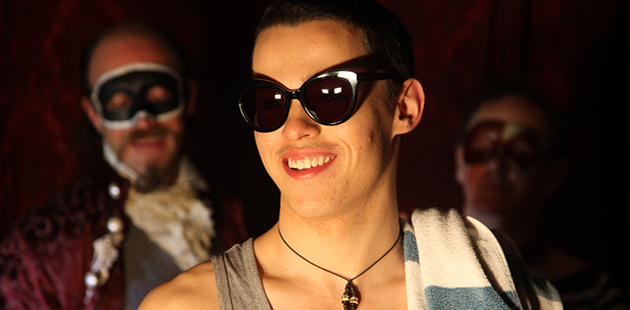 An innovative transliteration and re-interpretation of the words of Thomas Mann, Sofia Chapman's Todd in Venice will play a strictly limited season at the La Mama Theatre from 1 February 2017.
Agnes yearns after the young and beautiful gay boy Todd – will she lose her chance with Todd by becoming female? The classic Death in Venice reimagined, with Thomas Mann's innocent Tadzio, now the gay boy Todd, rampaging around Venice and getting up to mischief.
Agnes, in Venice to collect gaudy masks and glassware, yearns after Todd, but is in the process of transitioning. Michael, in Venice to write a musical, also finds Todd irresistible. Will Agnes lose her chance with Todd by becoming female? Or will she lose him anyway to her friend Michael? On top of all this, the water levels in Venice are rising and threatening to sweep them all away on a tide of emotion.
From award winning writer Sofia Chapman, this comedy features up and coming music and theatre stars Joseph Lai as the laconic Michael and Alex Beyer as the young and beautiful Todd. Kate Hosking is the melancholy Agnes (who starred as the Baroness of Inverness in Sofia's Untitled, or The Seat of Narcissa in 2016).
James Adler is the mysterious Doge of Venice who was supposed to have died in the 18th century. Terry Cole is resident musician, gondolier and persistent clown, who played the Norse God Woden in Sofia's play The Four Accordionists of the Apocalypse, which won the Melbourne Fringe Best Emerging Writer Award in 2012.
Todd in Venice featured in the 'Playtime' play reading and script development series at Gasworks Arts Park as part of the 2016 Midsumma Festival.
Writer / Director: Sofia Chapman Featuring: Kate Hosking, Alex Beyer, Joseph Lai, James Adler, Terry Cole Lighting Design: Annabel Warmington Set Design: Alana Hunt
Todd in Venice
La Mama Theatre 205 Faraday Street, Carlton
Season: 1 – 5 February 2017
Information and Bookings: www.lamama.com.au
Image: Todd in Venice – photo by Annabel Warmington