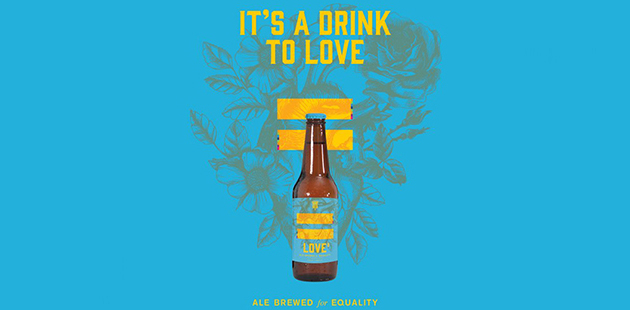 Australians are being asked to raise a glass, Toast 2 Love and share it on social media on Friday 3 November as the same sex marriage (SSM) postal survey reaches its last few days, with all funds from the sale of Love² beer by The Good Beer Co. being pledged to the Australian Marriage Equality campaign.
Fifteen pubs, bars and venues in Melbourne, Sydney, Brisbane, Canberra and Adelaide are supporting Toast 2 Love by putting the special Love² brew by The Good Beer Co. and Bright Brewery on tap, and over 100 businesses including Airbnb, TripAdvisor, Medibank, Qantas, and Atlassian are getting involved by serving the Love² beer in bottles at special Toast 2 Love Friday drinks events across the country.
The New World-style Pale Ale beer has received overwhelming backing from the industry with support from 28 independent breweries, festivals and beer media from around the country. Love² beer has proved so popular with both pubs and punters since its launch earlier this month that The Good Beer Co. and Bright Brewery are busy brewing a new batch to keep up with orders. But the good news is beer lovers can pre-order a carton of Love² online here for a celebration at home with mates.
The Good Beer Co. is a social enterprise – a company on a mission to do good – and the Love² beer is its second cause related brew, with the first being Great Barrier Beer in support of the Australian Marine Conservation Society and their work to protect Australia's national icon, the Great Barrier Reef.
The Good Beer Co. Founder, James Grugeon, said he wanted to Toast 2 Love to thank everyone who had already voted YES, urge those who hadn't returned their survey yet to do it quickly before the deadline on 7 November and remind everyone who has supported marriage equality that the fight isn't over until the law is passed.
"This is a celebration of love for all those YES voters out there. When you Toast 2 Love on Friday 3 November we want you to share it on your social media so everyone can see that you support equality for all," said Mr Grugeon.
"The Good Beer Co. will continue to support the Australian Marriage Equality campaign after 15 November because that isn't the end, we will continue to work until SSM marriage is passed into law. And ongoing, we'll continue to support the cause of equality for everyone. I hope to be toasting LGBTIQ friends at their own marriages in Australia before long."
Peter Black from the Australian Marriage Equality campaign is excited about Toast 2 Love. "We're excited by how popular Love² beer has proved to be and hope it's a good omen for YES. It's a really great beer and we hope Australians will enjoy toasting love on 3 November – and beyond!"
Scott Brandon, Owner of Bright Brewery, the brewers of Love² beer, said he was delighted about the positive reaction to this special brew. "This is a hand crafted, small batch brewed beer from an independent craft brewer and social enterprise start up. Beer is a great equaliser in our society that helps bring people together and enjoy each other's company," said Mr Brandon.
"We're proud to be making a beer that supports equality for all Australians and hope that everyone will seek out and try this New World-style session Pale Ale with all Aussie ingredients that's easy to love, no matter what your preference."
Anyone supporting marriage equality can also share The Good Beer Co.'s animation about the campaign via their Facebook page here.
Image: Love² beer (supplied)