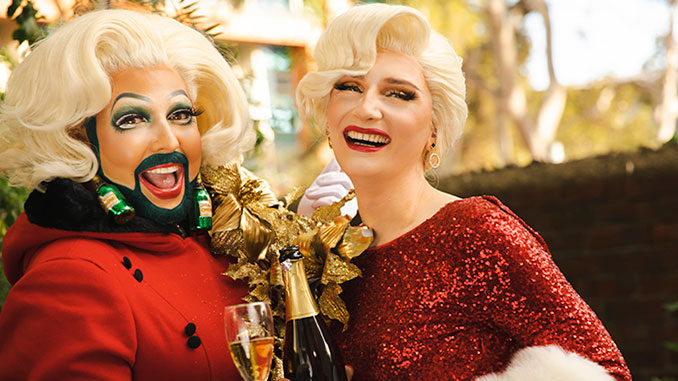 Set amongst the beautiful historically-listed Spanish-style architecture of the Mission to Seafarers, TINSEL is a jam-packed night of hilarious performances and a delicious Christmas-in-summer inspired feast for seven nights this December.
Presented by Scratch Arts, a uniquely Melbournian contemporary & queer arts company, alongside award winning chef Jamie Donovan, TINSEL is perfect for work functions, celebrating with friends or a romantic date night this festive season
With entertainment by the drag face of Australia Post, Vin Tagè; the finalist of Germany's show Fame Maker, Uff the Queen; the lariken drag kings, Dazza and Keif; multi-award winning comedian, Lou Wall; and Sydney DJ Jack Hardmën underscoring the night and revving up a little party for desert.
The menu starts with a mix of entrees to share – a jazzed up hummus, some crunchy deep fried goodies and something a little light & fancy. The main course is a summer feast to share around the table with tastes from across the globe.
And to finish the night it's all sweet treats, fill your last mouthfuls of the evening with something chocolatey and boozy or something fresh and fruity… or both!
---
TINSEL
Mission to Seafarers, 717 Flinders Street, Docklands (Melbourne)
Dates: 7 – 23 December 2021 (Doors open: 5.30pm | Show: 6.15pm)
Bookings: www.trybooking.com
For more information, visit: www.scratcharts.com for details.
Image: Vin Tagè and Uff – photo by Telepathic Photo & Video