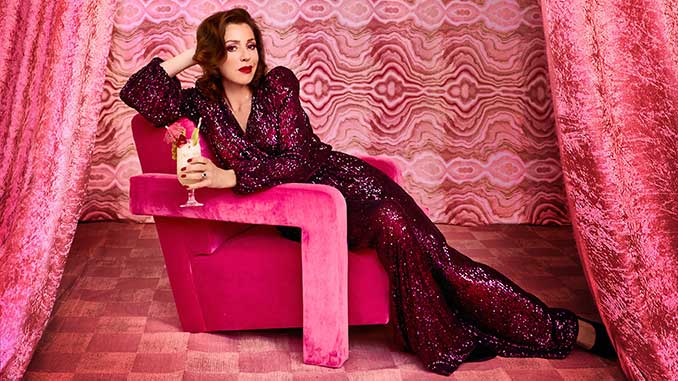 Get ready to kick up your heels and warm up this winter with a sparkling program of the best and boldest performers at the 22nd Adelaide Cabaret Festival, starting tonight at Adelaide Festival Centre.
International star and Australian icon Tina Arena AM proudly presents her curated program with this year's star-studded line-up, featuring 377 artists and musicians across 97 performances over 12 decadent days and nights.
The world's largest cabaret festival features 14 world premieres and 15 Adelaide premieres by a large contingent of Australian artists and performers from the USA, Germany, Rwanda, and New Zealand at Adelaide Festival Centre and Her Majesty's Theatre.
Audiences will be delighted, entertained, and teased by alluring performances and sultry disco evenings – from headline artist Marcia Hines singing gospel tunes to Australia's queen of burlesque Imogen Kelly, cabaret chanteuse and festival favourite Meow Meow, and bespoke French circus act Cirque Bon Bon.
The hottest late-night club, The Piña Colada Room, will bring a touch of 70s disco to The Famous Spiegeltent – this year located on the new Festival Plaza and featuring DJs, off the cuff cabaret performances, and appearances by Artistic Director and ARIA Hall of Fame inductee Tina Arena.
In her debut as Artistic Director, Tina Arena is ready to start the festival fun and frivolity: "I am thrilled to be in Adelaide for this much-loved winter festival and can't wait to see the fusion of stories, song, dance, and all things theatrical come to life on stage," she said.
"I hope this year's program reconnects audiences and artists in the most intimate and life-affirming way, offering some much-needed connection and joy."
"I've always loved cabaret – long before my role as Sally Bowles, it's a beautifully eclectic art form and escapism of the most fabulous kind. This program brings together artists with diverse voices and cultures, representing the best cabaret has to offer in Australia and abroad."
"From my own show and the personal stories of Songs My Mother Taught Me to the decadence of The Piña Colada Room – leave your worries behind and let's have some fun!" said Arena.
Bringing her Italian heritage to the program, audiences will get a rare chance to connect with Tina Arena on a personal level, as she headlines and hosts the world premiere show, Songs My Mother Taught Me.
Featuring Tina, and special guests Lior, The Voice 2022 finalist Thando, Jess Hitchcock, Wendy Matthews and Sophie Koh, the show celebrates culture, legacy and love and is inspired by storytelling and family. Two shows only at Her Majesty's Theatre on June 24 and 25.
Opening weekend highlights include:
Cabaret favourite Reuben Kaye hosting this weekend's The Piña Colada Room and brings his new show Live & Intimate to The Banquet Room in the second weekend.
South Australian cabaret favourites Amelia Ryan, Michaela Burger and Michael Griffiths celebrate the golden age of rock 'n' roll, sexual revolution and the leaps and bounds of women's liberation in Simply Brill – The Women Who Defined Rock 'n' Roll.
Audiences will travel back in time with vocal powerhouse Catherine Alcorn and Phil Scott in 30 Something – an immersive show set in Sydney's Bohemia Kings Cross on New Year's Eve 1939.
Swing band Davina & The Vagabonds in an Australian premiere where they draw from the past 100 years of American music, from Fats Domino to Aretha Franklin and Tom Waits in a show led with New Orleans charm and Memphis soul in The Famous Spiegeltent this weekend.
New Zealand company, A Slightly Isolated Dog bring Don Juan to the Space Theatre, bringing together physical comedy and twisted pop songs in a hilarious and irreverent show directed by award-winning Leo Gene Peters.
Cabaret Life Drawing – be guided through creating charcoal drawings of a live model while sipping on a glass of wine and being entertained with live music in The Famous Spiegeltent.
"South Australia's favourite winter festival is back and looking better than ever with the new Festival Plaza open and ready to welcome audiences to some new spaces and familiar ones at Adelaide Festival Centre," said Adelaide Festival Centre CEO & Artistic Director Douglas Gautier.
"As a winter festival, Adelaide Cabaret Festival is a seat at the fireside, warming our collective spirits and we know how important that is for our community."
"Tina Arena has brought her creativity, talent and arts expertise to this wonderful program, contributing to the festival's position as the country's premier cabaret festival in Australia's premier festival city. We look forward to warmly welcoming audiences back," said Gautier
---
The 2022 Adelaide Cabaret Festival 2022 continues to 25 June. For more information and full program, visit: www.adelaidecabaretfestival.com.au for details.
Image: Tina Arena photo by Jai Vasicek