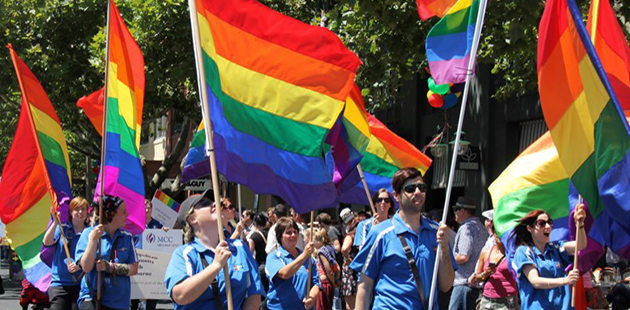 Victoria's annual Midsumma Festival Pride March will once again see an estimated 45,000 LGBTQIA+ community members and allies celebrate diversity along St Kilda's Fitzroy Street on Sunday 3 February at the new start time – 11.00am.
A feature event of the annual Midsumma Festival – Pride March stretches a kilometre along the length of the Fitzroy Street to celebrate community pride. The pre-march procession begins with Dykes on Bikes Melbourne, followed by over 200 community groups, including Rainbow Aboriginal Pride, Parents of Gender Diverse Children, Transgender Victoria, NAB Pride, Victoria Police, Parks Victoria, St Kilda Football Club and more. Click here to view the March Order.
Pride March as always, brings the community together to stand tall and be proud, to honour members who have brought everyone forth and most importantly, to revel in the celebrations with family, friends and allies. Paint on those stripes, fluff up feathers, and wear more glitter than clothes for the march through St Kilda in Melbourne's iconic parade of rainbows and pride.
Following the March, celebrations in Catani Gardens will be hosted by one of Australia's fastest rising cabaret stars, the award-winning, Yana Alana. Entertainment throughout the afternoon includes:
11.00am – DJ Renee Delay:
Renee Delay is committed to the warm, sexy bass thumping, synth driven vocal sounds of nu-disco, house, 70s disco and underground '80s funk. Nothing tickles her fancy more than bringing a unique twist to the 80s slow jams and deep disco tunes and is committed to spreading her love of the underground disco movement.
1.15pm – Official Proceedings
1.35pm – Hans:
Boozier than an Oktoberfest, more drive than a Volkswagen and with more sausage than a bratwurst convention, Hans is Germany's proudest export.An international superstar, sex symbol, accordionist and Berlin boy-wonder, Hans has been thrilling audiences around the globe with his own fabulous brand of critically acclaimed cabaret for over a decade, performing for everyone from Prime Ministers to Princesses, paupers and paper boys.
2.00pm – Chela:
An Australian/Filipino artist, musician, songwriter, producer, and filmmaker originally from Fremantle, Western Australia. Chela performed at SXSW, Coachella and supported Classixx and The Presets on their North American tours.
2.20pm – Pride March Award Winners Announced
2.30pm – Bec Sandridge:
Bec Sandridge has been staking her claim to be heard as a nomadic pop-punk artist, catapulting herself onto the world stage.
3.00pm – Cupids Cut:
Entertaining Melbourne crowd's for over 7 years and from Thursday through to Sunday it's likely she's behind the decks either stimulating the scene with some sleek sound's or igniting dance-floors and keeping the party on its toes until it's irrefutable end. expect to hear a wide range of classic house, disco, funk and boogie jams, for an intoxicating vibe that fans the late night flame.
The 2019 Midsumma Festival Pride March takes place on Sunday 3 February from 11.00am. For more information, visit: www.midsumma.org.au for details.
Image: Participants at the Midsumma Festival Pride March (supplied)