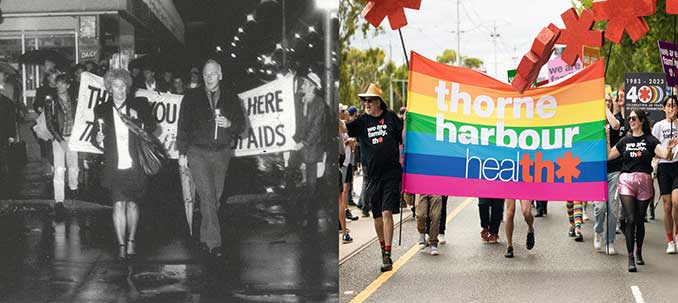 Wednesday 12 July 2023 marked 40 years since the founding of Thorne Harbour Health, Australia's oldest HIV/AIDS organisation and now one of the largest LGBTIQ+ community-controlled health organisations in the country.
This month the organisation is hosting a series of exhibitions and community forums to reflect on the past four decades as well as inform the ongoing response to those issues impacting LGBTIQ+ communities today.
"We hope that there will be something to inspire everyone – from innovations in health promotion to exploring the state of LGBTIQ+ rights around the globe," said Thorne Harbour Health CEO Simon Ruth.
"We have arranged a series of forums to accompany each exhibition, with panels made up of incredible subject matter experts and some of the living legends behind our founding in 1983," said Mr Ruth.
"A lot has changed since our start as the Victorian AIDS Action Committee. We were founded by a group of people forged in the fires of gay and lesbian liberation to tackle the emerging HIV/AIDS crisis," said Thorne Harbour Health President, Janet Jukes OAM.
Four decades on, we have seen amazing progress. This 40-year milestone provides us with an opportunity not only to look back at what we have accomplished but also to inspire us to continue our work in improving the health and wellbeing of our LGBTIQ+ communities more broadly."
The organisation kicked things off with the Ruby Red Ball at Melbourne Town Hall last Saturday featuring many of the people who have contributed to the legacy of the past 40 years.
"We're fortunate to have many of our founding members speaking at our events this month. In the current landscape, our LGBTIQ+ communities could benefit from the wisdom of our past as we tackle the issues facing us today," said Ms Jukes.
---
For more information about events being held as part of Thorne Harbour Health's 40th Anniversary, visit: www.thorneharbour.org for details.
Image: 40 Years of Community Activism (Candlelight Vigil led by Caroline Hogg and Keith Harbour | Thorne Harbour Health at Midsumma Pride March) – courtesy of Thorne Harbour Health