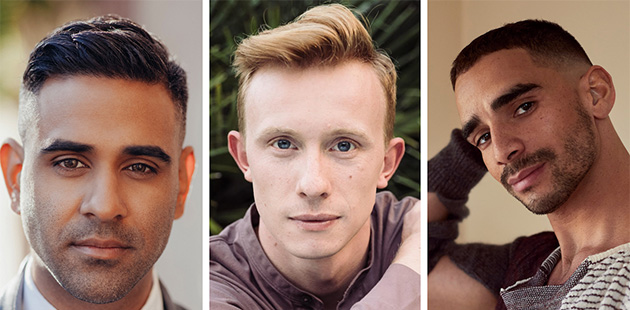 Presented as part of their Ricochet Reading Series, Antipodes Theatre Company (ATC) is pleased to live-stream an online reading of Harrison David Rivers' award-winning play, This Bitter Earth via the ATC Facebook Page on Monday 19 October.
Jesse, an introspective black playwright, finds his choices called into question when his boyfriend, Neil, a white Black Lives Matter activist, calls him out for his political apathy. As passions and priorities collide, the couple is forced to reckon with issues of race, class and the bravery it takes to love out loud.
This topical and compelling two-hander by American playwright Harrison David Rivers will be directed by Dean Drieberg (Sunday In The Park With George) and features Tomas Parrish (When the Light Leaves) and Lyndon Watts (Aladdin).
"It's rare to read a script that knocks the wind out of you like this does," says Drieberg. "Harrison David Rivers' text is a feast and the characters are complicated and relatable, drawing you into their relationship with lyrical monologues and explosive interactions. This is a powerful and relevant story, one that many like myself will feel like they've lived in."
Following the online reading, ATC Artistic Director, Brandon Pape will moderate a post-show forum with a question-and-answer session. Viewers will be able to submit questions via the comments section.
Harrison David Rivers is a multiple award-winning American playwright. His works include When Last We Flew, Sweet, Where Storms Are Born, the bandaged place, Broadbend, Arkansas and Five Points.
An alum of the Public Theater's Emerging Writers' Group, Rivers has held a number of positions including the 2016 Playwright-in-Residence at the Williamstown Theatre Festival and the 2019-2020 Rudolph William Rosati Visiting Writer at Duke University. He is currently under commission to write plays for a number of theatre companies.
---
This Bitter Earth will be live-stream via the Antipodes Theatre Company Facebook Page on Monday 19 October 2020 – 7.00pm (video will be available to view for 24 hours). Free – viewers are encouraged to make a tax-deductible donation. For more information, visit: www.antipodestheatre.com for details.
Image: Dean Drieberg, Tomas Parrish and Lyndon Watts (supplied)