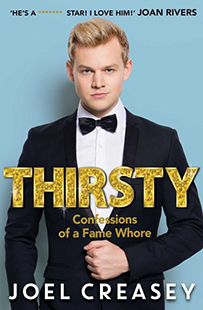 Joel Creasey has known he wanted to be on the world's stage since he was in short pants, and nothing was going to get in his way. After his first stand-up performance at 17, he had to follow his dream – that is, to always have the spotlight on him.
His breakout moment was appearing on I'm a Celebrity Get Me Out of Here, and now he's a comedy superstar, performing non-stop at sell-out events in Australia and around the world.
Even the late, great comedy superstar Joan Rivers was a fan, inviting him to open for her last Broadway shows. Like Joel, Thirsty is acerbically funny, and full of his most personal, hilarious, joyous, heartbreaking, outrageous, ridiculous and scandalous stories.
From what it's like to be growing up gay in suburban Australia, with parents who understand the call of the spotlight – his mum was a West End actress, his dad starred in the famous Solo Man advertisements and both his parents were extras in Star Wars – to his early life at school, finding his comedy and what life is like on the road now.
From the ridiculous (visiting the anti-gay capital of Australia) to the sublime (opening for his idol Joan Rivers), this is the story of a hopeless romantic who believes women should run the world and men should just kiss him. With a foreword by Chrissie Swan, Thirsty: Confessions of a Fame Whore is a hilarious rollercoaster ride of life behind the curtains with one of Australia's most popular rising stars of comedy.
At 26 Joel Creasey is one of Australia's most popular stand-up comedians, performing to sellout crowds. He made his first stage appearance at 15, and his first solo tour at 19 earned him Best Newcomer at the Melbourne International Comedy Festival. He was crowned Comedian of the Year at the GQ Men of the Year Awards in 2016 and nominated for the prestigious Helpmann Award for Best Comedy Performer in 2017.
Joel has become a television staple, making regular appearances on The Project, The Great Debate and Just for Laughs, as well as landing the coveted role as co-host of SBS's hugely popular Eurovision broadcast. He has appeared at comedy festivals around the world and sold out tours of the UK, Asia and the US.
Thirsty: Confessions of a Fame Whore is published by Simon & Schuster and is available from all leading booksellers nationally, including Booktopia.
Image: Joel Creasey – Thirsty: Confessions of a Fame Whore (supplied)