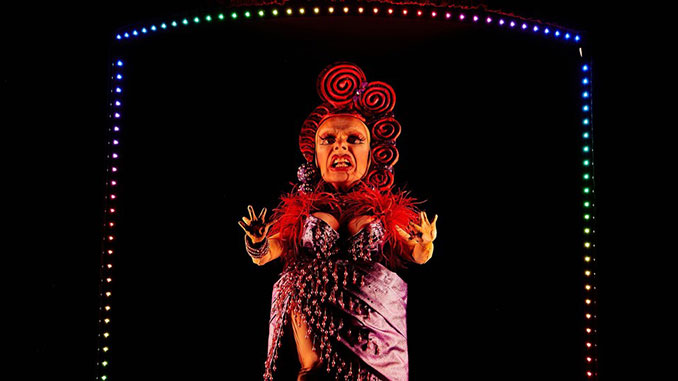 An outrageous, eye-popping puppet feast for grownups, Murray Raine presents They Came From Uranus at the Empire Cabaret Theatre, as part of the 2023 Adelaide Fringe: 10  -19 March.
A decadent story of love bombs going awry in an outrageous fifty five minute "adults only'' sci-fi cabaret burlesque. It's a sexy, sassy, hilarious puppet feast performed by master puppeteer and gender illusionist Murray Raine and his company Murray and the Murrayonettes.
They Came From Uranus tells a story of lust, sex and perversion. Belonging to the oeuvre of the best B-grade trashy sci-fi movies our tale follows a woman's courage as she saves the world from an alien invasion and restores universal faith in the great responsibility of our most precious of assets… social influencers.
This unique show is performed in its own ornate miniature burlesque theatre and features a dazzling array of shadow puppetry, multi-media projections and 'Humanettes' – a rarely seen form of puppetry which comprises the puppeteers head with a puppet's body.
Director James Welsby (Yummy Productions) and his cast of 20 Humanettes (all played by Murray Raine) are lavishly costumed by Isaac Lummis, introduce us to a world of debauched aliens and glittering burlesque beauties. This show seeks to morph the real into the ridiculous, and to redefine indecency.
If you're captivated by camp theatre, big hair-dos and retro music then this is one rock'n "adults only" puppet show you do not want to miss!
---
They Came From Uranus
Empire Cabaret Theatre at Wonderland Festival Hub, Hindmarsh Square, Adelaide
Season: 10 – 10 March 2023
Bookings: www.adelaidefringe.com.au
For more information, visit: www.murrayonettes.com.au for details.
Image: Miss Candy Carcrashian stars in They Came From Uranus (supplied)
Disclaimer: This show features strong adult themes and not suitable for Kiddies, the faint hearted or church social groups.