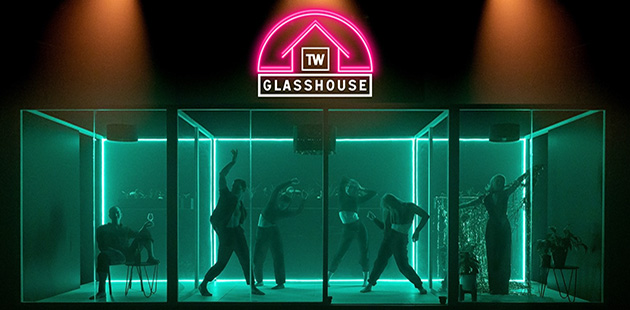 Nine months since the curtains came down and after hundreds of hours of planning and work, Melbourne's iconic Theatre Works proudly presents an innovative and COVID-Safe new theatrical experience, Glasshouse.
Theatre Works heads into 2021 after a complete transformation of their theatre space, allowing the organisation to restart operations with a dynamic and innovative approach to COVID-Safe live performance far into the foreseeable future.
An intimate in-the-round setting for chamber performance of all genres and forms, Glasshouse is comprised of 12 custom made booths that put the comfort and safety of audience and performers at the forefront, without compromising the experience at the theatre.
A new era for the organisation, instead of becoming disenchanted with the current situation they have embraced the possibilities with exclusive perspex booths that patrons are able to book for themselves and their guests – complete with pre-order menu including gourmet grazing platters, ice creams, drinks and other assorted treats.
Each event at the venue also cares for the wellbeing of patrons, artists and staff alike with staggered seating times, contactless ticketing systems, infrared temperature checks, and hospital grade cleaning before and after each show.
Currently nearing completion, Theatre Works has developed a mobile device app to compliment the new experience at the venue which will provide direct communication with the audience from ticket sale, to theatre entry and seatings, drink/food or merchandise purchasing and order reconciliation.
The app will also serve as a check in device in adherence to COVID-Normal guidelines, collecting guest details for COVID-Safe tracking purposes. The app will be available on the night of the launch.
"The greatest impact COVID has had on our organisation is to our artists and audience," said Dianne Toulson, Theatre Works General Manager. "Without being able to safely open doors we have been unable to support artists and present works to the wider community, and our response to that is Glasshouse. The new design enables us to reopen and provide a vital space for audience and artists alike."
2020 is Theatre Works' 40th Anniversary and we started the year dealing with brutal funding cuts and wondering how we were going to survive. Then COVID hit and we realised, like all artists and arts companies – especially the independent ones – that we had to get creative and seize the opportunity to evolve."
"We've been supporting artists and creatives for 40 years and have dealt with many obstacles in unique ways. This is just another. We've em-braced the change and now we're looking forward to another 40 years bringing the arts to Australians," said Toulson.
"Ready to launch in the first week of January with a new Fringe Replanted program, Glasshouse is also an acknowledgment that the future is an uncertain one and the possibility of moving in and out of different levels of restrictions a genuine concern.
Because of this, the 2021 program has been planned with flexibility in mind. Sliding capacity allows seating of 20 – 48 people with the configuration, which still accounts for four square metres per person in the venue including cast, crew and front of house.
Launching 2021 with a bang, Glasshouse invites audiences back to Theatre Works from Tuesday 5 January with the Fringe Replanted season. Running until Sunday 31 January, Fringe Replanted is a full program of nine new, experimental and/or emerging theatrical works.
Following on, Glasshouse will also welcome back six reprogrammed works from the 2020 Theatre Works supported season including We're Probably Really Really Happy Right Now, Voldemort and the Teenage Hogwarts, Jungle Bungle, Mara KORPER, Singing Swallows and When The Rain Stops Falling.
In May, the repositioned 2021 Midsumma Festival returns to the venue with shows Bent, The Gospel According to Jesus, Queen of Heaven by Jo Clifford, and Friendship (a new work by Theatre Works Resident Company Stage Mom).
Beyond Glasshouse programming Theatre Works will welcome premiere new shows from some of Australia's most celebrated companies Little Ones Theatre, Na Djinang Circus, The Bloomshed, and The Danger Ensemble.
Known for pushing boundaries, eclectic programming and working tirelessly to support artists, Theatre Works invites arts lovers the world over to join them online at 7:30pm (AEST) on Tuesday 1 December for a live-stream launch experience.
Hosted by Sarah Ward (Yana Alana), Theatre Works will premiere their new look venue and 2021 program, exploding into the new year with optimism, passion and their trademark dedication to Australian artists and arts makers. For more information, visit: www.twglasshouse.org for details.
Image: Glasshouse at Theatre Works (supplied)