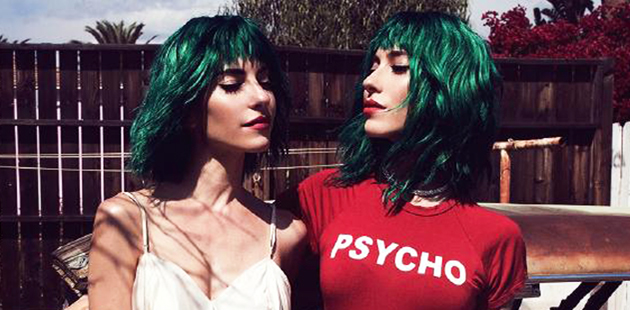 Australia's finest alt-pop exports, The Veronicas are back, with bold attitudes and banging beats, and ready to let loose this Mardi Gras with a unique Party exclusive performance.
Identical twins Jessica and Lisa Origliasso make up the pop powerhouse that is The Veronicas, and have been a staple for all discerning electro, rock and pop lovers since 2005 when they released their four time platinum debut album The Secret Life of.
Since then, the international chart topping twins have collaborated with producers Clif Magness, Billy Steinberg and Max Martin, who between them have worked with every pop princess worth knowing such as Madonna, Pink, Katy Perry and Britney Spears.
Since their musical makeover, The Veronicas have received nothing but praise for their work. 2015 and 2016 saw The Veronicas come back with a vengeance, with number one hits You Ruin Me, also a top ten hit in the U.K and most recently, dance anthem In My Blood. Late last year, a blistering hot performance of In My Blood at the 2016 ARIA's put The Veronicas right back where they belong; on the tip of everyone's tongues.
The sisters are huge advocates for marriage equality in Australia, giving rousing speeches in Brisbane and Sydney in support of the LGBTQI's efforts to obtain equal rights when it comes to saying 'I DO' down under. The video for The Veronica's most recent single, On Your Side was written and directed by Ruby Rose and was a true to life look at the passion and protection of two people falling in love and ultimately a love that cannot be broken.
Coincidently Lisa and Jess aren't the only identical twin sisters performing at this year's Party. Canadian pop sensations Tegan and Sara are bringing a little indie electro-pop to the table and are sure to raise the roof at Moore Park this March. Also added to the Party line-up is local legend of the decks Dan Murphy and making their Mardi Gras Party debuts, New York Mixmaster DJ Corey Craig and hot Sydney DJ/remixer DJ Mickey.
These and more to be announced in the coming days will be joined by a smorgasbord of other local and international musical mixologists and turntable techies including DJ Citizen Jane, JimJam and Oxford Hustlers who are ready to get everyone pumped up and twerkin till the early hours.
The 2017 Mardi Gras Party takes place on Saturday 4 March. For more information, visit: www.mardigras.org.au for details.
Image: The Veronicas – photo by Sasha Samsonova