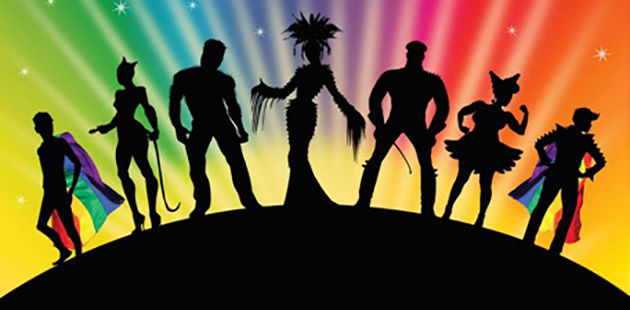 Established in 1988, the Tropical Fruits are the premier GLBTI community social group in the sub-tropical New South Wales Northern Rivers town of Lismore – an area appropriately known as the Rainbow Region.
The Tropical Fruits New Year's Festival is a four-day GLBTI celebration, and anyone who has ever attended will know how much fun they are – and this year, will be no exception, as the crew at Tropical Fruits channel their inner-geek with a Superfreaky theme.
With a world in jeopardy, Superfreaks NYE needs YOU to find the superfreak inside. Reveal your secret identity and unleash your hidden power, as we fight for truth, justice and equality on the dancefloor of love! Masked vigilantes will go head to head with the monsters of your darkest fantasies, as worlds collide in an inter-stellar explosion of spandex, leather, glitter and glory.
Heralding the start of the celebrations, a flamboyant Parade through the streets of Lismore on Tuesday 29 December kicks off the festivities. The New Year's Eve Superfreaks Party and the New Year's Day Recovery Party are held at the retro-chic Lismore Showgrounds, lovingly transformed by hundreds of volunteers into a sumptuous smorgasbord of our own unique fruity culture.
This year, the Fruits have gone all out with a line-up boasting not one, but two international DJs! From his base in Paris, DJ Leomeo has touched virtually every continent with his eclectic & energetic sets, travelling the world armed only with his turntables and his killer smile. His set will take the Arena pavilion through the fireworks, and into a brand new year – where you wont forget his infectious energy, pumping tunes or that stunning smile!
DJ Mike Kelly is returning to Australia to close off the Superfreaks Festival with a bang! Originally from Sydney, Mike is now on constant tour across Western Europe. He will stun the Recovery dance floor with his energetic mixing, pumping bass & driving rhythms. Recovery has another real treat in store, with Sandi Hotrod returning to the decks after a year's break!
"We could talk all day about our incredible family of Superfreaky DJs, from the new talent to our long-term favourite stars, but their names really speak for themselves!" says Tropical Fruits Event Coordinator, Michael Gates (aka Maude Boate). "We will be spoilt for choice this NYE – you'll be wishing your superfreaky power was to be in ALL the dance halls at once!"
The line up includes plenty of Australian legends such as Stephen Allkins and Buck Naked, rising stars like Dom De Sousa and Arsee, pioneers of style like Somerville & Wilson, through to long-time favourites Sveta and LADY K. Showing just how much the Northern Rivers has to offer, the incredible line-up of local talent includes Elschorcho, Platypuss, SarahTone'n, L.Y.D.I.A and DjBj. New to the fruity NYE decks this year are renowned DJs, Chip and Amanda Louise.
The festival boasts more than DJs, with a star-spangled line-up of Cabaret performers and cultural artisans treading the boards on the NYE Cabaret stage. Bigger and better each year, with word on the street that there could be appearances from some superfreaky 'BIG' name stars this year…
The ever-popular Art Exhibition is a space for many of our community's great artists to exhibit and sell their exquisite work. Tropical Fruits Chairman Ken Beilby reminds us "Don't forget to vote in the people's choice award on the night, and show your appreciation for all that our creative community contributes to our beautiful culture".
Rejuvenate on New Year's Day at the sensational, slippery, sexy Pool Party – held in the post-deco ambience of Lismore Memorial Baths – booked exclusively for Tropical Fruits. Swim, shower, sun yourself – recharge your Vitamin D and get moist dancing by the pool with some delectable GLBTI folk.
Every year, the NYE Festival is created by a fruity army of over 300 volunteers. Whether you like creating colour schemes or working up a sweat with power tools, the Fruits have the job for you! With great deals of party tickets (and more) in exchange for volunteer shifts, volunteering is one of the best ways to enjoy a Fruits NYE. For more information, visit: www.tropicalfruits.org.au/newyears/volunteers
Accommodation can be at a premium over the New Year's Eve period, with many of the areas hotels booking out well in advance. Take in the whole experience with the on-site camping facilities at the Lismore Showgrounds. With themed areas to suit all your camping needs, it is a great opportunity to meet others and share your New Year's experiences. Contact Tropical Fruits for more details.
The Tropical Fruits Superfreaks Festival key dates and events:
Camping and Volunteering: 27 December 2015 – 3 January 2016
Street Parade: 29 December 2015 – time and location to be advised
New Year's Eve Superfreaks Party: 31 December 2015 – from 8.00pm to 6.00am
Pool Party: 1 January 2016 – 10.00am to 4.00pm
BBQ Recovery (free): 1 January 2016 – 4.00pm to 6.00pm
Recovery Party: 1 January 2016 – 6.00pm to 1.30am
Tickets are now on sale. For more information and complete programme, visit: www.tropicalfruits.org.au for details, or keep up-to-date at the Tropical Fruits Facebook Page.
Image: courtesy of Tropical Fruits Inc.