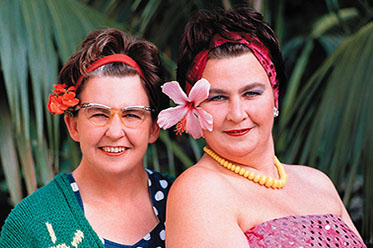 The Topp Twins, identical twin sisters Lynda and Jools Topp, are New Zealand national treasures who have performed around the world as an original comedy-music duo for more than 25 years.
The twins re-invent themselves on stage, changing character, musical style and gender with ease. Armed with guitar, mouth-harp and spoons, they deliver original songs and character comedy with their unique trademark style of spontaneity.
Lynda and Jools Topp grew up singing to the cows on their family's dairy farm in the Waikato. After a short stint in the Army, they began their careers busking on the streets of Auckland and came of age during the heady days of the political protest marches in the early 80s.
They quickly joined the forefront of progressive social change campaigning for a Nuclear-Free NZ, Maori Land Rights, a halt to the 1981 Springbok Tour, and Homosexual Law Reform. By 1998, Lynda Topp, as her popular TV character, Camp Mother, came close to winning the mayoral elections in Auckland, and the Topp Twins were firmly entrenched in the bosom of Kiwi culture with their own prime time TV Series Do Not Adjust Your Twinset.
From rural backwaters to performances at the Rugby World Cup and London's off-West End stage, from the far-left to mainstream family entertainment, the Topp Twins appeal is infectious. They started out as support act to Split Enz, Billy Bragg and Midnight Oil and then started writing their own theatre shows for the Student Arts Council, performing to university crowds, before headlining their own hugely successful tours in Australia, North America and Britain.
They have morphed from radical activists into Kiwi 'national treasures', our 'cultural ambassadors', and, according to the Glasgow Herald,"Although well known as their comedy characters and for their popular TV series, the Topp Twins are also excellent songwriters and musicians.
The Topp Twins were inducted into the New Zealand Hall of Fame 2008, awarded Best Country Music Duo at the National Country Music Awards 2011 and 2009 and won Best Country Album at the NZ Music Awards 2005 and 2007.
A feature documentary film The Topp Twins, Untouchable Girls, financed by the New Zealand Film Commission and released in April 2009, became s Number 1 Box Office Documentary, grossing nearly $2 millions Choice Award at Toronto International Film Festival and sold to Australia, Canada, France, the United States, the Netherlands and the UK.
The Topp Twins
Fairfax Studio – Arts Centre Melbourne, St. Kilda Road, Melbourne
Season: 22 – 24 May 2014
Bookings: 1300 182 183 or online at: www.artscentremelbourne.com.au
For more information, visit: www.artscentremelbourne.com.au for details.
Image: Lynda and Jools Topp – photo by Sally Tagg