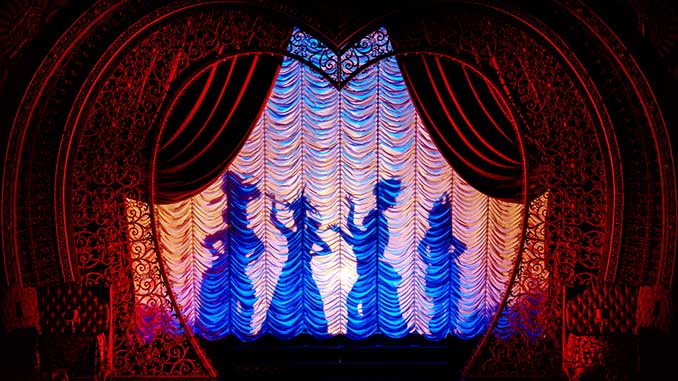 Moulin Rouge! The Musical will have its first Sydney performance on Saturday 28 May as Baz Luhrmann's revolutionary film comes to life onstage remixed in a musical mash-up extravaganza. The show makes a long-awaited homecoming to Sydney, where Luhrmann's film was made at Fox Studios, 21 years ago.
Alinta Chidzey stars as the sparkling diamond, Satine, Des Flanagan stars opposite Alinta Chidzey as bohemian dreamer Christian, Simon Burke AO plays legendary club impresario Harold Zidler and Andrew Cook will play The Duke. Montmartre's resident artistes include Tim Omaji as Toulouse-Lautrec and Ryan Gonzalez as Santiago.
The club's famed entertainers known as the 'Lady M's' will be played by Samantha Dodemaide as Nini, Olivia Vásquez as Arabia, Ruva as La Chocolat, and Christopher J Scalzo as Babydoll.
"To create the intoxicating sensory spectacular that is Moulin Rouge! The Musical is a task of epic proportions that involves a team of hundreds of the very best production personnel in the world," said Australian Executive Producer Angela Dalton.
"Our incredible Australian team is so proud to present this show to eager audiences in Sydney, the scale is simply phenomenal, it's a feast for the eyes and ears from start to finish."
The logistical operation to transport the show from its sold-out premiere season at the Regent Theatre in Melbourne to its new home at Sydney's Capitol Theatre, can only be described as a mammoth undertaking.
It will take approximately 30 trucks to move the show from Melbourne to Sydney, including 793 individual costume pieces plus wigs, set, props and musical instruments.
Over 2km of hand painted red festoon lighting and 3,500 light bulbs will carefully be transported between states, along with the famous blue elephant which stands taller than a real elephant at 5.1m tall and weighs 220kgs.
A further 12 large scale, unique chandeliers, that all have their own character and charm to reflect the bohemian atmosphere club owner Harold Zidler would have created, will be hung in their new home at the Capitol Theatre.
The windmill, which was crafted in Victoria and took 20 people over 2 months to create, will stand tall in the Capitol Theatre alongside the impressive Moulin Rouge! sign that greets theatre goers when they step inside the theatre. This is a genuine neon sign, created in one large piece, weighing 370kgs and requiring 15 people to move and unbox it.
Inside the theatre, over 200 speakers will be unpacked and placed throughout the set, including within the lamps located on the exclusive 'Can-Can' tables.
The 10-time Tony Award-winning musical sees Baz Luhrmann's revolutionary film come to life onstage remixed in a new musical mash-up extravaganza that is currently wowing audiences across the globe, from Melbourne, to Broadway and the West End. Produced by Global Creatures, Moulin Rouge! The Musical is the first Australian-produced musical to originate on Broadway.
Moulin Rouge! The Musical is directed by Tony Award winner Alex Timbers with a book by Tony Award winner John Logan, music supervision, orchestrations and arrangements by Tony Award winner Justin Levine, and choreography by Emmy nominee and Tony Award winner Sonya Tayeh, costumes designed by Olivier and Tony Award winner Catherine Zuber.
Moulin Rouge! The Musical celebrates over 160 years of music from Offenbach to Lady Gaga. Featuring over 70 songs, the production includes many of the iconic hits from the movie as well as new additions from Adele, Katy Perry, Sia, Beyonce, Rihanna and more.
Enter a world of splendour and romance, of eye-popping excess, of glitz, grandeur and glory! A world where Bohemians and aristocrats rub elbows and revel in electrifying enchantment. Pop the champagne and prepare for the spectacular…
---
Moulin Rouge! The Musical plays at Sydney's Capitol Theatre from Saturday 28 May (official Sydney premiere – Saturday 4 June). For more information and tickets, visit: www.moulinrougemusical.com for details.
Image: The Lady M's – photo by Michelle Grace Hunder