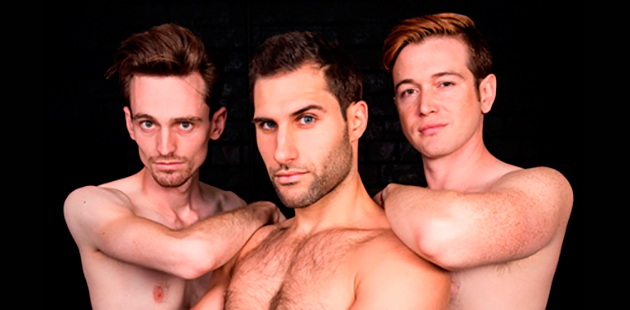 New Theatre in association with the Sydney Gay and Lesbian Mardi Gras presents Terrence McNally's award-winning play, The Ritz for a limited season from 18 February 2016.
On the run from his homicidal mobster brother-in-law, hapless balding middle-aged businessman Gaetano Proclo takes refuge in a seedy, steamy Manhattan bathhouse called 'The Ritz" – mistaking it for a hotel. Amidst the amyl-nitrate-scented clouds he encounters chubby chasers, go-go boys, bumbling detectives, gay orgies and a 'Bette Midler' wannabe with dreams of Broadway fame.
Then his wife tracks him down and jumps to the wrong conclusions about his sexual orientation. This madcap farce, written at the height of the gay sexual revolution before AIDS changed the world, offers a glimpse of a lifestyle both hedonistic and celebratory, when anything seemed possible.
Based on the Continental Baths in New York, where stars such as Bette Midler, Barry Manilow, Peter Allen and Patti LaBelle came to perform, The Ritz marked Terrence McNally's Broadway breakthrough and was subsequently adapted into a romp of a movie that quickly earned cult status!
Terrence McNally is an American playwright with a career spanning more than five decades. He is the winner of Tony Awards for his plays Love! Valour! Compassion! and Master Class, and the musicals Ragtime andKiss of the Spiderwoman. His other plays include: Frankie and Johnny in the Clair de Lune, Corpus Christi, A Perfect Ganesh, and Mothers and Sons.
His musicals include: The Full Monty, A Man of No Importance, The Visit and The Rink. He received an Emmy Award for Best Drama for his teleplay, Andre's Mother. His screenplays include: Frankie and Johnny, Love! Valour! Compassion! and The Ritz, and he wrote the libretto for the opera Dead Man Walking (music by Jake Heggie).
Director: David Marshall-Martin Featuring: Les Asmussen, Meagan Caratti, Samuel Christopher, Jarryd Clancy, Ricci Costa John Edwards, Lisa Franey, Ivan Hui, William Koutsoukis, Adam Kovarik, Rosane McNamara, Marty O'Neill, David Ross, James Smithers, Barton Williams  Set Designer: Tom Bannerman  Lighting Designer: Louise Mason  Costume Designer: Lucy Scott  Choreographer: Edward Rooke  Stage Manager: Rosane McNamara  Assistant Stage Manager: Ricci Costa
The Ritz
New Theatre, 542 King Street, Newtown
Season: 18 February – 5 March 2016 (previews: 16 & 17 February)
Bookings: www.newtheatre.org.au
For more information, visit: www.newtheatre.org.au for details.
Image: James Smithers, William Koutsoukis and Samuel Christopher feature in The Ritz – photo by Bob Seary