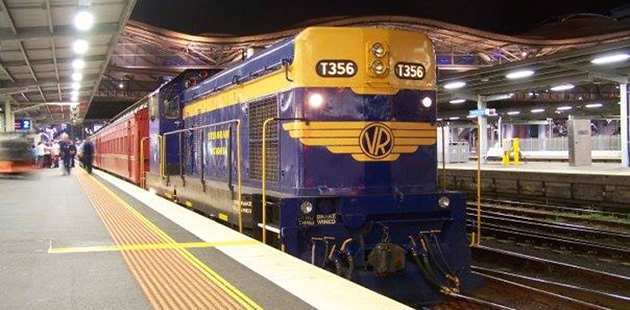 Be part of history and board Australia's first ever LGBTI Train departing Melbourne on a private heritage train to head towards the Goulburn Valley's OUT in the OPEN Pride Festival in Shepparton. The Ride to Pride Train is all about bringing together the diversity of peoples that makes up the LGBTI Community.
Departing Southern Cross Station on the morning of Saturday 15 November, the rainbow flags will flutter on the locomotives and carriages. Listen out for the whistle as the driver announces our arrival in each town as we slow down to make our presence known.  Grab a seat by a window and wave to our LGBTI Country Family as they come out to support our journey.

Shepparton Station will be adorned with pride flags as our massive train pulls into town, to let the party begin and support the OUT in the OPEN Pride Festival. The train will be parked only a couple of blocks from the festivities for the duration of the Pride Festival.
The Pride Train is a 'city on wheels' with Club, Lounge, Bar, Observation and Sleeping carriages stretching an impressive 500 metres in length. This incredible experience is only possible because of the many volunteer rainbow folk coming from all points of the Australian compass to work this historic event.
Organisers have planned a number of activities including a Champagne breakfast, listen to the sounds of the DJ in dance car or a quiet chat in the Club Lounge. Enjoy the sights and sounds of Shepparton City or stay on-board, sit back and relax. Organisers have arranged accommodation options to suit every budget.
On Sunday morning wake to the smell of warm pastries filling the train, as the crew prepare a BBQ breakfast. Take a stroll or just relax the morning away before the Pride Train departs Shepparton at 1.00pm with a grand farewell. As the train meanders along through the rural countryside, there will be a mystery stop in a secret location for afternoon tea, returning to Southern Cross Station around 7.30pm.
For more information and complete itinerary, visit: www.theridetopride.com for details. For information about the OUT in the OPEN Festival, visit: www.outintheopen.org.au for details.