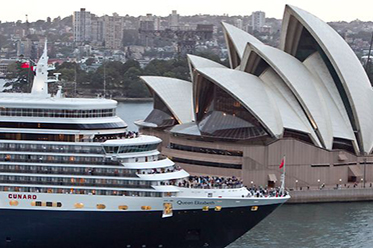 As Australia's rainbow capital prepares to sparkle for the annual Sydney Gay and Lesbian Mardi Gras parade and festival, Cunard's Queen Elizabeth will arrive in Sydney Harbour at 7.00am on Saturday 1 March, making her the largest Queen in the city this weekend!
The luxury liner will celebrate as any good Queen should – with sparkles, stilettos, capes and flamboyant theatrics. The "Queen of the Harbour" arrival will see Drag Diva Vanity Faire poised on a giant, 2.2-metre glittering stiletto on the liner's top deck, with a dazzling, multi-coloured 126-metre cape – the largest ever seen on Sydney Harbour – billowing behind her as the ship arrives in our city.
Ensuring all Sydneysiders embrace the spirit of the event, Destination NSW have also arranged for a rainbow welcome, with pylons on both side of the Harbour Bridge draped in 30-metre high rainbow flags proclaiming "Happy Mardi Gras".
Mardi Gras is welcoming the public to line the harbour foreshores and rejoice in an event that will herald one of Australia's biggest celebrations of colour, diversity and glamour, in the lead up to the Mardi Gras parade later in the evening.
The cape will be unfurled around 7.00am on Saturday 1 March as Queen Elizabeth enters Sydney Harbour, with Vanity taking her position on the stiletto before the ship nears the Opera House around 7.30am. The best vantage point will be on the southern side of the Harbour from Mrs Macquarie's Chair to East Circular Quay.
Image: Cunard's Queen Elizabeth passes the Sydney Opera House